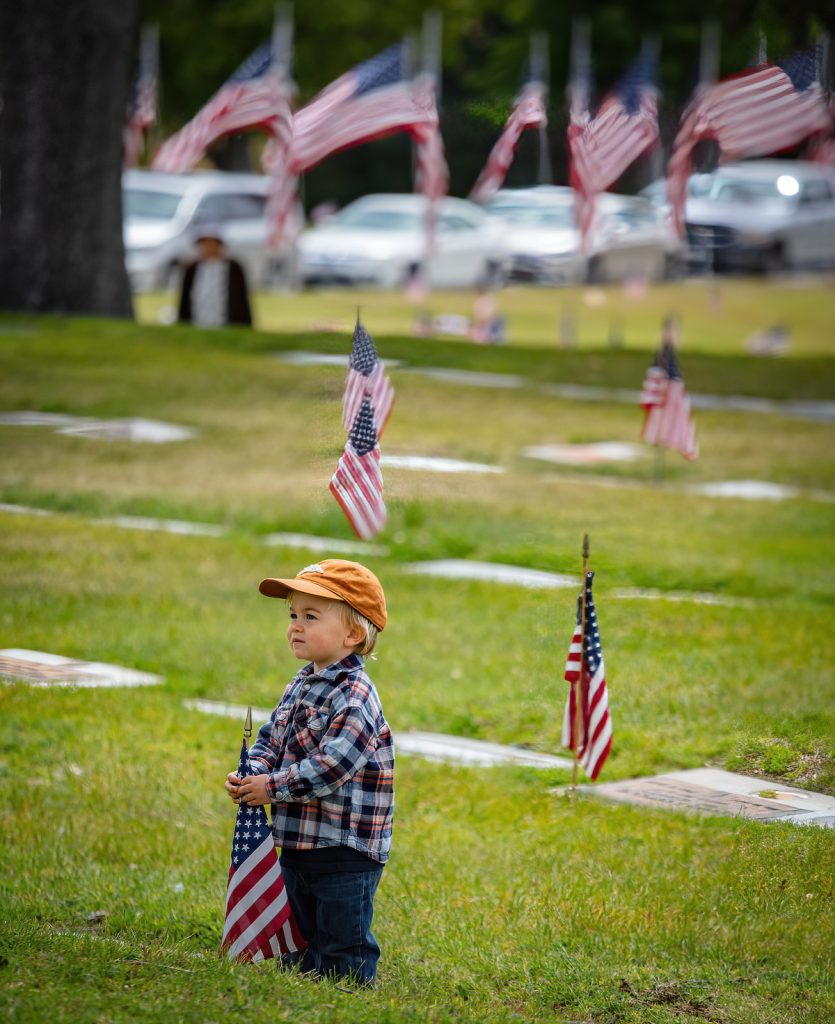 Thomas Flynn Sr. remembered for his contributions to the community
PASO ROBLES — A former Paso Robles Pioneer Day Marshal was honored and remembered on Monday at the annual Memorial Day services at Paso Robles District Cemetery. Thomas Flynn Sr., who passed away on May 8 in Templeton, was the 2021 Pioneer Day Marshal, a member of the Paso Robles Lions Club, Paso Robles Main Street and Pioneer Day committee, Paso Robles Elks, and Paso Robles Pioneer Museum Foundation.
Flynn Sr. was born in San Fernando Valley on Jan. 13, 1938. He was number 10 of 13 children. In 2021, Paso Robles Press spoke with Flynn Sr. as he told us his mother always taught her children the meaning of hard work, and they all had jobs and helped support the family.
After high school, Flynn joined the U.S. Navy for two years and married his wife Sharon in 1960, just two days after she graduated high school. The two were married for over 60 years. In 1978, the two moved to the Paso Robles area where they raised their children, built roots, and where he worked as a landscape contractor for 63 years.
advertisement

The cemetery began its memorial ceremonies in 1980 when patriotic District Cemetery board members wanted to honor veterans on Memorial Day and Veterans Day. Preparation for Memorial Day at the cemetery begins well before the ceremony on Monday, May 29. Local volunteers, including the Paso Robles Elks Lodge #2364, Paso Robles Lions and Moose Club, Boy and Girl Scouts, Veterans of Foreign Wars of the U.S. (VFW) Post 10965, and American Legion Post 50 members, placed American flags on each veteran's grave on Saturday. Close to 150 people showed this year to volunteer their time with the flags. Following the Memorial Day service, a flag retrieval ceremony took place to ensure that each flag placed on the veterans' graves was respectfully collected and properly stored until the next Memorial Day.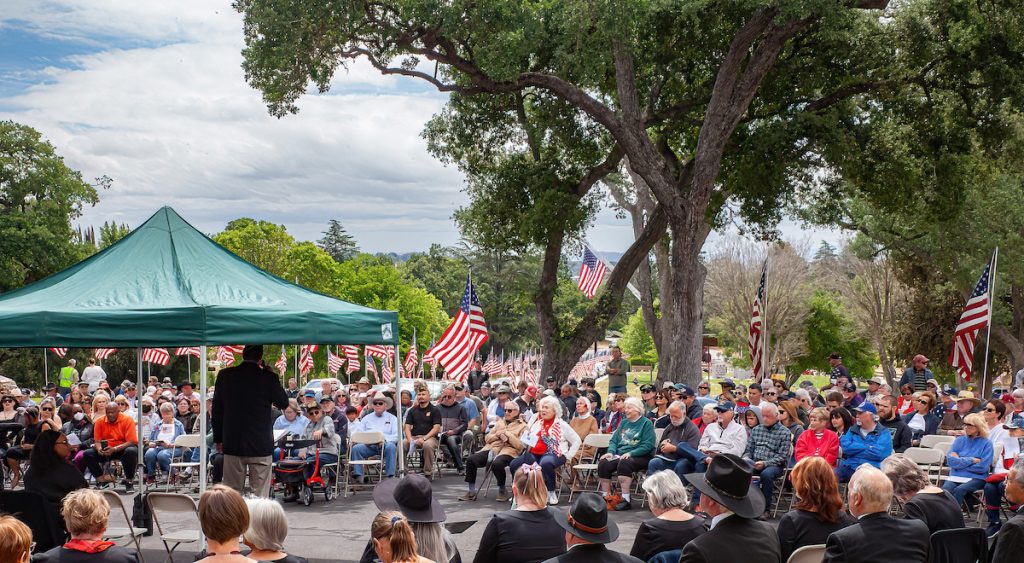 The ceremony began with Chris Rohrberg, vice commander of the American Legion Post 50, filling in as the Master of Ceremonies for Commander Skip Bellinghausen. For the last five years, Bellinghausen has worked with the cemetery's ceremonies as Master of Ceremonies. Unfortunately, he was in a car accident prior to the event and is currently still in recovery.
Per tradition, Boy Scouts and Girl Scouts of America local Paso Robles chapter led the crowd of people in the Pledge of Allegiance. An invocation came from Paso Robles Joint Unified School District Trustee Laurene McCoy, who also sang the national anthem — impressing everyone with her incredible vocals.
San Luis Obispo County District 1 Supervisor John Peschong was this year's guest speaker. Peschong opened his speech with a retelling of the history of Memorial Day's inception and highlighted some local men who died in service:
Lt. Curtis Cropper was a Paso Robles Eagle Scout who died in 1970 while serving in the Vietnam War. According to the POW Network, on April 5, 1970, an F-4B Phantom II aircraft carrying two crew members took off from the USS Coral Sea for a combat mission. During the return, the plane experienced explosions, leading to both crew members ejecting. The pilot survived, but Cropper could not be found. Despite efforts, his remains were not located. He is memorialized at the National Memorial Cemetery of the Pacific.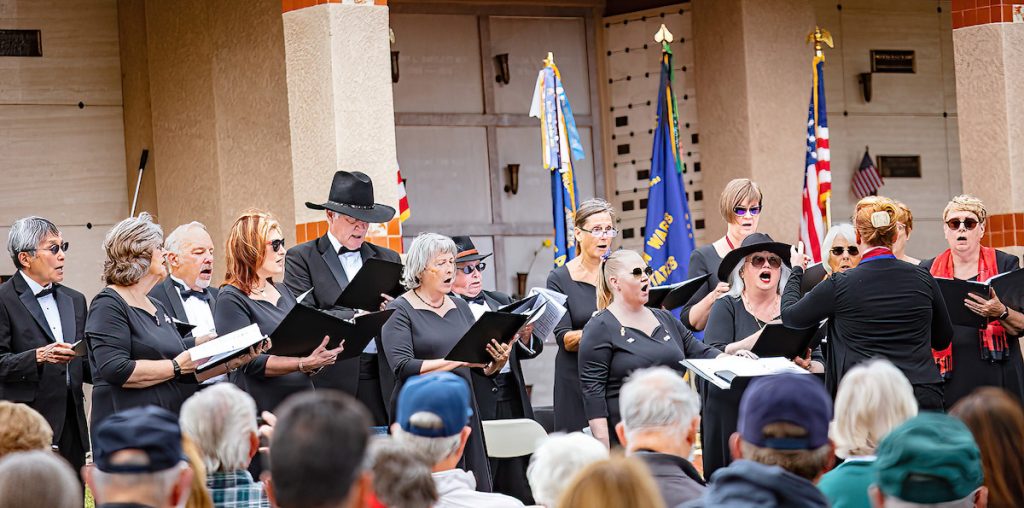 At the Boy Scout Hall on Oak Street in Paso Robles is a plaque dedicated to Cropper alongside the bugle he played while in Boy Scouts.
Harold W. Roberts was a young soldier who served in World War I, and sacrificed his life to save another soldier. He enlisted in the U.S. Army in 1916 and fought in France as part of the Tank Corps. During the Argonne Offensive, he pushed his companion out of a sinking tank before drowning himself. Roberts received several awards for his bravery, including the Medal of Honor. His grave is honored every Memorial Day at Camp Roberts Historical Museum, which is named after him. The whereabouts of his Medal of Honor remains unknown.
Daryl Rodney, a San Luis Obispo County native, was an airman in the Korean War. His plane was shot down, and his body was never recovered.
Peschong told Paso Robles Press, "I always believed that it's good to talk about the stories because the stories are what bring people in afterwards."
During his speech, Peschong also cited a quote from Ronald Reagan's 1982 Memorial Day speech at Arlington National Cemetery:
If words cannot repay the debt we owe these men, surely with our actions we must strive to keep faith with them and with the vision that led them to battle and final sacrifice.
On Sunday, May 28, Peschong issued a proclamation at Shandon's annual Memorial Day Barbecue and Car Show. He noted it was a great turnout, with close to 400 tickets told. On the same day, he was the emcee Annual Memorial Service at Estrella Adobe Church. Presented by the Friends of the Adobes, Inc. and Pleasant Valley Cemetery Board, the service remembers the pioneers who settled North County in the 1800s.
Photos by Derek Luff/PRP