Paso Robles City Park was the site last weekend for the Golden State Car Show, which supports local nonprofits
PASO ROBLES — Classic cars filled the Paso Robles City Park on Saturday, May 27, but they weren't there just to look pretty. The 15th Annual Golden State Car Show brought 283 cars to downtown Paso Robles all in an effort to support the industry and local nonprofits.
To begin the weekend, the Golden State Car Club brought back their Pre-Show Party on Friday night, where over 240 people were in attendance. After a positive reaction from last year's first Pre-Show Party, the party was brought back with live music performed by Unfinished Business. The Golden State Car Club started in 1987. They are now 82 members strong and all working for a good cause.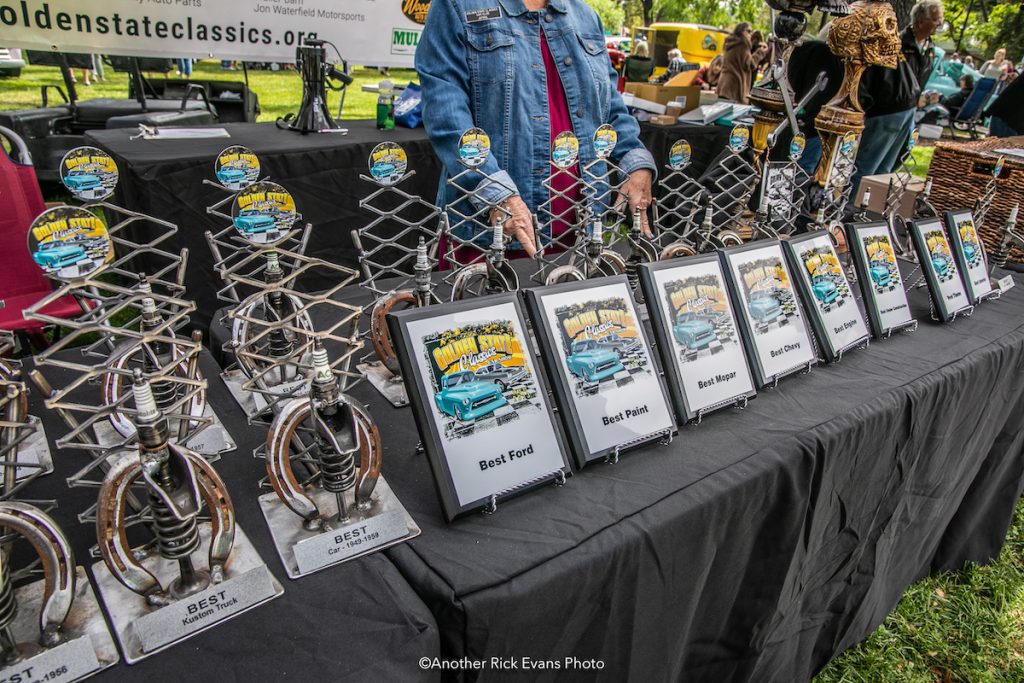 The judging classes include early and modern muscle cars, customs, hot rods, special interests, and the traditional classic categories for cars and trucks. Custom trophies made by Chuck Rust of Rusty Creations were given to the over 20 classes of winners. These stayed true to the car industry being made of spare car parts. The Best of Show winners received custom-made trophies from the Daniels Brothers of Daniels Wood Land, whose creative work includes clients like the Walt Disney Company.
advertisement

There are "many different ways to win at our show. That's kind of our objective," said Golden State Car Club President Scott Smith of their extended classes.
This year's Best of Show Car went to Mark Turnette with his 1965 VW Transporter and Best of Show Truck went to Bud Nance with his 1955 Chevrolet Pickup.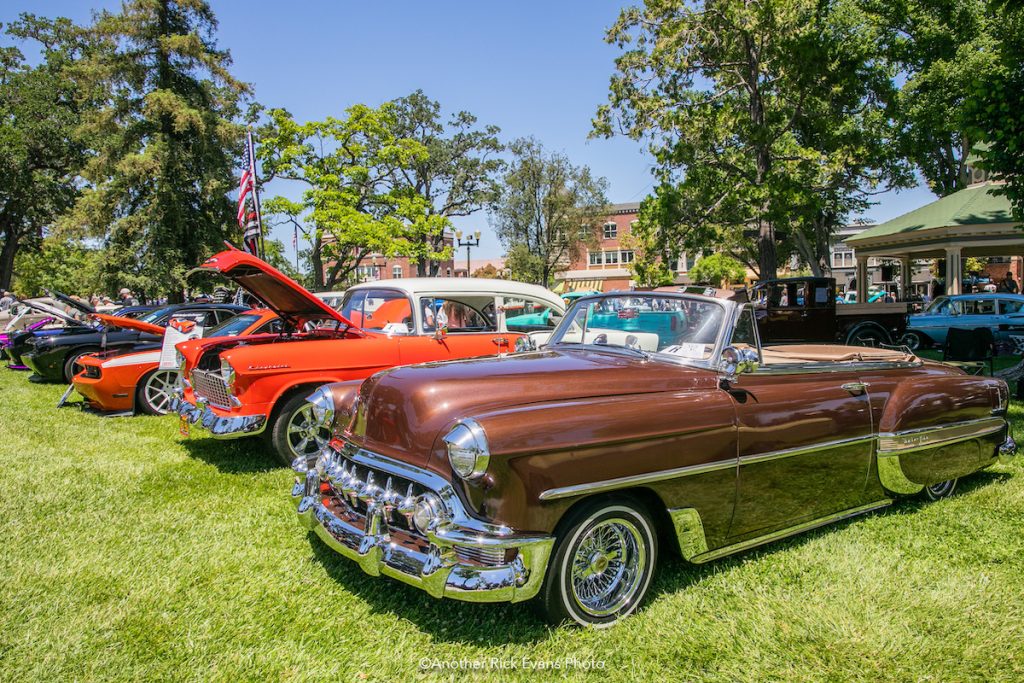 Last year the Golden State Classics Car Club distributed over $22,000 to local nonprofits. In December 2022, they partnered with Late Night Cruizers Car Club and Daniels Wood Land to hold the first Toy Bank Show & Shine Fundraiser, which raised almost over $14,000 for the Toy Bank of Greater Paso Robles. Other nonprofits and organizations the club has supported are Loaves and Fishes, the Estrella Warbirds Museum, Chapter 50 Veterans, Paso Robles Pioneer Museum, and the Cuesta College Automotive Department. Golden State Classics is a nonprofit organization that promotes classic vehicles and supports local charities.
While the numbers aren't in yet for the car show's profits, Smith estimates they will be able to give out another $10,000 to local nonprofits at the end of this year.
"That is our mission statement is to support the industry, support classic cars, also to help other nonprofits," said Smith.
Downtown was greatly supported by the car show, with attendees spending lunch at local restaurants, shopping, and even some ice cream in the cool, nearly summer-like day. Some people even got haircuts. A San Luis Obispo barber, Dustin Weiss, entered his 1968 Chevy C10 and gave haircuts in the bed of his truck.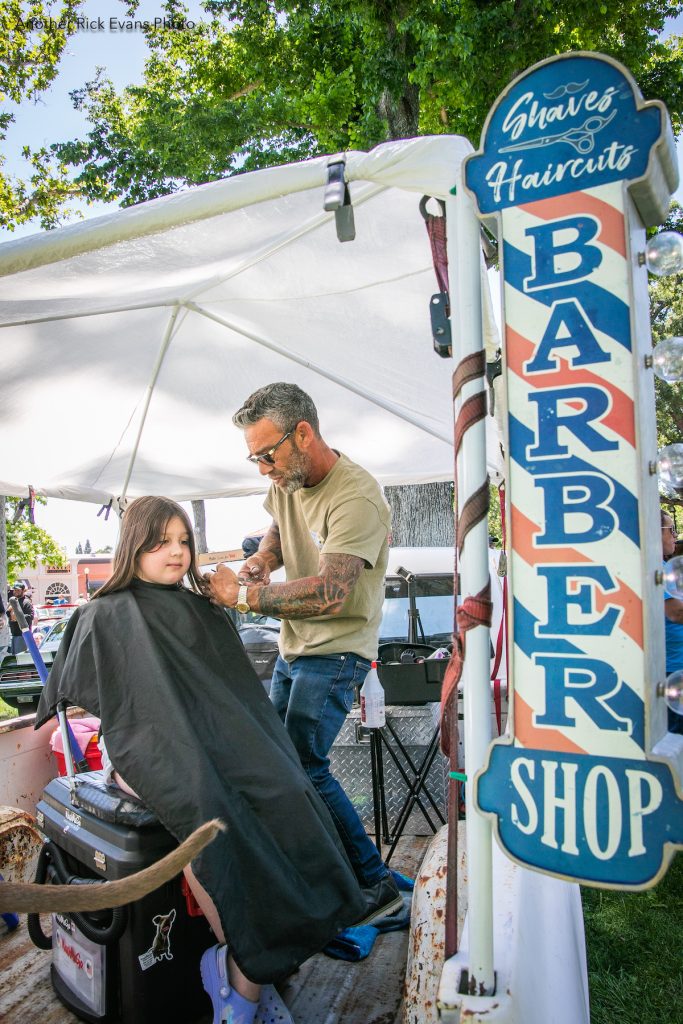 "We are so thankful to have this venue. We thank the city for that," said Smith of their collaboration to hold the event at Paso Robles City Park.
This year's title sponsors are Carrillo Automotive, Paso Robles; Mike Dean's Auto Repair, Atascadero; and Kings Oil Tools.
Smith thanked the many volunteers from the club, American Legion Auxiliary Chapter 50, Veterans of Foreign Wars Post 10965, and the Interact students from the Rotary Club of Atascadero.
Smith is looking forward to creating more events and relationships with the community.
Speaking to what the future looks like for the car club, Smith said, "I see growth. The club has grown tremendously within the last couple of years. I see nothing but potential for our club."
Golden State Classics is a nonprofit organization that promotes classic vehicles and supports local charities. Since 2015, their club has donated over $55,000 to local youth groups, service clubs, and other organizations from proceeds of their events — all while simultaneously providing a social outing for club members and families.
"I always try to thank and remind people of what the day is really about," said Smith of the show landing on Memorial Day weekend. "My idea is a lot of people have paid the ultimate sacrifice so that we're allowed to do these things in this country and have the freedom to do the show that we just did. I don't want to lose sight of that."
To learn more, visit goldenstateclassics.org.
Feature Image:
Bud Nance won the Best of Show Truck category with his 1955 Chevrolet Pickup at the 15th Annual Golden State Car Show May 27 at Paso Robles City Park. Photos by Rick Evans/PRP