By Elisa Huot
Former educator, toddler parent, and Paso Robles resident
Some studies show that American children spend up to eight hours a day in front of a screen and less than one hour outside. In our technology-based and hurried world, we should find it to be more critical than ever to create opportunities for our little ones to slow down and connect with real life. With our deep local agricultural roots, we have an abundance of opportunities to do that at many local farms. 
advertisement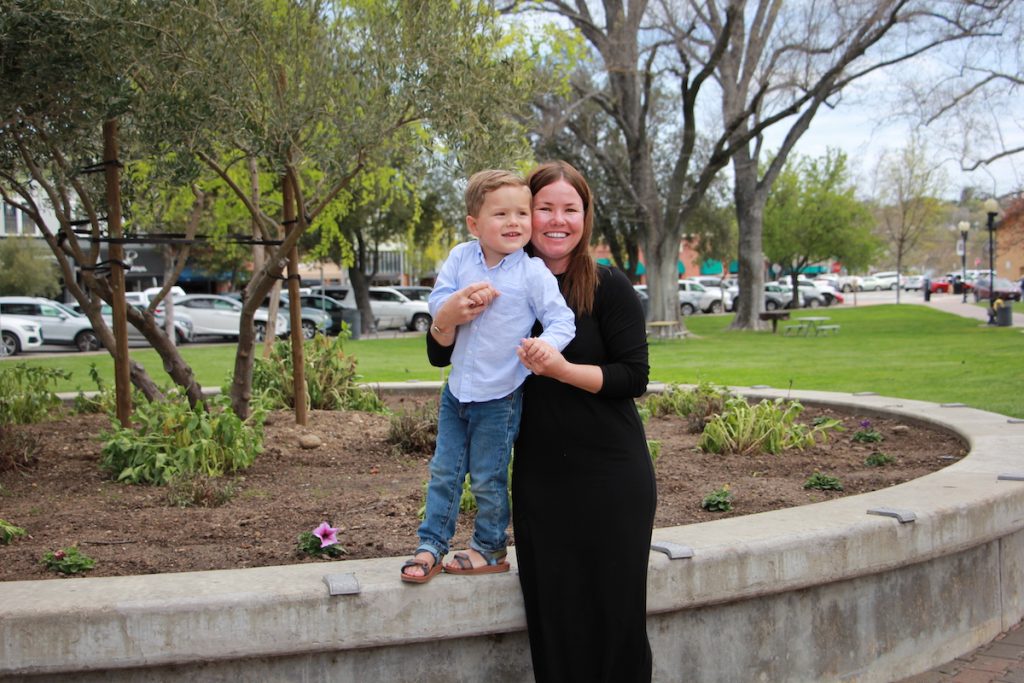 Simultaneously invigorating and calming is a field of fresh lavender or the warmth on your hand while anxiously feeding animals a treat. Farms transport us to a magical place where the smiles are organic and the air is filled with mother nature abounding. Look no further than farm-themed children's books like Little Blue Truck and Charlotte's Web, whose popularity seems to transcend time. While those tales may be available to most kids, growing up in a place that is surrounded by farms is not. But here, Paso Robles and farms remain synonymous.  
Hambly Farms (hamblyfarms.com), nestled in the western hills of San Miguel, is run by the sixth generation of Roblans and boasts eight varietals of lavender on 26 acres. Experience a one-hour guided tour of the grounds with owners Gina or Milton, while meeting the friendly farm animals (Bill E. Goat and Fred the Pig are must-meets), pick a lavender bouquet, and return to the beautiful store complete with a lavender honey ice cream collaboration with Leo Leo Gelato and picnic tables with stunning views. At only $20 per person and no charge for children under 12, this taste of farm life is a steal and only requires a reservation. Want to drop in? You can stop by during their business hours and bundle your own lavender for just $10.
A short drive over to the west side of Templeton will take you to the fifth-generation run farm of Jack Creek. Jack Creek Farms (jackcreekfarms.com) offers u-pick seasonal produce, fresh apple or pomegranate slushies, and picnic areas with access to clean bathrooms and possible golden or bald eagle sightings. Visit the store for a local honey tasting or to purchase access to the child wonderland that is called Happy Acres. Kids can trample barefoot in a bin of dried corn kernels, pretend play restaurant, farmer's market, and lemonade stand all while visiting the charming farm critters, which include rabbits, chickens, and goats. Enjoy the Fort Polliwog maze, the tractor tire garden, and a sand trough with trucks. Photo opportunities are endless and include a wooden train, truck, and tractor.
Southeast of Paso Robles in the Huer Huero Valley, you will find Windrose Farms (windrosefarm.org). Surrounded by wineries, olive groves, and horse ranches, this family farm offers one-hour tours for $20 a person with no charge for children five and younger. Get to know the farm animals that call Windrose home, including chickens, dogs, and goats. Ebb and flow on a nostalgic wooden plank tree swing or soar down a zip line. Check out the beautifully curated farm stand with locally sourced provisions, fresh produce, and heritage animal meat. If you feel the gorgeous property tugging at your heartstrings, book a stay in the Tree Trailer. Situated under a giant oak tree with beautiful views and accommodations for a family of four, you can indulge your farm life fantasy for a while.
Looking for more farm experiences? Check out Farmstead Ed for a trail map of local farms throughout SLO County that are open to the public!
PASO ROBLES PRESS MAGAZINE
Copies of Paso Robles Press Magazine are directly delivered to 23,000 readers in zip codes 93446, 93451, and 93465 and 2,000 dropped with support from advertisers and subscribers. Together, we are Making Communities Better Through Print.™
To subscribe or advertise, click here.