PASO ROBLES — Hugs, thank yous and smiles were the currency of the afternoon at the 35th annual Thanksgiving for Paso Robles.
The banquet room at Centennial Park was transformed into a restaurant, complete with table linens and fine China, where 556 meals were served from 11:30 a.m. to 2 p.m. on Nov. 28. Nearly 250 volunteers made it another successful event for the nonprofit that began cooking for the big feast on Monday.
In all, Thanksgiving for Paso Robles did 1,216 meals Thursday — a new record for the group.
It takes between 120 and 130 volunteers to make Thursday's full-course, sit-down dinner run smoothly. Many of the volunteers have been helping out for years.
advertisement

Thanksgiving for Paso Robles steering committee member Jennifer Bravo was once again joined by her two teenage children, her parents and her fiance.
"It's super special," Bravo said. "It's become people's family tradition — they volunteer year after year after year — to help with Thanksgiving for Paso."
This year due to the generosity of the community, they started serving the always free Thanksgiving dinner with all the trimmings at 11:30 a.m., 30 minutes earlier than usual.
After entering the banquet room, people were met and seated by the maitre d's, who were from the Second Baptist Church. Each of the 34 tables had a dedicated server. Once the orders were taken, the wait staff filled the order.
The restaurant experience is what makes Thanksgiving for Paso Robles unique.
"We are here for the guests," Bravo said.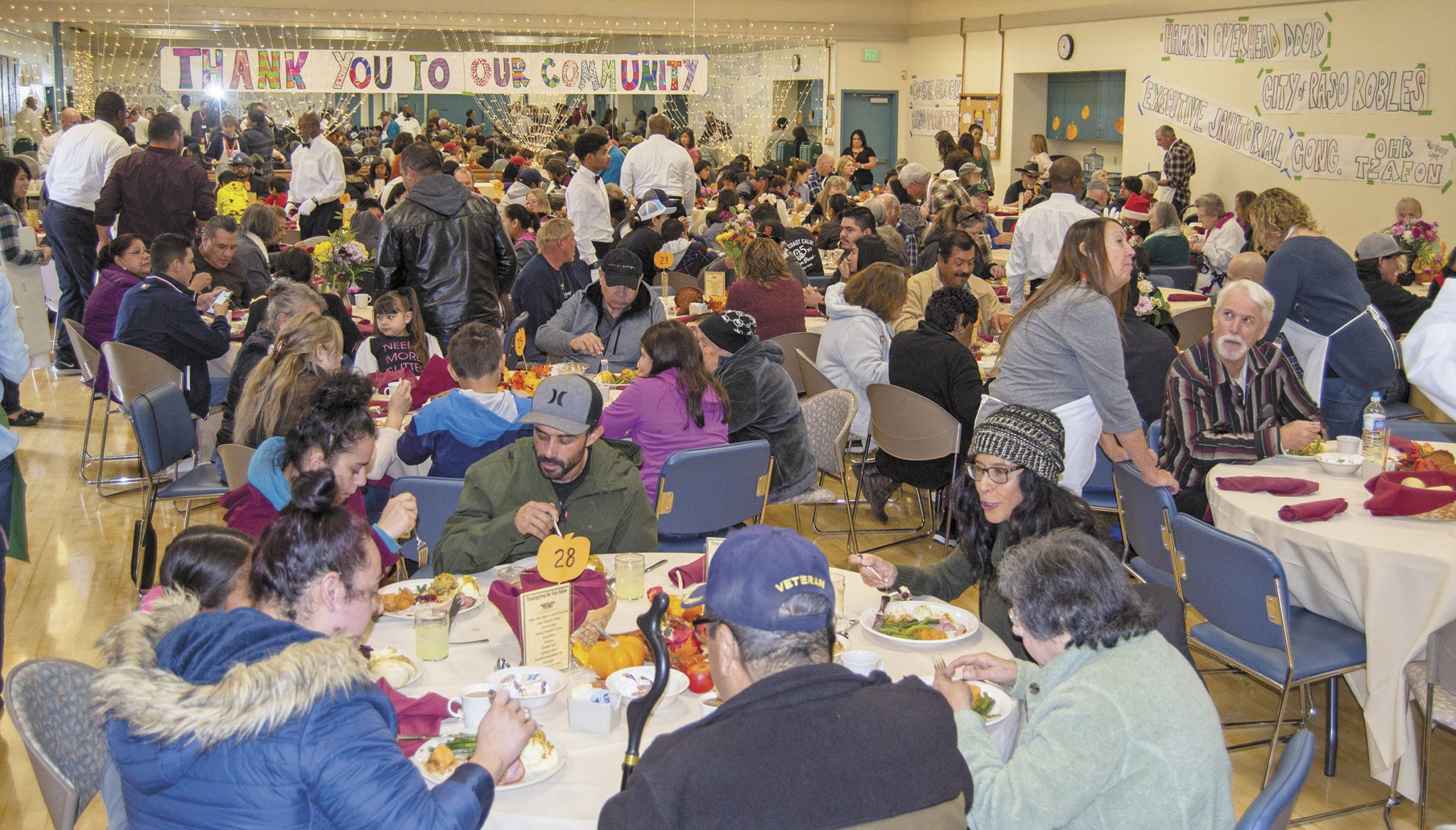 Meals include turkey, ham, mashed potatoes and gravy, dressing, green beans, candied yams, cranberry sauce, green salad, rolls, five different house-baked pies and lemonade, tea and coffee.
Rides to and from the dinner were available and dinners were delivered.
"We have 14 different routes that we take food to — 150-plus meals," Bravo said. They also serve 100 or so to-go meals.
The entire meal was made possible by donations from the community. The names of the businesses and individuals that assisted were displayed on the walls of the banquet room.
"The community has been incredibly supportive in terms of volunteers and also a lot of monetary support," said Karen Kudija, who has been volunteering for the past 20-plus years.
Mildred Wilkins started the annual Thanksgiving for Paso Robles and shepherded it for the first 20 years.
Two ladies, transplants from Orange County, Linda Stermer and Rhonda Evans oversaw it for three years together after which Stermer continued for a total of 10 years. It was held at the Paso Robles Senior Center until it moved to Centennial Park in 1989.
The last five years, Thanksgiving for Paso Robles Chairman David Kudija has led the steering committee.
In addition to serving meals in Paso Robles, Thanksgiving for Paso Robles was that day's meal provider for the El Camino Homeless Organization's shelter in Atascadero.
"It's cool," Bravo said. "This year we had some nice donations and were able to open a little early and do dinner for ECHO."
This is the only event put on by Thanksgiving for Paso Robles and is not possible without the support of the volunteers and the donations of the community.
"This is Thanksgiving and I personally have so much to be thankful for," Karen Kudija said. "The community coming in, it really is a wonderful thing. We have a lot of really good people."
For more information on volunteering, donating or the steering committee, visit thanksgivingforpasorobles.com.