Session 4 of its arts education program, commencing on Aug. 7 and running through Oct. 6
PASO ROBLES — The Paso Robles Youth Arts Center (Youth Arts) announced the opening of enrollment for Session 4 of its arts education program, commencing on Aug. 7 and running through Oct. 6. Local youth aged 5 to 18 are encouraged to take advantage of this opportunity to explore the diverse world of arts through free after-school classes. With an array of offerings, including dance, art, music, theatre, and creative enrichment, Youth Arts aims to inspire and empower young minds of all skill levels.
The youth of Paso Robles will have a chance to delve into an extensive range of art forms, reflecting the rich diversity both within the community and the broader arts world. From Acting 1 & 2 to Voice & Movement for the Actor, Musical Theatre Dance to Art Journaling, Cooperative Storytelling to Fiber Arts, and even beginning graphic design, this session is set to be an unforgettable experience.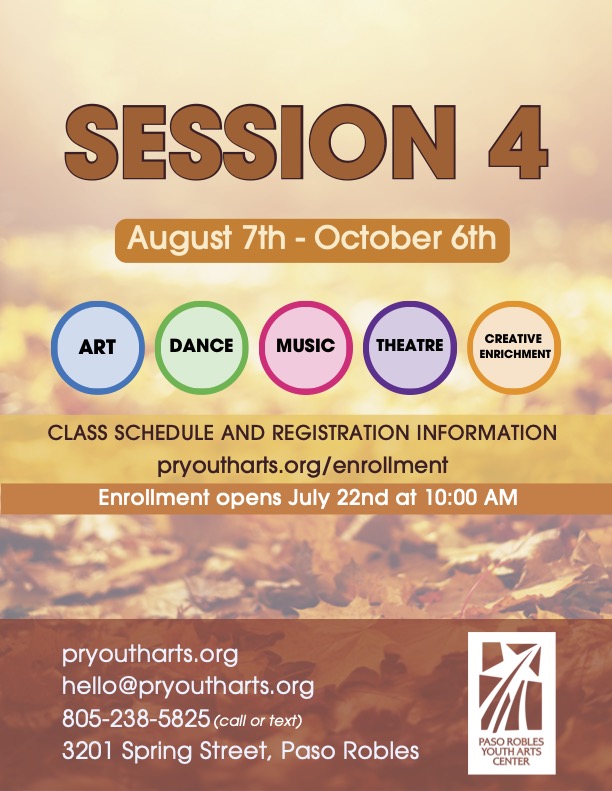 Among the highly anticipated new classes added to Session 4 are Acting 1 and 2, designed to nurture young talents in theatrical performance. Voice and Movement for the Actor will offer essential training for aspiring thespians, while Musical Theatre Dance will bring the magic of Broadway to Paso Robles. For those looking to express their creativity through visual arts, Art Journaling and Fiber Arts classes will provide the perfect canvas for their imagination to flourish. The addition of beginning graphic design classes will open doors to the digital world of creativity.
In response to popular demand, the program is welcoming back the ever-popular classes such as AP Band, Urban Dance, and Hip Hop. Due to high interest, additional classes in Guitar and Culinary Arts have been scheduled. Notably, the talented student filmmakers enrolled in the Video Production class will once again showcase their work at the Estreno Youth Film Festival, thanks to the support of Must! Charities.
Founded in 1998 by artist and philanthropist Donna Berg, Youth Arts is celebrating its 25th anniversary of providing free visual and performing arts classes to children aged 5 to 18. Regardless of socioeconomic status, all children in Paso Robles and surrounding areas are welcomed with open arms, providing them with a creative outlet to cope with the pressures of life. Over the years, Youth Arts has touched the lives of more than 10,000 students, nurturing their voices, fostering confidence, promoting higher education, and steering them away from negative influences like gangs.
Thanks to generous donors who believe in the power of arts education, Youth Arts continues to thrive as a nonprofit organization. For those interested in enrolling their children in these enriching programs, more information can be found at pryoutharts.org/enrollment/ or by contacting (805) 238-5825.