More than 50 suspects arrested in a single recent takedown
CALIFORNIA — In a collaboration between the California Highway Patrol (CHP) and local law enforcement agencies across the state, over 50 individuals were arrested in connection to retail thefts. More than $60,000 in cash and merchandise in the Central Valley were reclaimed this past weekend.
This arrests mark the culmination of several operations conducted by the Organized Retail Crime Task Force (ORCTF), established in 2019 by California Gov. Gavin Newsom. The ORCTF's relentless efforts have led to the recovery of $30.7 million worth of stolen goods, facilitating their return to affected retailers across California.
advertisement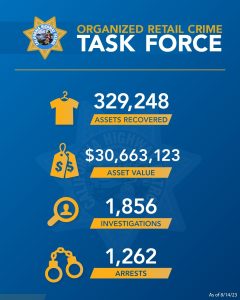 With a coalition of law enforcement units operating throughout the state, the CHP expressed its commitment to destabilizing criminal networks engaging in such activities.
"Through intensified collaborative endeavors, the synergy between retailers and law enforcement has grown stronger, rendering our battle against organized retail crime more efficient and impactful," stated CHP Commissioner Sean Duryee. "Consequently, the task force has witnessed a yearly escalation in statewide investigations and arrests, ensuring greater safety for Californians."
Newsom echoed this sentiment saying, "Organized retail theft is categorically unacceptable. California is leading the charge in combatting this kind of criminal activity, and I commend the unwavering dedication of the CHP, along with our esteemed law enforcement and retail partners, in redoubling their efforts to safeguard our businesses and families."
Since the inception of the ORCTF, a press release from CHP states over 1,850 probes into retail crimes in California have resulted in more than 1,250 arrests. A pivotal aspect of the task force's accomplishments lies in its collaborations with retailers, local law enforcement, and district attorneys, successfully upending organized retail theft rings and prosecuting those responsible.
During an afternoon press conference, the results of the recent "Blitz" operations conducted by the CHP Central Division's ORCTF were highlighted. More than 50 suspects were apprehended for a range of violations, including organized retail crime, shoplifting, grand theft, petty theft, criminal conspiracy, resisting arrest, possession of burglary tools, and possession of stolen vehicles. Over the course of this two-day operation, nearly 700 assets were reclaimed and returned to their rightful owners.
"The CHP remains steadfast in investigating these reprehensible crimes," Duryee affirmed. "Our dedicated investigators throughout the state invest countless hours in identifying, apprehending, and submitting for prosecution those who victimize our communities."
In the event of witnessing such crimes in progress, it is advised not to intervene directly. Instead, call 911. Members of the public and retailers can also provide tips on retail crime directly through the CHP's website.