For the second year, the event exceeded the organizer's expectations; however, would like to see the City do more
PASO ROBLES — Paso Robles celebrated their second annual Juneteenth Jubilee downtown at the Paso Robles City Park on Saturday, June 18.
Juneteenth marks the final stop on June 19, 1865, of Union Major General Gordon Granger arriving in Galveston, Texas, to announce, "The people of Texas are informed that, in accordance with a proclamation from the Executive of the United States, all slaves are free…"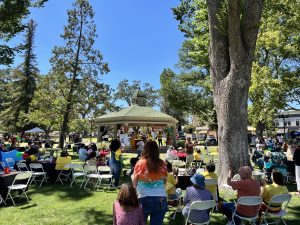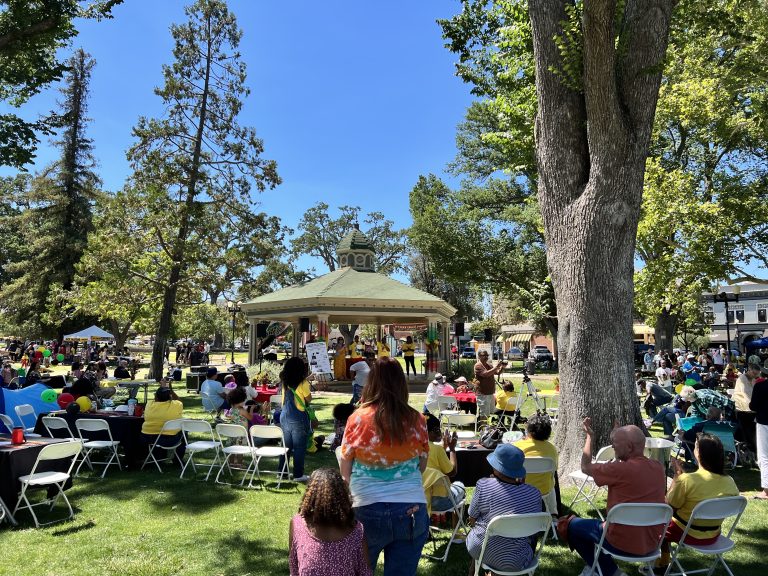 You can see Paso Robles Press's full story on the meaning behind Juneteenth here.
According to the committee, the Juneteenth Jubilee in Paso Robles is a commitment to an annual celebration building a movement to recognize the emancipation of slavery and celebrate the excellence of Black culture and freedom.
"It was beautiful. Paso came through," said Paso Robles native Netta Perkins who organized the event.
Perkins said that they chose Jackie's Place, which is a Black-owned catering company from San Jose who provided all the food.
"We ran out of food, but that was a good thing. Next year we will be prepared to have way more food," said Perkins.
Additionally, throughout the day was music and guest speakers.
Paso Robles City Mayor Steve Martin was one of the speakers at the event, telling Paso Robles Press, "City staff supported the committee organizing the event. The event was successful and positive. I was pleased to attend and deliver the City Council's Juneteenth presentation."
"We kept it traditional. This is what Juneteenth's about, celebrating [being] free-ish and the food and the music," said Perkins, "Music always brings the world together. It was amazing."
Perkins, a born and raised Paso Roblan, said about 400 people came to the event, exceeding her original expectations. Paso Robles alumni and former residents came back to Paso for the celebration from as far as Sacramento and Los Angeles.
"I felt like with all of them coming back—it was like they put their hands on us and said we're here for you. The social injustice that we are going through in Paso, the people of color, them coming and showing me, 'Netta we got your back, we're here,' so that was comforting," Perkins said.
Perkins, now 50, was a star athlete at Paso Robles High School but says she was not educated on her culture when she was younger, adding that she wasn't "woke" yet. "Woke" according to Merriam-Webster's Dictionary, means to be aware of and actively attentive to important facts and issues (especially issues of racial and social justice).
The Paso Robles Press asked Perkins the difference between the Paso Robles she knew growing up and the Paso Robles she knows today.
"I'm not going to say that it was better back then," said Perkins, "I just think that a platform of hate was put out there, and a lot of my fellow citizens of Paso Robles jumped on that platform, and it shocked me."
She added, "Nothing has changed. There is no diversity as far as… we're not seeing people of power that look like us, but we're here in the City."
To create more diversity, Perkins explains that she would like to see people of color represented in City events like the Pioneer Day Parade, California Mid-State Fair, and even local wineries by adding entertainment directed toward people of color.
"Make an effort to put all cultures walking down that parade that live in Paso Robles because we're not just rodeo country folks here," Perkins said.
The Paso Robles Press reached out to Mayor Martin for a response to Perkins concerns. Martin responded by explaining that the City of Paso Robles has no authority over the Mid-State Fair's policies; however, he knows that both the fair and the Pioneer Day Committee are always looking for volunteers to stage and grow their events; everyone is welcome.
Perkins additionally expressed concerns that the City did not support the Jubilee enough.
The first Juneteenth Jubilee Perkins hosted was in 2021 as a gathering in the park, which ended up being more successful than Perkins anticipated. The City of Paso Robles notified Perkins that the event would need to be permitted for the following year.
So in 2022, Perkins followed through with the permitting process, and the City offered not to charge Perkins the fee to host the event at the City Park.
"I honestly didn't think that was enough. There was no offer of monetary [contribution]," said Perkins.
A street banner for the Jubilee hung across Spring Street cost Perkins and her committee $1,000, which she says she felt the City should have paid for.
Leading up to the event, Perkins said she was concerned that the same banner would be a target of vandalism which led her to speak to the Chief of Police, Damian Nord, making him aware of her concerns.
Perkins told The Paso Robles Press that her concerns of vandalism and protests did not stop at the sign.
"Sadly, going in, I was waiting for those big trucks with their flags and 'Lets Go Brandon'," said Perkins, "I honestly thought they were going to show up [at the Jubiliee], but I didn't see it. I did not see that they were trying to distract from what we were trying to do."
According to Mayor Martin, the City does not generally fund events in the park unless they are city-sponsored, adding, "The City maintains the park, liaisons with committees to ascertain their needs and assists with permitting as appropriate."
In order for a group or an event to receive grants or funding from the City the Mayor explained that "The committee would have to submit proposals to staff, including dates, activities, appropriate insurances, etc. If the event does not conflict with other city-sponsored events or park reservations, the City Council would consider whether the proposed event would provide sufficient public benefit to warrant sponsoring it and supporting it with taxpayer dollars or commitment of staff time."
Perkins says she last spoke with Mayor Martin at the Unity Forum held at the Paso Robles Joint Unified School District in November 2021.
According to Perkins, the two discussed diversity in Paso Robles.
"Sadly, he is our mayor, and he couldn't give me answers, so that didn't make me feel too comfortable," said Perkins, "But you got to reach out to the people of color in your community and ask what can I do, and that's not happening."
Perkins adds, "They should be chasing us down. They represent us, right? So sit down at the table and ask what do we want."
When asked what change Perkins wants the City to do, she explained, "More town hall meetings where we are sitting and listening to each other instead of yelling and protesting…instead of rolling around with our flags that mean something but not the right meaning."
In response to Paso's lack of diversity, Mayor Martin gave The Paso Robles Press the following statement:
I assisted with the formation of a Diversity Panel. I assisted with the writing of the formative documents and developed a website, pasodiversity.com, for the panel's use. I have since turned all authority over to them to bring diversity projects forward. I support their efforts and am eager to see what they have in store in the next year. I have participated in local events such as the Martin Luther King Jr. Day celebration and the Juneteenth celebrations last year and this year. I have participated in events held by the panel, including two community diversity discussion nights.
I have also made it a point to forward opportunities to serve on city commissions and advisory bodies to the Diversity Panel to encourage people to become involved. Furthermore, the City is now entering its second election cycle with multiple districts formed expressly to increase diversity on the City Council. There is always more work to be done, but we are making progress.
However, Perkins says, "I don't see change, but I see the effort and it's going to take baby steps."
Perkins has plans to make the event a new city tradition but hopes to see the City take the event over and appoint a committee for the planning.