Templeton roster bursting with talent
TEMPLETON — The 2019 Templeton Eagles etched their name into the history books on May 18 when they defeated Dinuba, 3-2, in Fresno, winning the Division 3 CIF Central Section Title and coming home to a fire truck escort down Main Street as they hoisted their trophy.
The Eagles finished third in the Mountain League behind two Division 1 teams and return nearly their entire lineup but are noticeably missing the former face of the program in pitching superstar Ashley Daughtery, who is now playing on television in the South Eastern Conference for Texas A&M.
Templeton entered last season full of question marks as they started five freshmen in the field built around the league's most outstanding player. Daugherty's ability to render any lineup impotent provided time for the young players to develop to the speed and intensity of the varsity level and by the time the Division 3 playoffs rolled around their lineup was battled tested and ready to produce.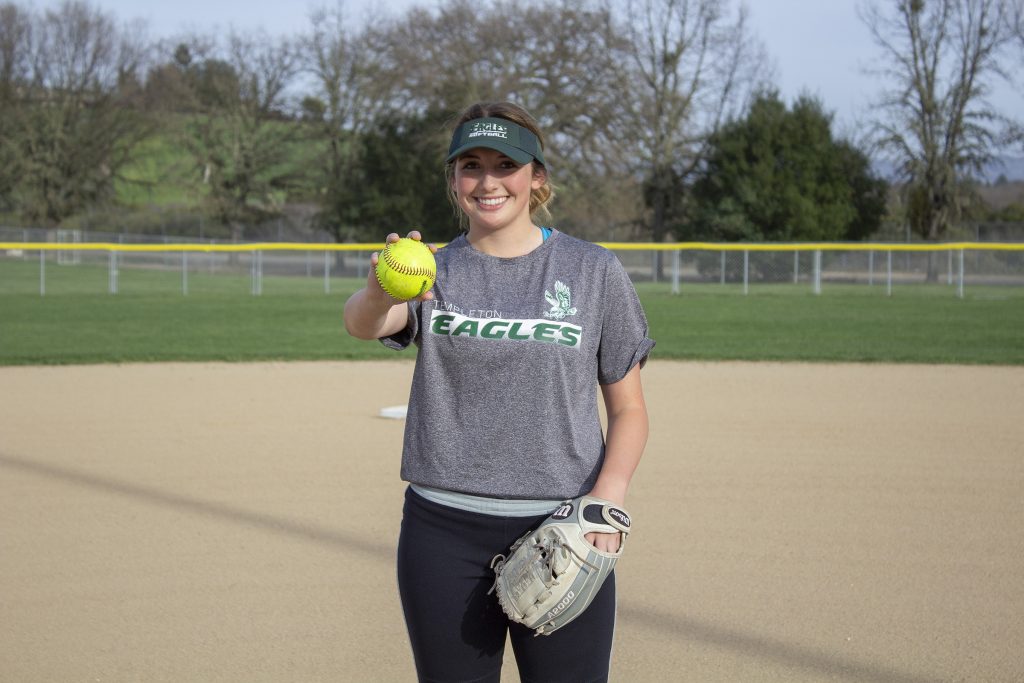 2020 will be the first season in four years that Templeton will have a new pitcher but even with Daugherty's departure, the Eagles are still champions and are bursting at the seams with talent as they look to start another group of freshman this season.
advertisement

"So far this season has been pretty good, we still have a young team," Templeton junior Bella Backer said. "We definitely still have room to grow and I think that it is really good because we have brought in a lot of new young talent and the freshman class has contributed so much so far. Starting with our first game all the freshman got hits, they all got on base, they all contributed to the game in some shape or form."
The reigning champions are 2-3 in their first five games but that is not indicative of much as a handful of their key contributors from a year ago could not join the team until last week because they were busy going three rounds deep in the Central Section Playoffs with the girls soccer team.
"It was kind of hard at first because I was just throwing by myself while everyone else was up to speed and I wasn't," said Izzy Cowne, Eagles sophomore shortstop and also starting goalkeeper. "So I had to get myself back up there quickly."
Cowne and Backer played a huge role in the Eagles' title run a year ago and have now moved further into the leadership role with the departing of the seniors from the 2019 team. Cowne, Backer and Daugherty lead the Eagles in all the major offensive categories and are looking to improve this season.
As a freshman, Cowne lead the team in batting average with a .385 and also contributed 11 RBI batting in the lead-off spot. While Cowne is a master at getting on base, Backer brings the thunder finishing with four home runs in her sophomore season. Backer also led the team in RBI with 20 and hits with 28 while supporting a .378 average.
While the Eagles spent almost the entirety of the 2019 season in the underdog role, the CIF Championship rings around their finger have now put a metaphorical target on their backs in the Mountain League, and they know it.
"I think we are just going to put our heads down," Backer said. "We are going to work and we are going to try and not let the idea of people watching, get to us."
The Eagles face another tough season ahead as both the Greyhounds and the Bearcats, who tied for the Mountain League title, have returned their aces but have put the past behind them and are focused on the season ahead.
"We have talked about how the ring doesn't matter anymore, it's doesn't matter," Cowne said. "We have to work for it now because that is all in the past, we have to look forward now."
Templeton also has a new ace this season who will look to step in and create her own legacy in junior Charlotte Forniss. The right-hander transferred into Templeton last year before suffering a labrum injury that caused her to watch the title run from the dugout. After a year of patiently waiting, it is her turn to lead the team and is excited to show what she has got.
"Last year was kind of hard because I got the torn labrum so I wasn't able to play but this year has been exciting," Forniss said. "I have a new mentality going in. I know I have to get outs because I have a good defense behind me and it's been exciting. It's a good challenge and I feel good taking it on."
While Daugherty was a pitcher who could and would blast everything by hitters in the blink of an eye, Forniss finds herself on the opposite end of the spectrum confusing hitters with a good dropball and an excellent curve. Low pitches call for ground balls which also excites the defense behind her who spent more time watching last season than participating.
The Eagles are about to enter the preseason tournament portion of their schedule that they had taken from them last year due to the rain and will look to use it to get at-bats and grow the confidence of their young players on the roster.
Templeton will host their next home game on March 20 when the Nipomo Titans come to Vineyard Elementary. First pitch scheduled for 4:30 p.m.