Gathering also serves as a community-centered event that brings people together
PASO ROBLES — Over 140 artists filled Paso Robles City Park last weekend for the biannual April Art in the Park. The event, organized by Steve Powers and Company, has been a beloved fixture in the community for many years, drawing art lovers from all over California and beyond.
For two days, April 15 and 16, artist showcased their work and creations, including original works of art, including paintings, sculptures, ceramics, jewelry, and photography. Steve Powers, president of Steve Powers and Company, tells Paso Robles Press that Paso Robles Art in the Park is recognized by the artists as one of the top 10 fine art shows in the state of California.
"Best crowd in numbers so far. Very appreciative of the high quality of the event," said Powers of the weekend. "Many wealthy land owners came and supported the artists, especially in the high-end area."
advertisement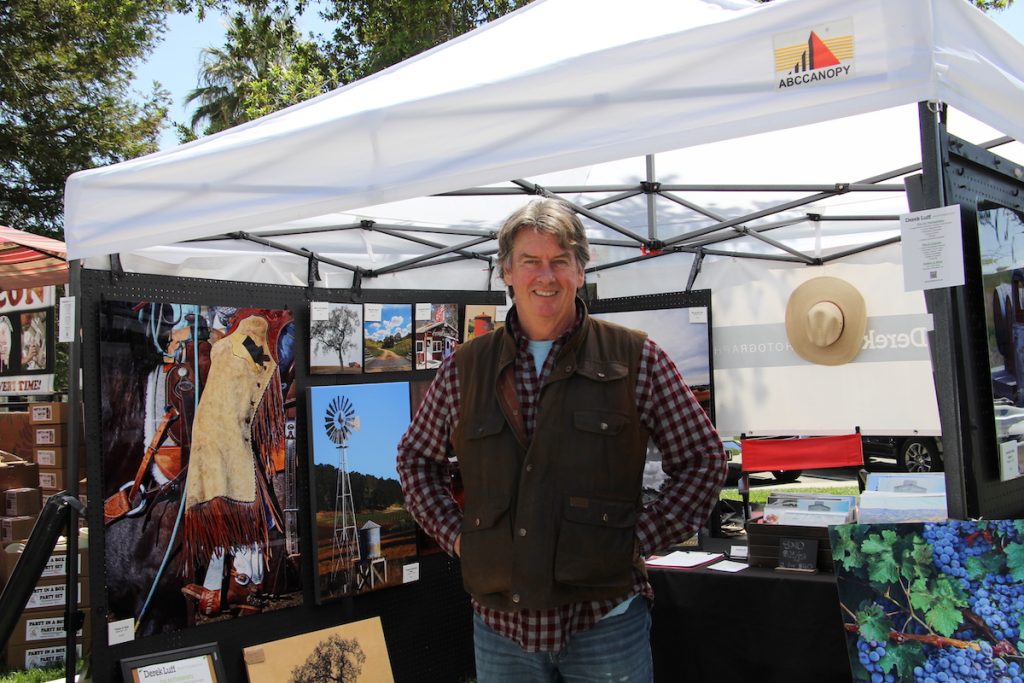 Local photographer Derek Luff was at the park for his second time, and said "I'm humbled to be here because it's the cream of the crop in artists."
Luff, who recently opened a studio in Templeton, displayed his photography featuring rural parts of the county, with Creston being close to his heart.
"I'd like to give back to the community," says Luff. "For me, I'm trying to preserve the past for the future."
Warm weather welcomed thousands to the park to stroll the various unique creations. Yves Goyatton, a sculptor originally from Lyon, France, was a featured artist at this year's event. This was Goyatton's first showing at Paso Robles Art in the Park, and his exceptional sculptures definitely impressed.
Powers and organizers of the event are proud to receive support from the community, including Paso Robles Mayor Steve Martin, who recognizes the importance of this event.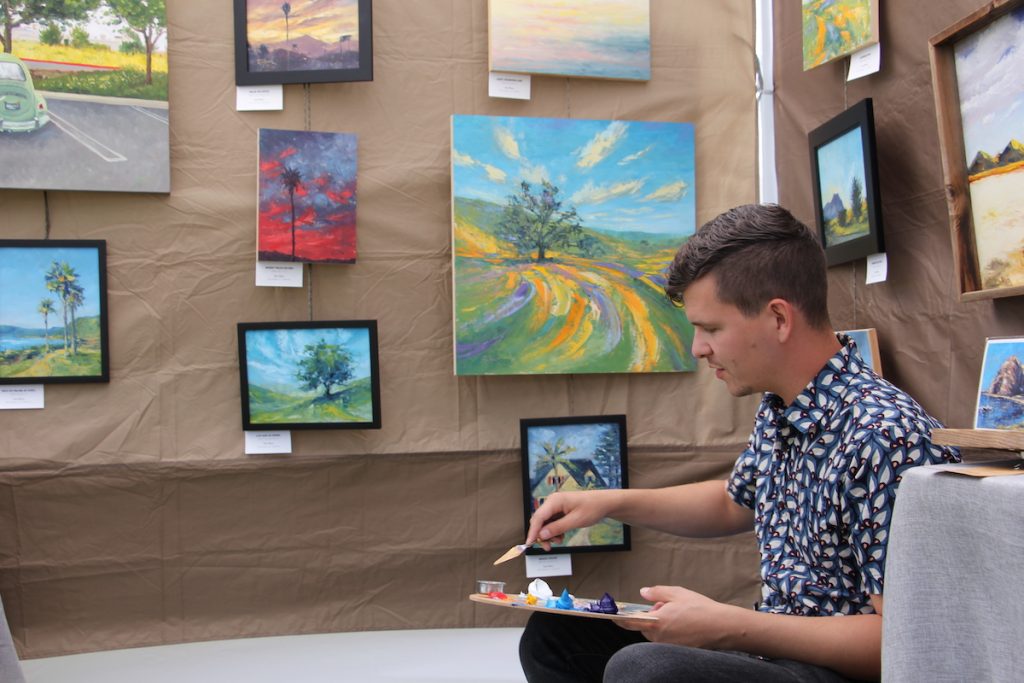 Some artists took advantage of the warm weather and sunshine to live paint in the park, including San Luis Obispo resident pallet knife painter and landscape designer Tyler Ellison. The Cal Poly graduate has had work featured in Joebella Coffee in Atascadero, Active Coffee, Sally Loo's Wholesome Case, and Ascendo Coffee in San Luis Obispo. Ellison brought curious onlookers as he painted a rendition of Morro Rock.
Morro Bay artist Andrew D. Wilkie featured his "Art Grounded in Coffee" series. Wilkie's work uses whole and ground coffee to create inspiring landscapes and scenes, as well as business-commissioned works. Originally from Colorado, Wilkie met his Morro Bay-native wife in college and the two moved back to the Central Coast to enjoy a laid-back lifestyle. Wilkie also works as a science teacher at Atascadero High School, where he teaches human anatomy and physiology, and biology.
In addition to providing a platform for artists to showcase their work, Art in the Park also serves as a community-centered event that brings people together. It's an opportunity to connect with friends, neighbors, and fellow art lovers, while enjoying the beautiful surroundings of Paso Robles Downtown City Park.
"We would like to thank Castoro Cellars for their outstanding support of this show," said Powers. "They donate their Highway 101 billboard to promote the show. It helps solidify our attendance. Also, the City of Paso Robles for their help in supporting the show. The City is very easy to work with."
The next Art in the Park will be featured in October. For more information about Art in the Park, go to the Steve Powers and Company website at pasoroblesartinthepark.com.