Mike Massey, Suze Evenson, and George Donati honored at annual California Mid-State Fair event
By Camille DeVaul and Christianna Marks
PASO ROBLES — Friends and family gathered on Thursday, July 20, for the annual countywide reunion — the California Mid-State Fair (CMSF) Cattlemen and Farmer's Day. Held near the Livestock Gate, the over-50-year-old tradition celebrates the backbone of the county, our farmers and ranchers.
Three individuals were recognized for their contributions to the agriculture community, but not without paying tribute first to the mother of the California Mid-State Fair — Jo Ann Switzer.
advertisement

For the second year, a recipient was chosen to receive the Jo Ann Switzer Scholarship. Switzer, along with the late Dick Nock, founded the Cattlemen and Farmer's Day at the CMSF over 50 years ago. Sponsored by John and Pam McPherson, the scholarship went to Eily Brooks of San Luis Obispo in the amount of $2,500.
The scholarship is given to a young individual who shares some of the same hardworking and dedicated characteristics as Switzer herself. Brooks graduated from San Luis Obispo High School earlier this year in April. She has been an industry leader and served as both FFA and 4-H president and a member of the Young Cattlemen's Association. She will be attending Oklahoma State University this fall.
Each year, the community excitedly anticipates the announcement for the coveted Cattleman of the Year, Cattlewoman of the Year, and Agriculturalist of the Year awards. These individuals go above expectations in the industry. The honorees are selected by the San Luis Obispo County Farm Bureau, San Luis Obispo County Cattlewomen, and San Luis Obispo County Cattlemen's Association.
"This is a special annual tradition for our local agriculture community dating back to 1963," explained Farm Bureau Executive Director Brent Burchett. "These three individuals embody our proud farming and ranching heritage in San Luis Obispo County."
Cattleman of the Year Award Mike Massey
The San Luis Obispo County Cattlemen's Association has given the Cattleman of the Year award annually since 1963, making Mike Massey the 60th person to receive this honor.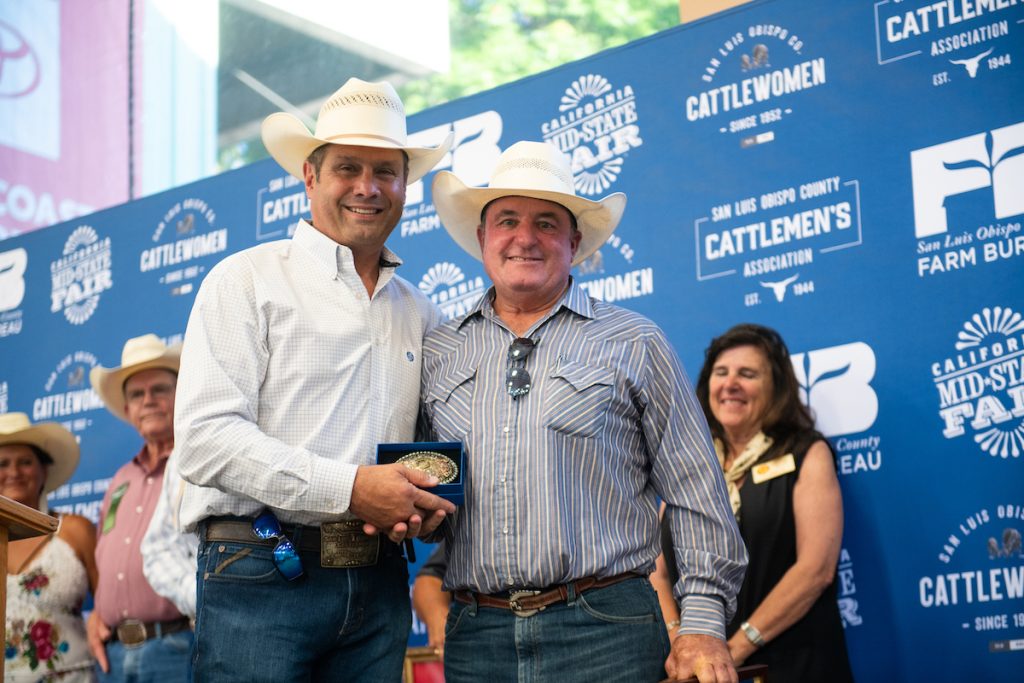 "It was humbling and I feel honored. Im blessed, fortunate," Massey told Paso Robles Press/Atascadero News on how he felt when he found out the news. 
Massey was born in Illinois, and his family moved to Fullerton in 1971 when he was about 8 years old. As Massey says, at 17 he decided to run off and be a cowboy. Inspired by his agriculture teacher Gary Hunt, Massey knew he wanted to be a part of the agriculture community one way or another. That same man who started it all was there to congratulate Massey on his Cattleman of the Year award that hot July fair day.
Massey would go on to learn the ropes of the cowboy life at Costerisan Farms and eventually made it to Cal Poly where he met his future wife, Lillian (Lil) Varian. He would later gain experience at other ranching and ranch-related jobs before getting married and settling on the V6 Ranch in Parkfield, where the couple started a cowherd leasing ground throughout the county and raised their two daughters, Sage and Sammy. In 2000 Massey had the opportunity to manage the Templeton Livestock Market with Randy Baxley and Chad Davis for 11 years and remained in the cattle industry thereafter.
Massey told us what agriculture means to him, "It means everything … great community. San Luis [Obispo] Cattlemen is such a [great] organization and its been great … It's been a great ride."
Cattlewoman of the Year Suze Evenson
San Luis Obispo County CattleWomen have selected San Miguel rancher and community leader Suze Evenson as the 2023 Cattlewoman of the Year.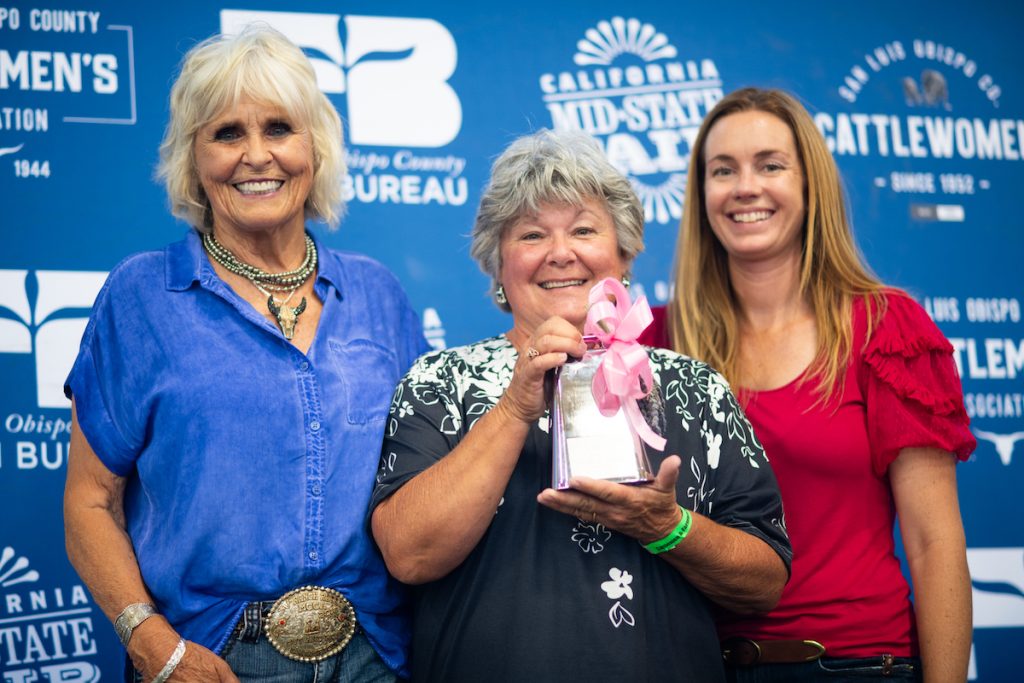 "I was so honored. To be able to be apart of the group of ladies that I am a part of, the cattlewomen, its amazing. It makes my world happy," Evenson told Paso Robles Press/Atascadero News of finding out about her award. 
Born in Ojai, Evenson fondly remembers riding her horse to town with friends and the smell of sweet orange blossoms in the spring. But she was officially introduced to the agriculture industry after marrying her husband Dale in 1986. Together, the Evensons have two sons Ahrean (Aaron) and Casey, and four grandchildren, August, Aymie, Holt, and Callahan.
Evenson's community service includes serving as board member and secretary for the Adelaida School House Historical Society, board member on the Pleasant Valley-Estrella Cemetery District, a docent at the Paso Robles Pioneer Museum, and as a member of the San Miguel Lions Club. She is a California Mid-State Fair "Friends of the Fair" member, having served as a volunteer for 20 years, helping out in the Livestock Office and Arena. The Evensons are members of SLO County Farm Bureau, the Range Improvement Association, and Independent Grape Growers of Paso Robles Area.
"We do have to eat and cattle are a big part [of that]and not only do we eat the meat we have a lot of things that are in cattle that are byproducts … and the farming part is nice. It is good and bad years but we also always hang in for it," said Evenson of her passion for agriculture.
She has been actively involved in various leadership roles, including serving as president from 2018-20. Her extensive community service, dedication to agricultural education, and commitment to the beef industry have made her a cherished member of the organization.
Agriculturalist of the Year
San Luis Obispo County Farm Bureau has selected local farmer and vineyard industry leader George Donati as the 2023 Agriculturalist of the Year.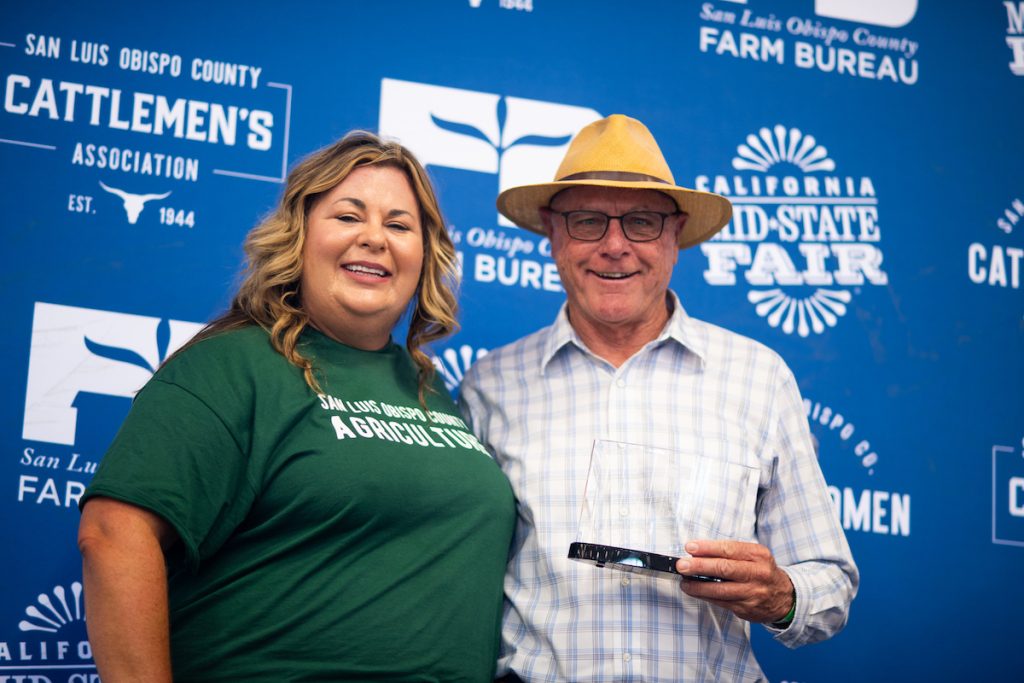 When hearing the news of his recognition, Donati said, "I told Brent [Burchett] they must have run out of nominees."
With a 50-year career in agriculture, Donati's family roots in SLO County agriculture run even deeper. His paternal great-grandparents emigrated from Switzerland to Cayucos in 1875, and the Donati family has been on the Central Coast ever since. After graduating in 1969 from St. Joseph High School in Santa Maria, Donati attended Cal Poly majoring in agricultural business management. He received his bachelor's degree in 1974 and married his wife, Kristi, in 1975. Seventeen years later, Donati got the opportunity to return to the Central Coast as Vineyard Manager of Pacific Vineyard Company in 1996. He served in that role until 2019 when he became owner and general manager of the company, now called Pacific Coast Farming.
Donati has been married to his wife, Kristi, for 47 years. The Donatis have two children, son, Kory, 40, and daughter, Kayla, 36. Kory and his wife, Cheri, live in Clovis, California, with their two sons, Brody, 11, and Lucas, 9. Kayla and her husband Matthew Barnes live in Orcutt with their three children Ava, 11, Owen, 8, and Cody, 4.
To Donati, agriculture will always be important because "It's the way of life and being here in San Luis Obispo County; I grew up in Santa Maria, Santa Barbara County and its great. A lot of great people here. You get to know them and see them all the time, especially here at the fair."
Learn more about this year's honorees at pasoroblespress.com/lifestyle/artsandculture/california-mid-state-fair/2023-agriculturalist-cattlewoman-cattleman-of-the-year-named/
Photos by Brittany App