Family business' winning oils will be on display during the Lodi Grape Festival Sept. 14-17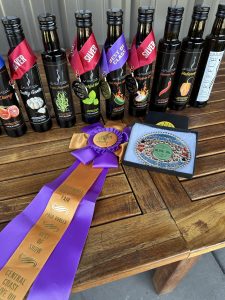 PASO ROBLES — The California Mid-State Fair announced that Calivirgin was named the 2023 Olive Oil Producer of the Year. The Lodi, California, family-owned business had nine total entries entered, and eight received medals: Best of Show Flavored, Best of Class Hot, four Golds, three Silvers, and one Bronze.
Calivirgin received a custom-made belt buckle donning the Central Coast Olive Oil logo amongst an array of jewels, similar to the "Winery of the Year" in the Central Coast Wine Competition. Their winning oils were on display during the California Mid-State Fair and will also be on display during the Lodi Grape Festival on Sept. 14-17.
To learn more about the Central Coast Competitions, please visit centralcoastwinecomp.com.
advertisement

Feature Image: The California Mid-State Fair announced that Calivirgin was named the 2023 Olive Oil Producer of the Year. Contributed Photo