Ten acts from across all genres played on the Michelob ULTRA Concert Series Stage 
by Christianna Marks and Becca Sligh
NORTH COUNTY — Paso Robles Press had the pleasure of attending six out of the 10 main acts on the Michelob ULTRA Concert Series Stage at the California Mid-State Fair this year. On top of the six performers we saw, Sammy Hagar, Parker McCollum, Pitbull, and Los Tucanes De Tijuana also graced the stage. Here are our thoughts on the rest of the CMSF's headliner acts.
"This was the best-selling concert lineup across the board that we've had since I've been on the board," said CMSF Board President Krista Sabin. "We had a little bit of everything. All the genres were covered."
advertisement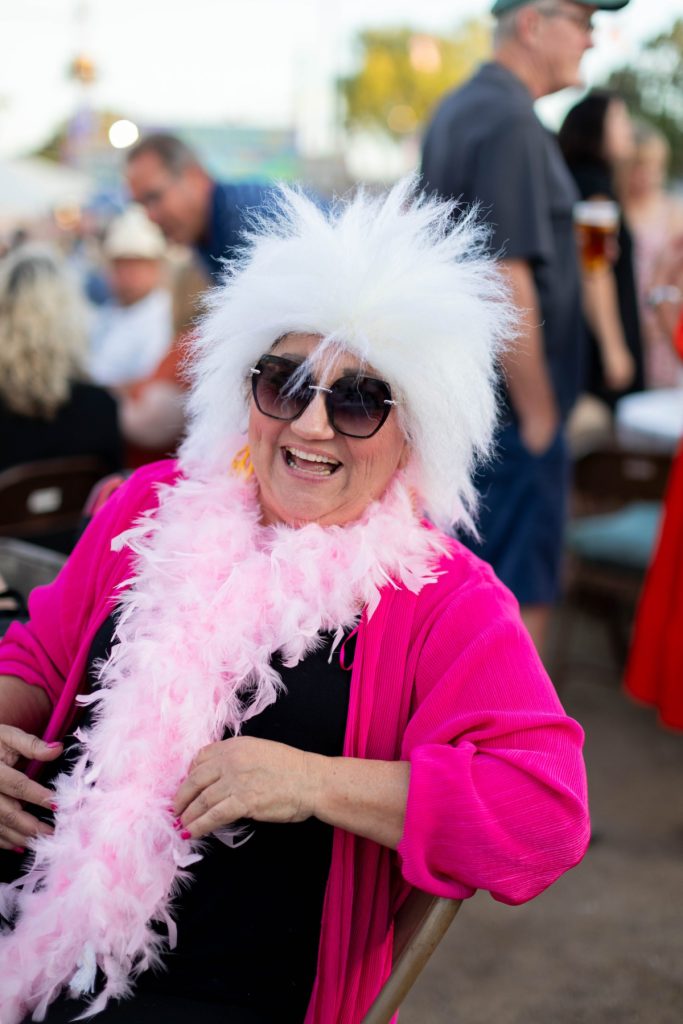 Opening day of the CMSF was nothing short of special. Carnival rides were free, the smell of kettle corn and corn dogs filled the Paso Robles Event Center, and the Michelob ULTRA Concert Series presented by Visit SLO CAL kicked off with a special performer: Tim McGraw.
This was McGraw's eighth time performing at the fair. His opener, Annie Bosko, is a California Native singer-songwriter who has written songs for music legends like Willie Nelson and performed on stage with some top names such as Adele and Darius Rucker.
McGraw took to the stage and started off with his top hit, "How Bad Do You Want It." McGraw also shared some memories with the crowd about performing at the CMSF.
McGraw wasn't much for talking and instead continued to play over 18 of his top hits, including "Truck Yeah," "Where the Green Grass Grows," "I Like It, I Love It," and "Live Like You Were Dying."
Contemporary Christian singer Lauren Daigle took the stage on Thursday, July 20. Lead singer of Switchfoot, Jon Forman, opened for her, singing hits like "Meant to Live" and "Dare You to Move," which was a massive part of the soundtrack for the 2002 film, "A Walk to Remember."
Daigle brought the house down with a worship-filled set geared toward the myriad of ages in the crowd. From her gospel-style backup singers to the brass section of her band, everything mixed perfectly with her vocals.
She took breaks between her hit songs like "Rescue" and "You Say" to share fun stories of her hometown in Louisiana and growing up.
The crowd loved her performance, and there was even a group of kids who were yelling, "Lauren Daigle, we want a bagel."
The fair got funky on Saturday, July 22, when The B-52's took the stage. The show was a production, starting with filmed visuals that catapulted into the band taking the stage. The Georgia new wave band was preceded by Lou Gramm, former lead singer of Foreigner, who blessed the crowd with some of the band's hits, like "Hot Blooded" and "Juke Box Hero."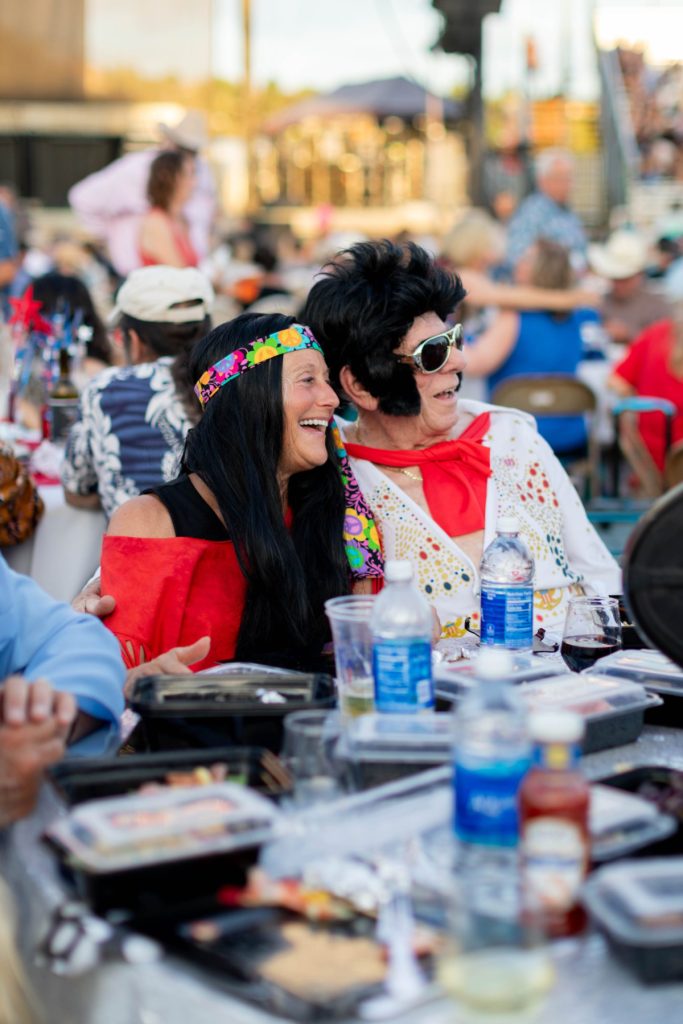 The B-52's had everyone on their feet dancing, and though they started out with a few songs that the crowd wasn't as familiar with, as soon as they launched into their hits, there was no stopping them. From "Private Idaho" to "Love Shack," everyone was having a great time. There was even an inflatable lobster being waved around, and once "Rock Lobster" hit, it was tossed around like it was a beach ball. 
July 23 was this fair season's first sold-out show featuring none other than Luke Bryan. Opening for Bryan this year was upcoming artist Conner Smith.
"This is about to go down," Tom Keffury screamed into the microphone while a drone flies over the crowd to capture the sold-out audience. This was Bryan's second time performing at the CMSF, with his last show in 2018 also selling out.
Keffury, who is the morning show host of local country radio station 98.1 KJUG, stated, "Every time we have a sold-out show here, we like to get evidence of it, so we're going to take a picture and fly a drone over to capture all this."
With the crowd in an uproar, the widely anticipated concert of the season gets underway as the arena goes black and the guitars start. A familiar riff fills the ears of the crowd when all of the sudden, the music builds, and then we hear Bryan sing "Kick The Dust Up," kicking the show off with one of his most popular songs to date, to which the crowd went absolutely wild. Bryan proceeded to sing over 25 of his most popular hits, including a few new songs, as his show lasted until about 10:30 p.m.
Though the show on Monday, July 24, got off to a late start, rapper T.I. got everyone on their feet after a set by the DJ on stage. Performing some of his hits like "Live Your Life" and "Whatever You Like."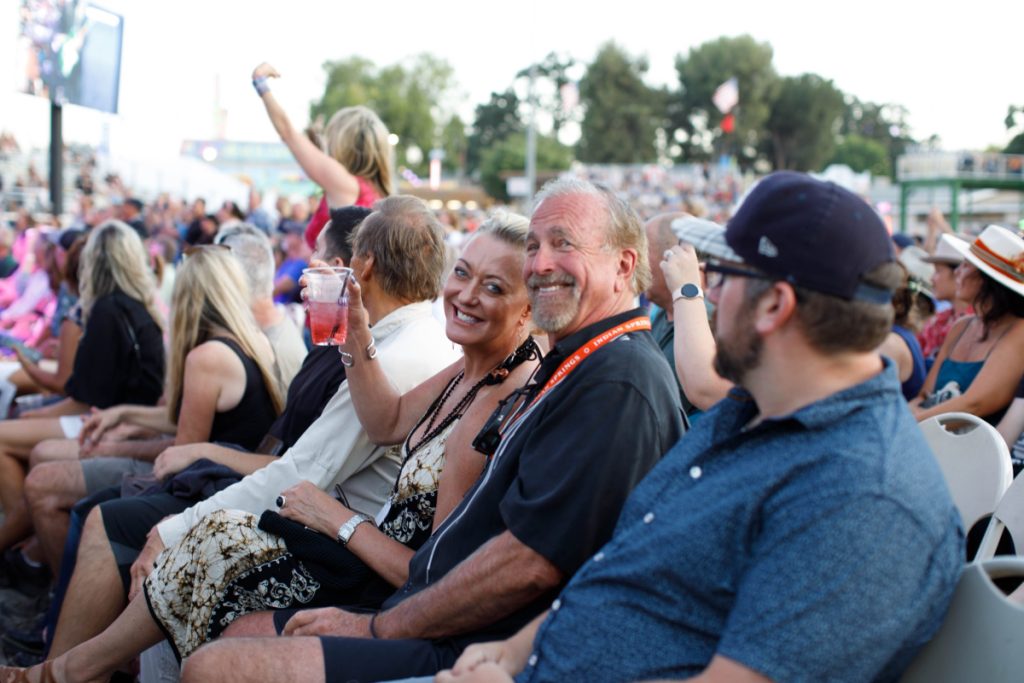 This was the first time Nelly, who busted onto the rap scene in 2000 with his debut "Country Grammar," graced the CMSF stage. He grabbed the audience and held them in the palm of his hand with fantastic vocals and the quick raps we've all come to know and love. He performed every hit in his 20-plus-year career, including "Just a Dream," "Ride Wit Me," "Air Force Ones," and "Hot in Herre."  
He even surprised the crowd with an appearance by his nephew J-Kwon who performed his 2004 hit "Tipsy."
The last concert on the main grandstand took place on Friday, July 28, for the ever-favorite, An Evening of Music and Wine. This year's entertainment was provided by Styx, who have filled our airwaves with hits since their debut album in 1972.
Seeing Styx live felt as exciting as a confrontation with your ex-boyfriend. A mix of nostalgia done well with a little dash of something new. As they hit the stage that night, the rock band played all of their hits like "Come Sail Away," "Too Much Time On My Hands," "Lady," "Mr. Roboto," and my personal favorite, "Renegade," which they closed their encore with.
Paso Robles Press even had the pleasure of sitting next to a couple who have been seeing Styx live since 1977, and that vibe was felt throughout the arena.