They call themselves the Back Roads Wineries but range all over Paso Robles' eastside. However, they usually are found on back roads. The wineries crop up in four distinctive AVAs: Geneseo, El Pomar, Creston and Templeton.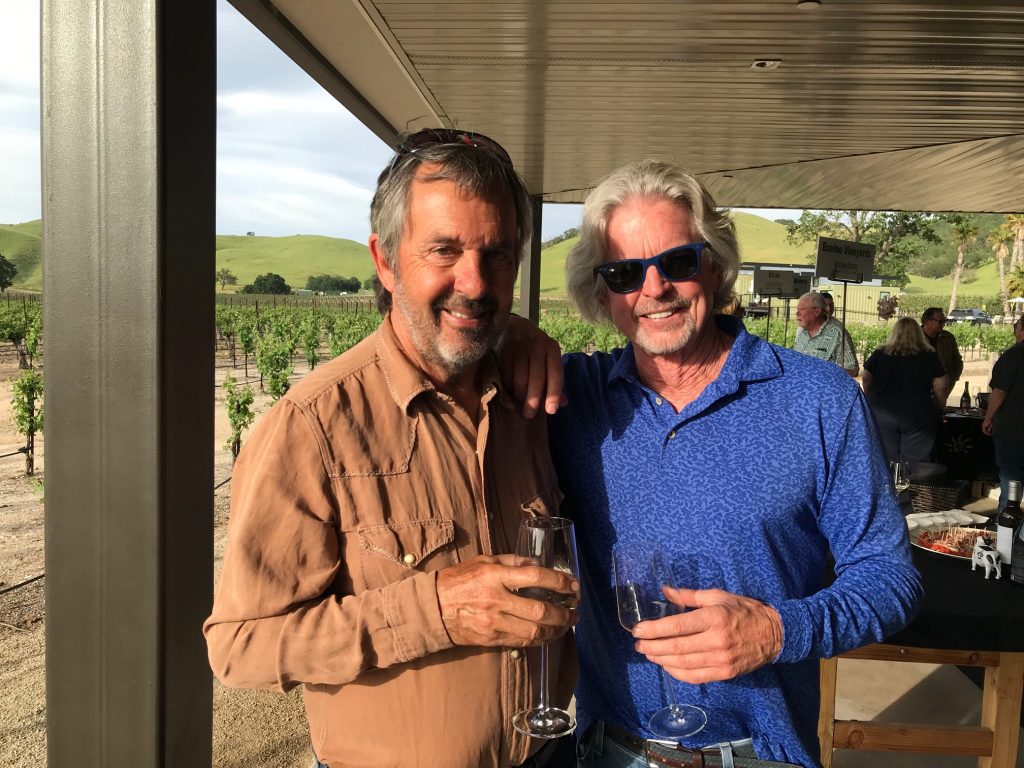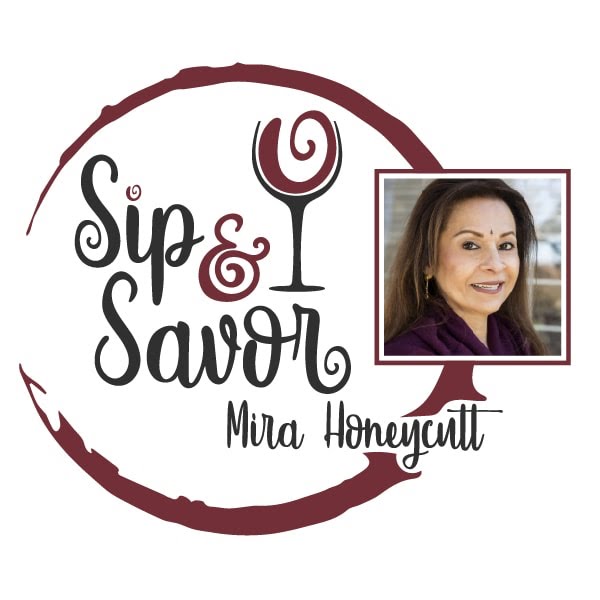 This cluster of some 30 wineries meanders here and there, many tucked along winding country roads south of Hwy. 46 East and east of Hwy. 101, including wineries along the Union Road Wine Trail and the Creston Corridor.
advertisement

These boutique wineries represent not only the wide variety of grapes but also the typicity of wines produced there. Many of them joined in the group's annual mini-festival, Taste of the Back Roads staged at Cass Winery's Barrel Room.
On a clear and sunny spring afternoon with a backdrop of Cass vineyards, the festival brought together a group of 17 wineries offering a spectrum ranging from Rhône blends to Italian varietal wines with Cabernets taking the lead in the reds and Viognier as the popular white.
Winemaker Bryan Widstrand pitched the glories of Geneseo to me when I tasted through a generous selection from Steinbeck Vineyards & Winery.
"It's a combination of natural acid and tannin profile," he said in proclaiming the wonders of wines from Geneseo's warmer region. "I see so much earthiness." The soil, he explained, is lifted with calcareous stones which provide calcium and help wines to be in balance.
Balance and structure: "We don't have to manipulate but bring grapes into the balance the vineyard was meant to have."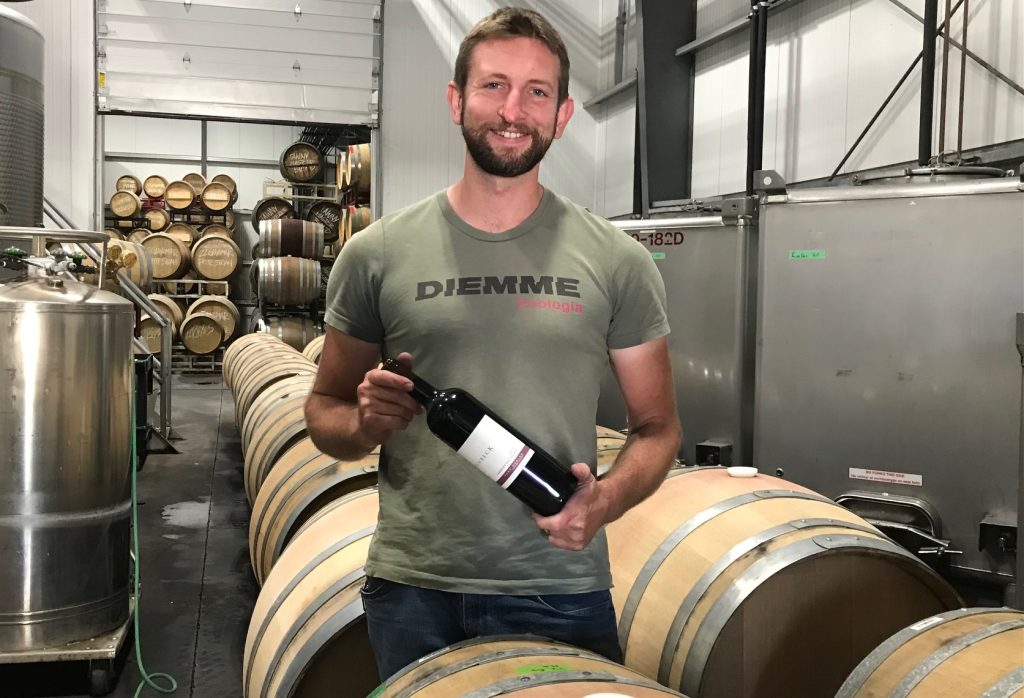 For Widstrand, the hands-off approach relates to good vineyard practices, crafting wines that reflect the vineyard's expression with each vintage. The balance and terroir come through in the lineup of wines that were offered at the event: a complex 2017 Cabernet Sauvignon; a 2018 The Crash, a lush blend of five grapes—Cabernet Sauvignon, Merlot, Zinfandel, Petite Sirah and Viogner — and an inky 2016 Petite Sirah.
There was also a selection of Steinbeck pink, white and sparkling: the 2022 Rosetta, a blend of Grenache and Old Vine Syrah; a ravishingly floral 2019 Viognier; and the 2020 Blanc de Blanc. "We are sold out of that," Widstrand said of the sparkler crafted in the méthode champenoise style.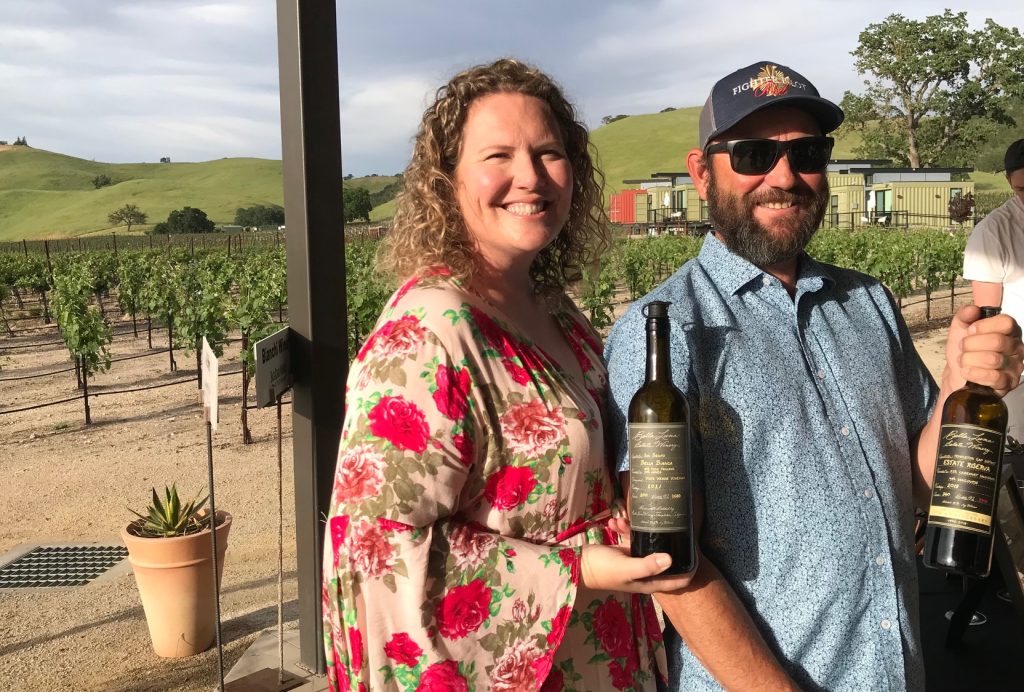 There is a good selection of Italian varieties planted in Templeton and Creston appellations at wineries such as Bella Luna, Clesi, Ella's and Rava Wines, the latter noted for superb sparkling wines.
At Bella Luna Estate Winery in Templeton, the late Sherman Smooth and Kevin Healey planted one of the few dry-farmed Sangiovese in 1998. "Everyone told my dad he couldn't dry farm on the east side," mused Nichole Healey-Finn, Kevin's daughter.
It was Healey's love for Italian wines that encouraged him to plant Sangiovese to which Nebbiolo and Barbera have been added as well as Cabernet Sauvignon and Ruby Cabernet, the latter, a deep color and drought-resistant variety, that is a cross between Cabernet Sauvignon and Carignan. The 1500-annual case production is crafted by Lukas Finn, Nichole's husband.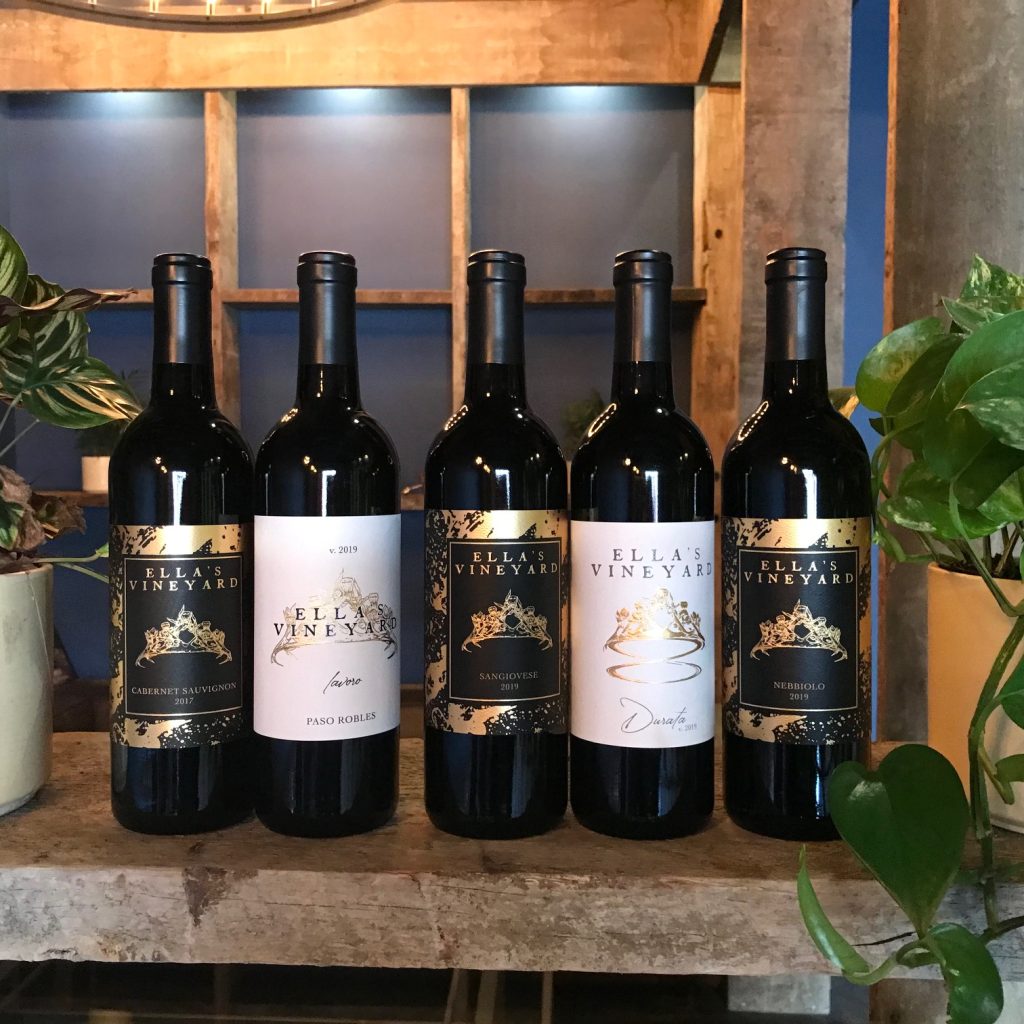 "We love our Italian varieties," Katherine Morris told me. She and her husband Josh Morris founded Ella's Vineyard in 2018 in the Creston appellation. Visitors who come to their Tin City Annex tasting room are delighted to encounter their Italian portfolio after a day of tasting Rhône-style wines, Morris commented.
Ella's 11.5-acre vineyard is planted to Sangiovese, Nebbiolo, Primitivo, Cabernet Sauvignon and Merlot. "We are a bit warmer than the westside and Tuscan varieties do well here — it's a similar climate," Morris noted. "The soils are phenomenal from calcareous to clay."
Ella's portfolio of 2019 estate wines is impressive. I savored a Cabernet Sauvignon (planted to an Italian clone) that showed a lighter herbal expression; a cherry-dusted Sangiovese; and a cinnamon-y Nebbiolo. I discovered two delicious blends unlike the typical bold Paso style: the Super Tuscan Sangiovese-dominant Lavoro and the Nebbiolo-driven Durata, both using Merlot, Cabernet Sauvignon and Primitivo as blending partners.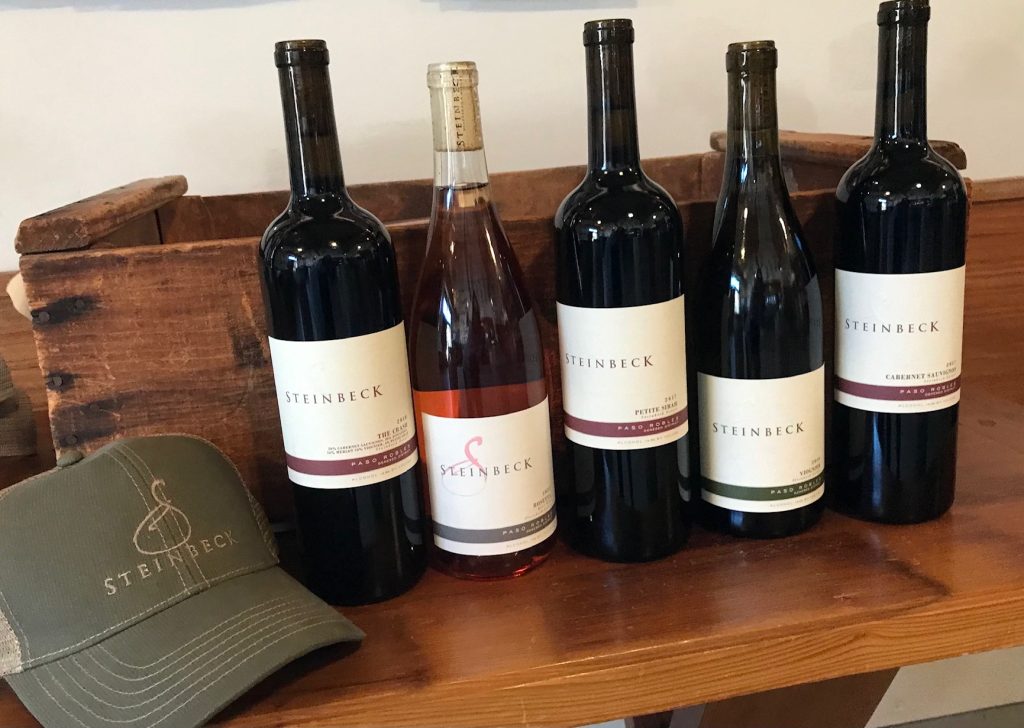 In the El Pomar appellation, Bovino Vineyards' range of 16 varieties from Arneis and Albariño to Zinfandel shows the breadth and diversity of the region. The Bovino portfolio stretches from Italian and Spanish to Bordeaux and Rhône-style varieties planted on a 45-acre vineyard. The three primary types of soil, loam, silt loam and clay, along with elevation ranges and different rootstock clones are what give Bovino wines the structure and balance. Crafted by veteran winemaker Steve Anglim, these wines are drinkable now but show a cellar-worthy character.
The Back Roads group, a brainchild of Steve Cass, co-founder of his eponymous winery, evolved organically 16 years ago with a dozen or so winery members. Half of them are now gone but new ones have come into the fold, said Cass.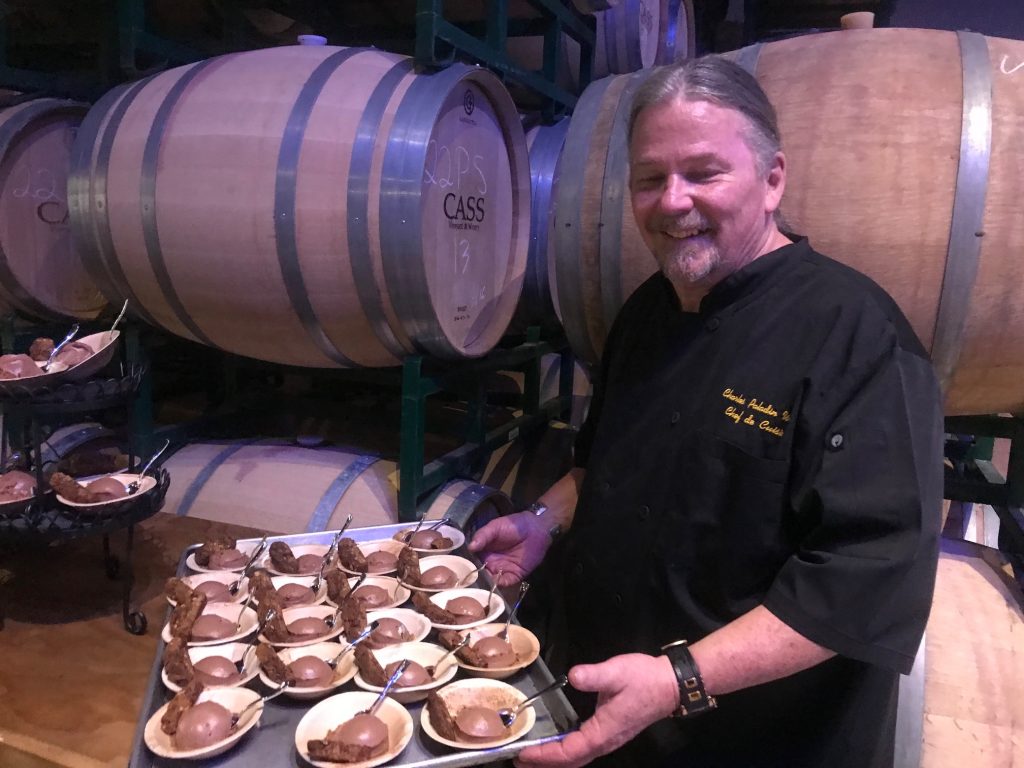 Since most of the wineries along this enclave are small family-owned with minuscule budgets for marketing, the idea to from a collective was to promote their wines through a combined effort. Thus, the formation of the Back Roads group and an annual event of wine tasting, dinner and a silent auction fundraiser benefiting a local charity. This year the San Luis Obispo-based Family Care Network was the beneficiary. "We raised $6,000 from the silent auction," noted Cass.
At Caelesta, winemaker Brian Farrell offered a deliciously deep-hued 2018 Apogee powered by Cabernet Sauvignon and blended with Petite Sirah, nearby there was a vast selection at Ascension Cellars from Bordeaux to Rhône-style blends. Other participating wineries included Demeter, Still Waters, RF Wines, Defiance, Rava, Cass, Glunz, Hansen and Rasmussen, each one offering food bites paired with its wine lineup. Cass Winery's executive chef Charles Paladin Wayne went all out with his take on Mayan cuisine, an elaborate spread of tamales, pork and a delicious assortment of fresh salads and condiments.