"Merlot is probably my favorite variety," remarked Josh Harp, winemaker at Jada Vineyard & Winery in Paso Robles.
It's October, #MerlotMe month so, of course, we were talking about Merlot, the much-maligned wine that got hit by a tsunami and down-graded because of one seminal line in the 2004 multi-award-award-winning film, "Sideways." (If you don't know the reference, Google it.)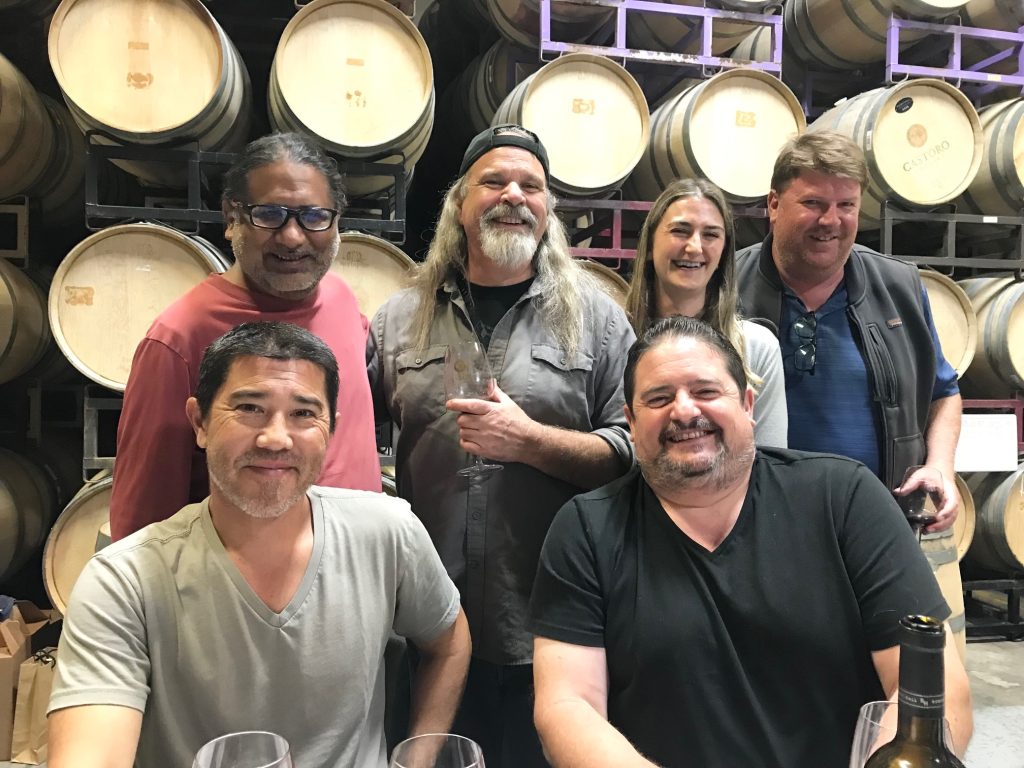 Harp was joined by a dozen other Paso winemakers at my 6th annual tasting of Merlots from Paso, Napa and Washington State. The intimate tasting was hosted by Castoro Cellars at its San Miguel winery.
advertisement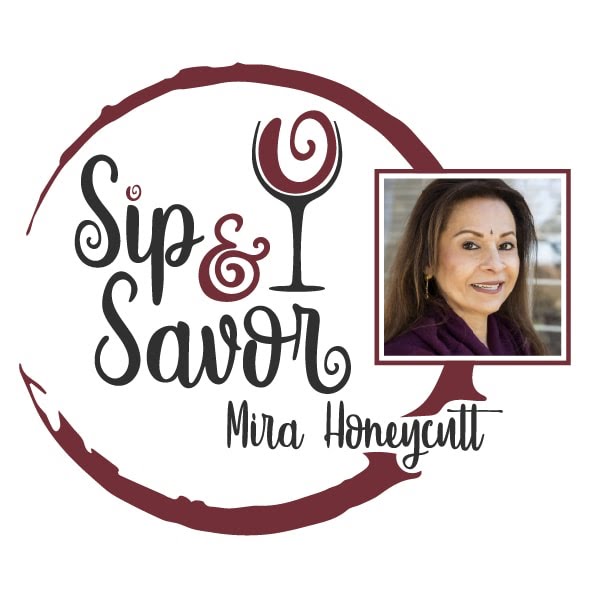 "It's amazing how different Merlot can taste across this large AVA of ours," Harp remarked. Indeed, the Merlots we tasted represented a broad spectrum of styles. Napa Valley, Paso Robles and Washington State offered wines ranging from lighter-bodied and aromatic to dark, sometimes toasty, and heavier-bodied.
Merlot is one of the most widely planted grapes on the globe and the third leading wine purchased by Americans after Cabernet Sauvignon and red blends, according to The Wine Institute.
Yet it's taken many years for Merlot to regain respect and achieve its current status of a wild roller-coaster. Thanks to Napa Valley's Duckhorn Vineyards for ingeniously resurrecting Merlot. In October 2013, the Duckhorn family launched#MerlotMe, a movement supported by several Napa Merlot producers. It mobilized a global band of Merlot producers who turned to social media and helped rescue the grape's reputation. The month-long October #MerlotMecelebration culminates on November 7 as National Merlot Day.
Although the Duckhorn Vineyards is no longer funding the #MerlotMe project, the movement continues its global outreach. The #MerlotMe stats, according to Keyhole tracking data, show a total of 268,729,298 social impressions from 2014 to 2022.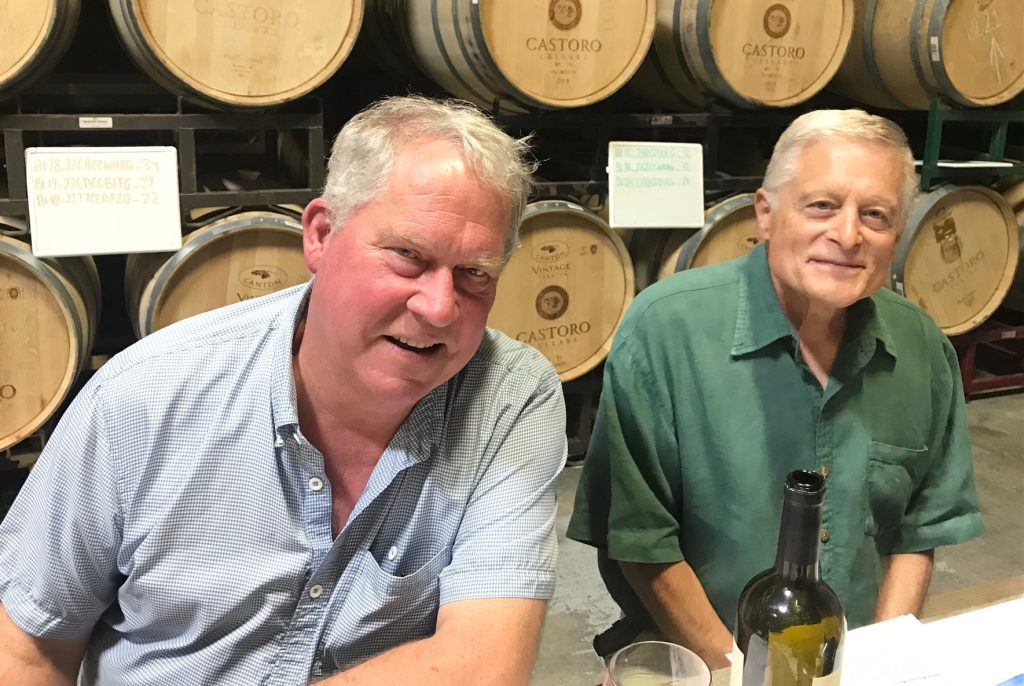 Locally, Merlot is popularly blended with varieties such as Malbec, Petite Verdot or Cabernet Franc. In some cases, such as Ancient Peaks Merlot, asplash of Paso's heritage grape Zinfandel finds its way along with Cabernet Sauvignon into the Merlot-dominant blend.
Castoro's founding winemaker Tom Myers and associate winemakers Craig Reed and Jamie Malesza welcomed winemakers in the cavernous barrel room.
Armed with their Merlots, the group included Don Brady of Robert Hall Winery, Jared Lee from Pear Valley, Don Arndt of Arndt Cellars, Bill Powell of Powell Mountain Cellars, Scott Mathews of 915 Lincoln, Alex Kemp who recently switched positions from Rangeland to Brecon Estate and Kunal Mittal co-founder of LXV Wine.
Myers introduced Castoro's Estate 2021, a 100% Merlot. "We don't have a recipe really; we are vintage driven," he said of the 700-case production which in previous years has been blended with Tannat and Petite Sirah.
The Merlot-loving winemakers had their spin on the variety. "It's my number-two wine in the tasting room," said Arndt of the 2018 Merlot singing with herbal notes. Blended with 10% Petit Verdot, the wine aged in neutral barrels for 42 months.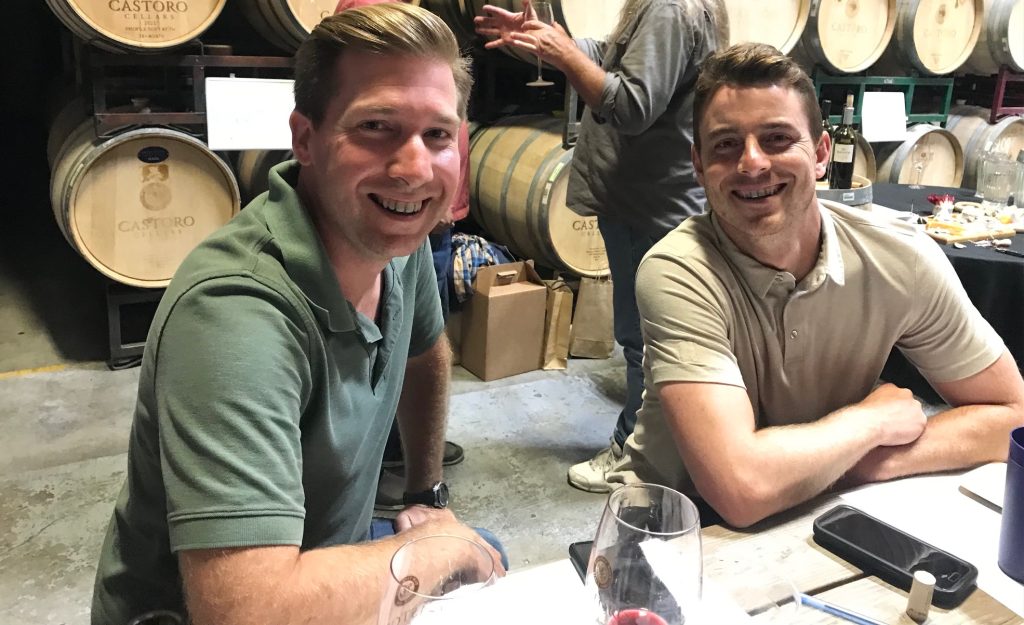 "It is making a comeback," concurred Mathews, adding that the downfall of Merlot also had to do with the wine's quality. "People get lazy making it, but when it's done right, it's right up there with Cabernet." From his recently launched 915 Lincoln wine portfolio, the 2019 100% Merlot nabbed the Best of Show in the red wine category at the 2023 Orange County Fair Commercial Wine Competition.
"Merlot is growing," said Brady. And the customer is saying yes according to Robert Hall's winemaker, known for crafting fruit-forward and pleasurable Merlot, a popular wine in the portfolio. He also shared his private label Brady Wines' 100% Merlot, a beautiful structured wine its fruit sourced from the Adelaide District.
There were Merlots from Paso's eastside and westside showing bright fruit, floral notes and a touch of spice, in a range of prices from J. Lohr's Los Osos $15 Merlot toLXV Wine's $120 G2N.
Unable to attend the tasting, Brenden Wood, J. Lohr's red winemaker, filled me in via phone chat. "It's our gateway wine," he said of the 75,000 annual case-production of the Los Osos Merlot blended with a touch of Malbec and Cabernet Franc. The 147-acreage of Merlot vineyards is planted in Paso's El Pomar District.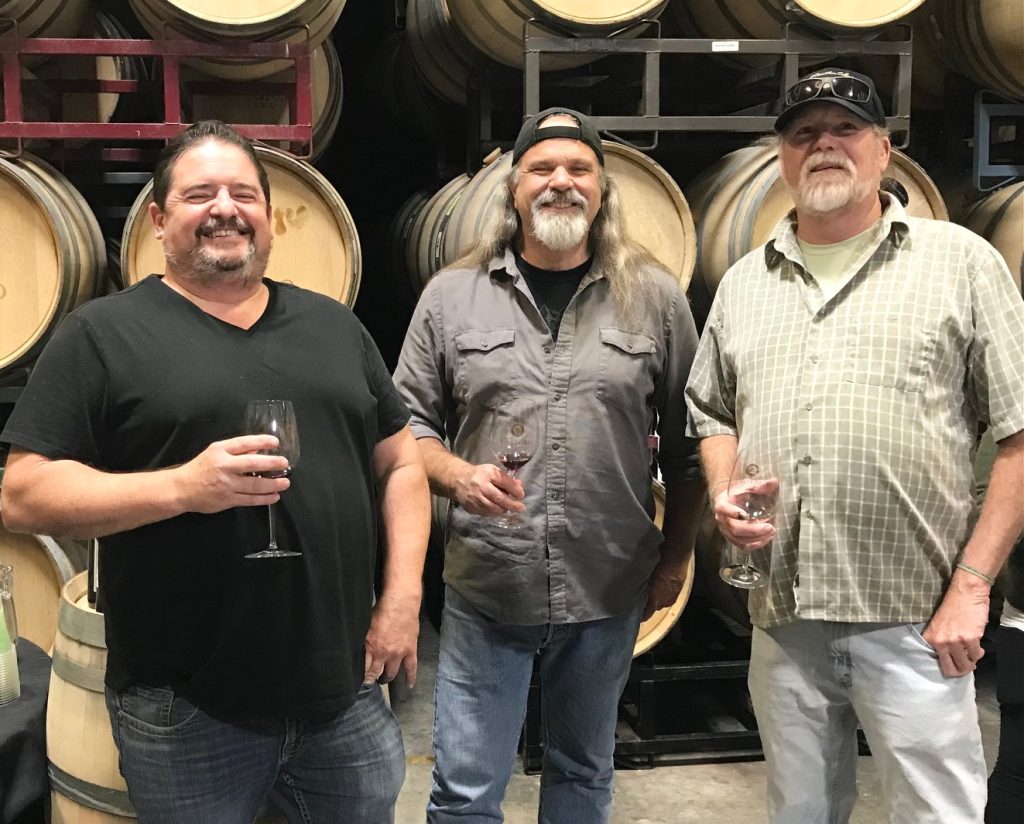 We savored Pear Valley's 2019, rocking with black currant notes and hints of licorice, a Double Gold winner at the 2023 Central Coast Wine Competition in the Best Red and Best of Class categories. Winemaker Lee is drawn to Merlot's luxurious fruit profile, its medium tannin and acidity, supported by oak.
"One thing I try to focus on is varietal correctness," he insisted. "Especially when blending, I think about keeping the house style and varietal correctness up front."
From Jadaboth the 2019 and 2020 Strayts expressed a luxurious mouthfeel; the '19 Merlot blended with Petite Sirah and Petit Verdot while in the '20 the same blend was supported by Cabernet Sauvignon.
Mittal surprised the group with a couple of barrel samples; one just brought back from Bordeaux in his new venture Maison Mittal, a St. Emilion Grand Cru blend of Merlot, Cabernet Sauvignon and Cabernet Franc produced in Bordeaux. We sampled it alongside the 2019 Chateau Lessègue, a St. Emilion Grand Cru produced from 60-year-old vines.
The other LXV barrel sample was the 2022 G2N, a 100% Merlot from Willow Creek's famed G2 Vineyard. "We first made it in 2015 and this is a big part of our program," Mittal remarked.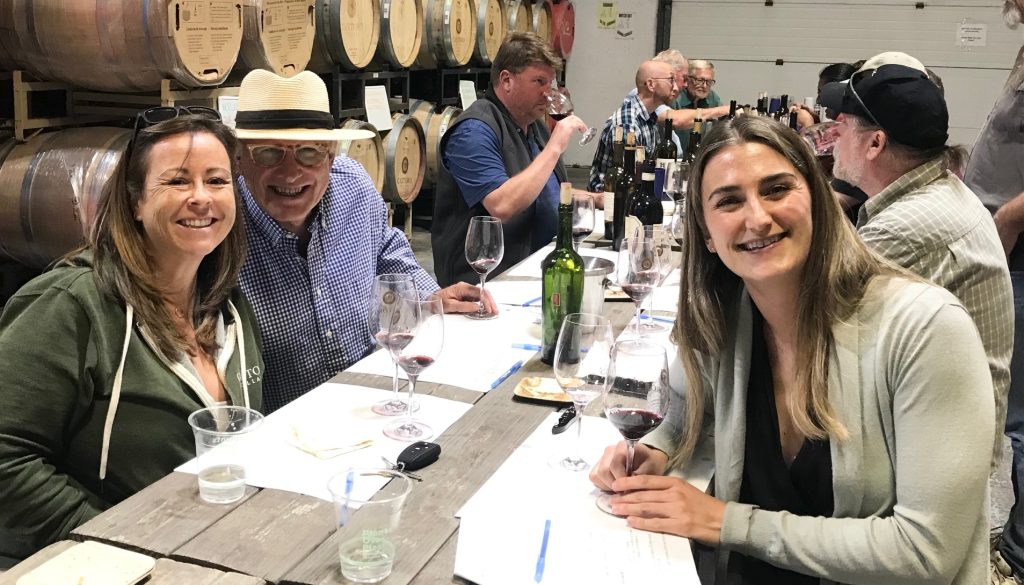 Among the 100% Merlots the 2020 Daou Family Estates' Reserve Sequentis expressed a giddy carousel of plums and pomegranates on the palate; the full-bodied 2103 Powell Mountain Cellars, redolent with dried cranberry notes; and the 2019 Rangeland, a compote of red fruit.
Other noteworthy Paso Merlots included Cass, Donati, Écluse and Hearst Ranch.
As we tasted some Napa wines alongside Paso, for Lee Napa wines expressed a core of earthy, almost iron-like quality, compared to Paso wines that were more spiced and floral, with brighter fruit.
"I would have to say some of the heavier-bodied styles from Napa were in some ways more seamless on the mid-palate than the Paso Robles equivalents," noted Lee.
Among the Napa Valley lineup, we savored the iconic 2020 Duckhorn Three Palms Vineyard, a wine that gives Merlot aficionados that transcendent moment.
There was a good representation of Napa's different AVAs, among 100% Merlots: cool climate ones like the 2019 Cuvaison Arcilla from Carneros and the unfined and unfiltered Colete from Coombsville; from Atlas Peak AVA, the hedonistic 2019 Pahlemeyer, a benchmark for Merlot-maniacs.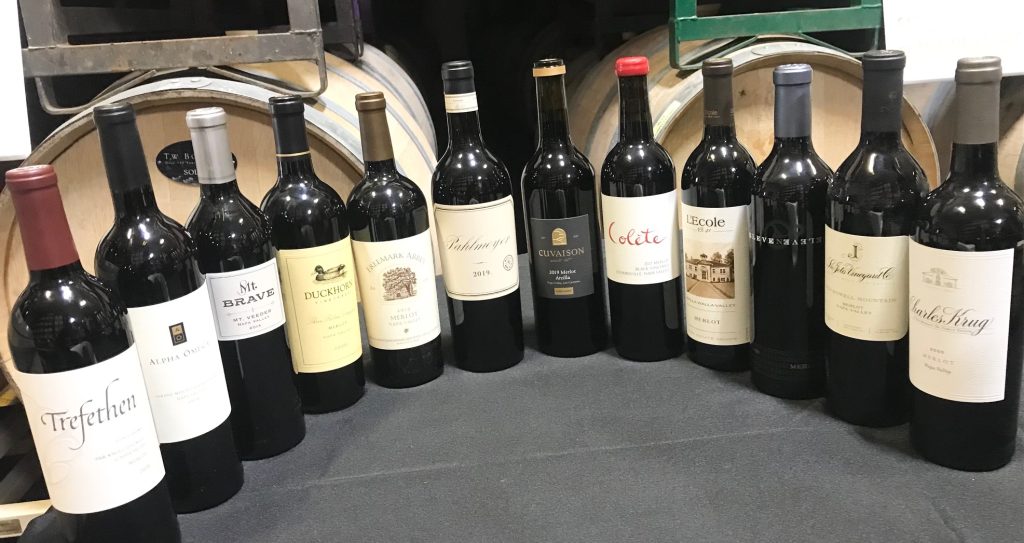 From Oak Knoll AVA came the richly textured John Anthony Vineyards' 2018 and 2019 both from Crane Vineyards; the perfumy 2020 Trefethen; and the 2020 Eleven Eleven Destin Estate.
"It's a unique spot in Oak Knoll near the river bed," explained Ellie Anest in a phone conversation. Eleven Eleven's co-founding partner noted that the Merlot planting was part of their Bordeaux-style program. "But as we started deconstructing the blend and making single varietal wines, Merlot was one of them," she said of the 100-case production Merlot. "It's doing fantastic."
From Napa's muscle-flexing mountain Merlots, we savored the 2019 Alpha Omega Spring Mountain Red, from the slopes of Mayacamas Mountain and 2014 vintages of La Jota from Howell Mountain and Mt. Brave from Mt. Veeder. All cellar-worthy wines.
Known as Washington State's top Merlot producer in the Walla Walla Valley AVA, the 2020 L'Ecole No. 41 Estate continues its classic expression of the variety, waves of red fruit on the palate, blended with Cabernet Sauvignon and Cabernet Franc for structure.
From Columbia Valley, the 2018 History Canoe Ridge Vineyard was another impressive 100% Merlot barrel-aged for 18 months in new French oak.
After sipping, savoring and spitting dozens of Merlots, Harp summed it up well: "Considering how little we get a chance to escape the cellar, your Merlot tastings provided a much-needed opportunity to try different styles and especially subregions of Paso Robles."
Merlot responsibly.
PASO ROBLES PRESS MAGAZINE
Copies of Paso Robles Press Magazine are directly delivered to 23,000 readers in zip codes 93446, 93451, and 93465 and 2,000 dropped with support from advertisers and subscribers. Together, we are Making Communities Better Through Print.™
To subscribe or advertise, click here.