Seniors Barroso, Winkler, and Bell make waves with achievements in volleyball, baseball, and cross country
TEMPLETON — Last week, three Templeton High School student-athletes signed their National Letters of Intent to compete in Division I athletics across California. A crowd filled the room to watch the three seniors sign their letters and to hear from their coaches.
"Tonight is the celebration and the culmination of hard work in the classroom and in their respective sports," said THS Athletic Director Joe Farley. "It is truly amazing to have three student-athletes from a school of roughly 750 students sign a national letter of intent to play collegiate sports."
Seniors Lucia Barroso, Quincy Winkler, and Josh Bell will be heading to universities across the state next year to compete at the next level.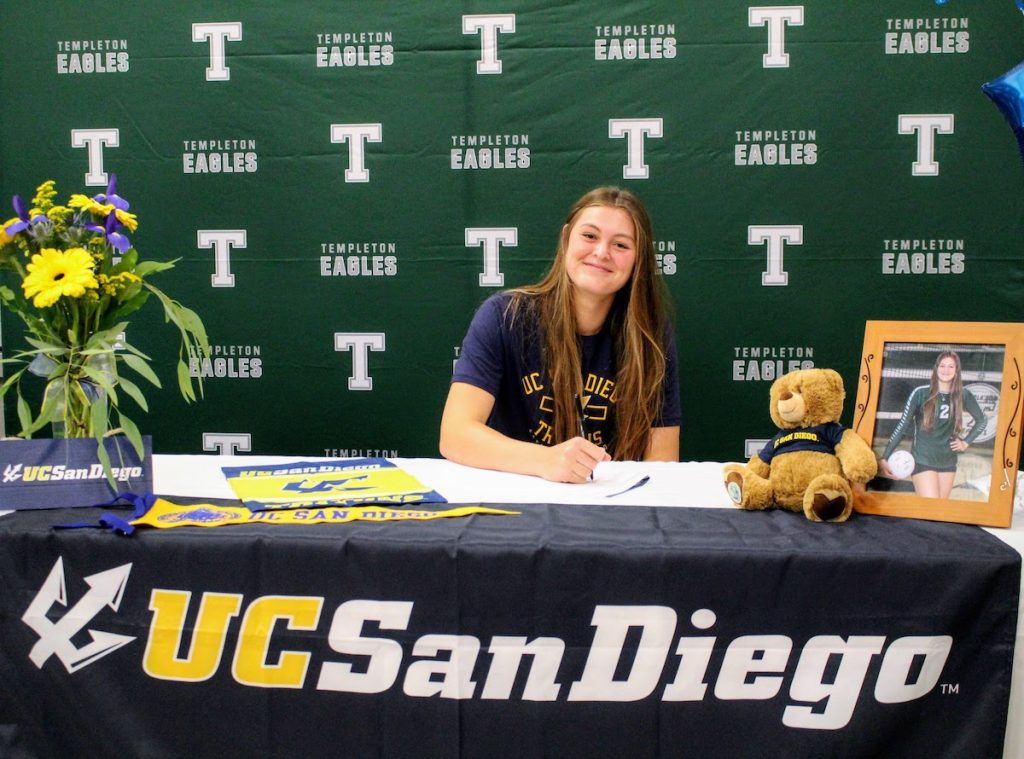 Barroso will be heading to UC San Diego next fall to play on the Tritons volleyball team. The middle blocker led the Eagles in both blocks and kills on her way to being named first team All-Mountain League.
THS volleyball coach Meridith Phillips praised Barroso for her sportsmanship and skill on and off the court.
"I know that her skill set is only going to grow and expand as she continues her career in college," Phillips said. "Not only is she a force on the court but also she has a natural leadership on and off the court and I think that is what makes Lucia so special."
Barroso thanked friends and family for their support.
"I would not be in this position if it wasn't for all the help I've gotten from this community, and I am excited for the years to come," she said.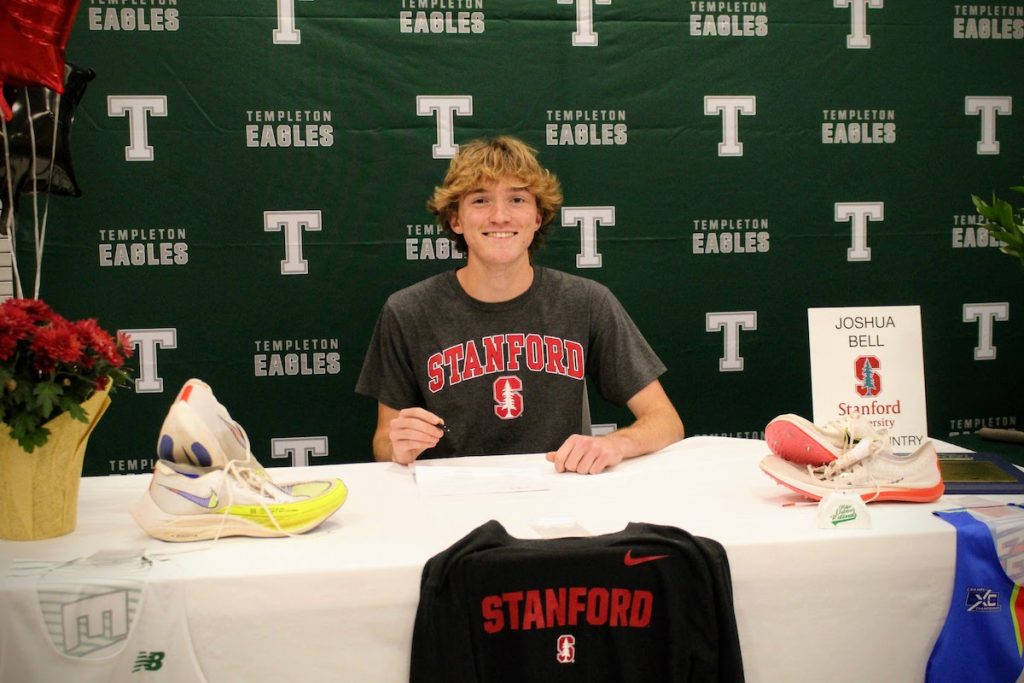 Star cross country runner Bell signed with Stanford University after making himself a household name on the Central Coast.
THS cross country coach Rosalie Smith said of Bell, "It was apparent from the start that Josh was different … because he truly loves this sport. He is the type of person that works hard when no one is watching, and I feel like this is derived from internal motivation that keeps him focused and dedicated to his goals."
Close to wrapping up his last season with THS, Bell is a Mountain League MVP, won four league local races in his senior season, and set multiple personal records.
During the signing ceremony, Bell thanked his family and coaches.
"Rosalie and Coach Jimmy, you guys are the best coaches I could have asked for so thank you guys a lot," he said.
One of Bell's greatest high school accomplishments was being one of 23 runners to ever run a sub-14-minute race at the Woodbridge Cross Country Classic and placing 19th at the Champs National Cross Country Championships in 2022.
Bell's father, Tim Bell, said of his son's signing to Stanford, "It couldn't be more deserved … I am terribly proud as a dad."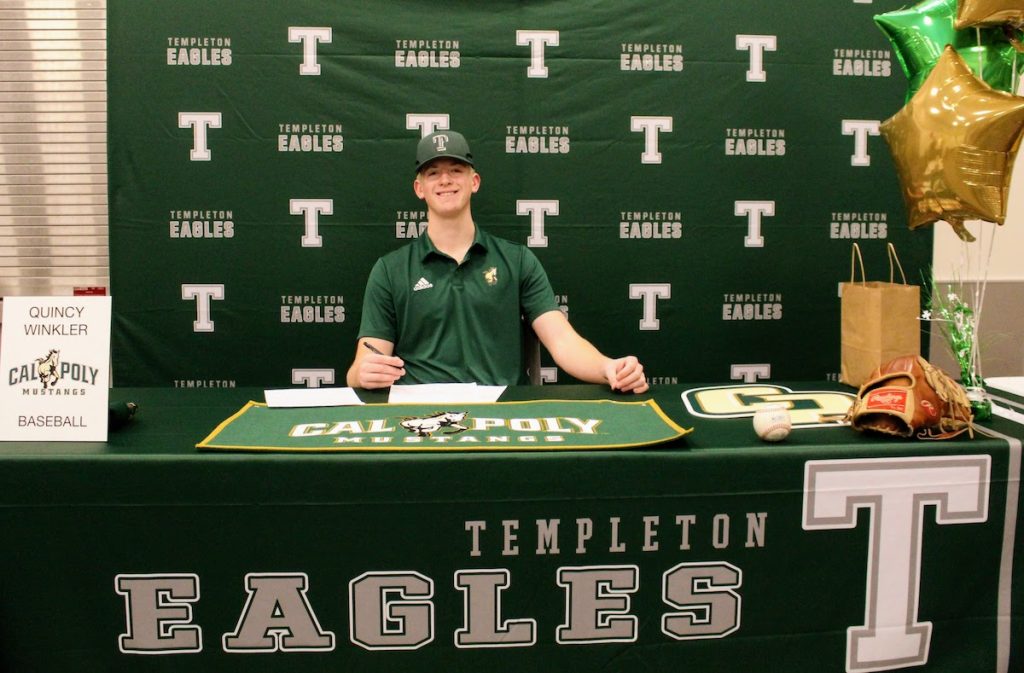 Winkler, a 6-foot-5 baseball pitcher, will be heading over the Cuesta Grade to play for head coach Larry Lee and the Cal Poly Mustangs.
THS baseabll coach JR Reynolds said of Winkler, "Quincy and his family couldn't be more deserving people, and I know how hard he has worked, and everything he has done to get to this point … I can't wait to see what he is going to do."
As a junior playing for THS, Winkler led the league in strikeouts and in a game against Morro Bay struck out 15 batters and allowing only one hit in six innings.
Winkler also thanked his friends and family for supporting his athletic career.
"I want to thank my parents and coaches who supported me on the way here," he said. "This has been a dream of mine since I was young, and I don't think I could have gotten here without the help of the people here and those who couldn't make it. I am excited for what comes next."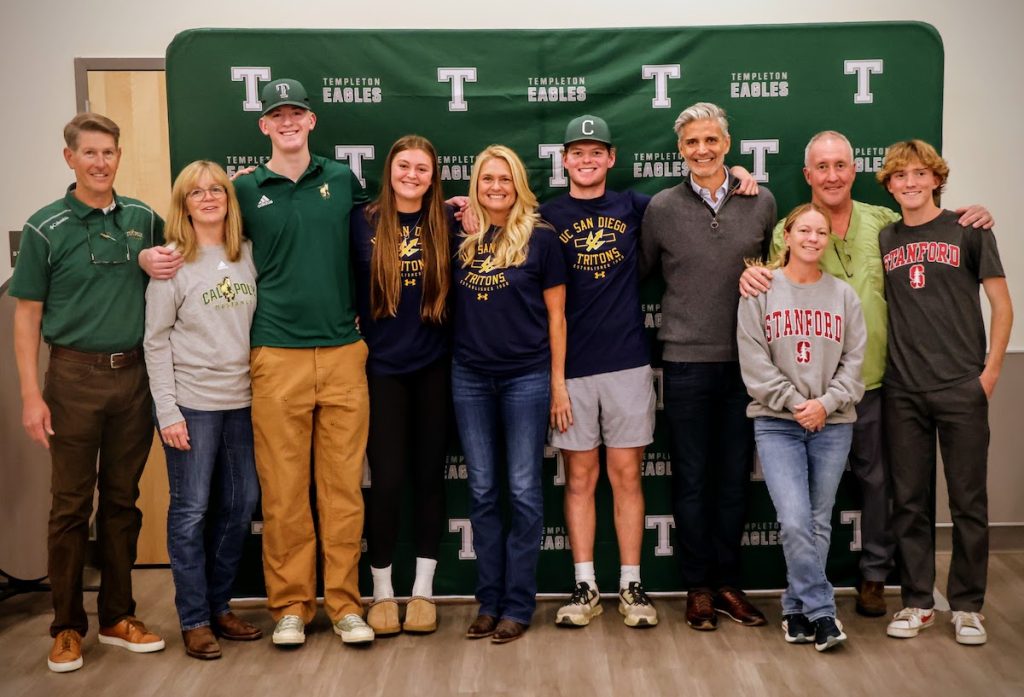 Feature Image: Templeton High School senior student-athletes (from left) Lucia Barrosa, Quincy Winkler, and Josh Bell signed their letters of intent to three California universities. Photo by Matt Macfarlane