Inaugural Christmas tree lighting ceremony and living nativity performance to take center stage in park
TEMPLETON — On Wednesday, Oct. 18, the Templeton Presbyterian Church planted a 30-foot redwood in Templeton Park. The tree is a new symbol of community and the gathering place for the "Christmas Tree Lighting" ceremony happening on Dec. 3 at 5 p.m. and the "Living Nativity" performance that is moving to the park this year to accommodate more people on Dec. 16 at 7 p.m.
This planting was organized by the fellowship and outreach ministry of the Templeton Presbyterian Church with the support of Will Wilkerson from the San Luis Obispo County Parks and Recreation. The tree was found and planted by Whit Curtis of Whit's-Turn Tree Care, and the heavy lift planting was done by Randall Clag and his awesome tree truck.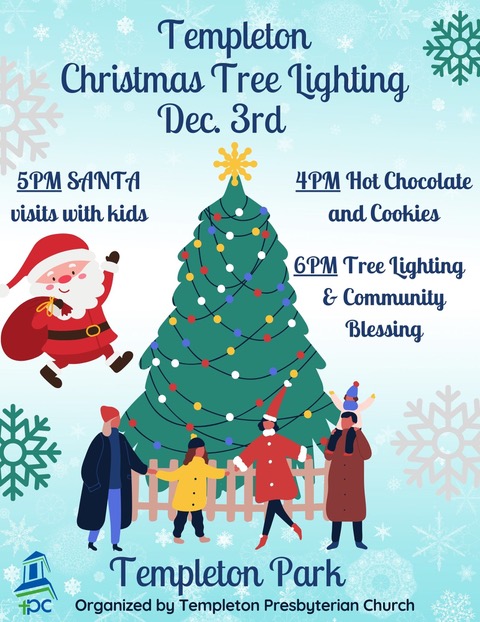 The upcoming inaugural Templeton Christmas Tree Lighting will begin on Saturday, Dec. 3, at 4 p.m. Templeton Presbyterian Church planted the tree on the corner of Templeton Park near the old chapel for this annual community tree lighting and holiday blessing event.
advertisement

Chapel doors open at 4 p.m. for hot chocolate, hot cider, cookies, and treats at no charge. Santa arrives at 5 p.m. and will greet families and children from his big chair for Christmas wishes and personal pictures. Tree lighting will begin at 6 p.m., followed by a community blessing by Pastor Roger Patton and a community sing-along of "Jingle Bells" and "Silent Night." The chapel will be open for after-event treats until 7 p.m. All are welcome to this free community event.
Feature Image: A 30-foot redwood tree is shown leaving from Templeton Presbyterian church to where it was to be planted in Templeton Park. Photo by Derek Luff