City officials commemorate its opening with a ribbon-cutting ceremony
PASO ROBLES — The long anticipated Golden Hill and Union Roads roundabout has officially opened for traffic and was commemorated with a ribbon-cutting ceremony on Friday, June 23.
Together, city officials, project contractors, and community leaders celebrated the occasion with speeches from city's Capital Projects Engineer and Project Manager Ditas Esperanza, followed by 30th District Assemblymember Dawn Addis and Paso Robles Mayor Pro Tem John Hamon, who had the honor of cutting the ribbon.  
Construction for the roundabout began in August 2022 and was completed on June 15 of this year. However, the city began envisioning a roundabout installation at the Golden Hill and Union Road intersection back in 2011 with the adoption of the city's Circulation Element. Preliminary work began in June 2021, and roads closed for construction in the area in August 2022.
The roundabouts "dog bone" design was meant to address congestion issues while still allowing commercial trucking to pass through. According to city staff, construction was funded with $5.6 million in development impact fees and a $360,000 grant from the San Luis Obispo County Council of Governments.
Esperanza told Paso Robles Press that the flow of traffic has improved in the intersection compared to its four-way stop predecessor.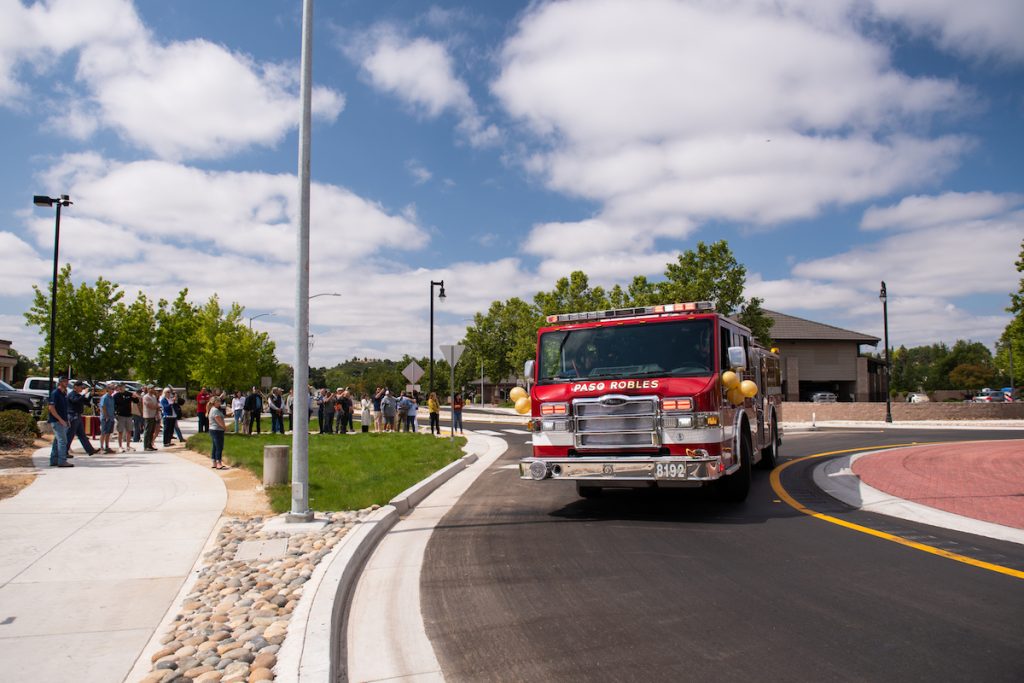 "The final design was also challenging as we tried to accommodate a 109-foot, 14-foot wide trailer through the roundabout to make sure it would be able to negotiate the curves," said Esperanza. "We did two test runs of the equipment and glad to say both tests were successful which meant the computer models used for the design proved to be correct in the end."
Comments on social media seem to reciprocate the notion that traffic has improved in the intersection.
One resident was surprised with the roundabout saying, "I live off Montebello Oaks and Union. I first was hesitant of this project and wanted stop lights, but drove the roundabout tonight and was very impressed. I'm happy to eat my words."
Many commented on how smooth the intersection is now, and so far, no accidents have been reported there.
Another happy resident said, "I live on Union near Kleck and found the roundabout to be much easier and quicker than the four-way stop. I travel that intersection several times a day and although I was hesitant at first, I am now super impressed!"
Others, however, felt the roundabout was the wrong solution to the intersection's woes.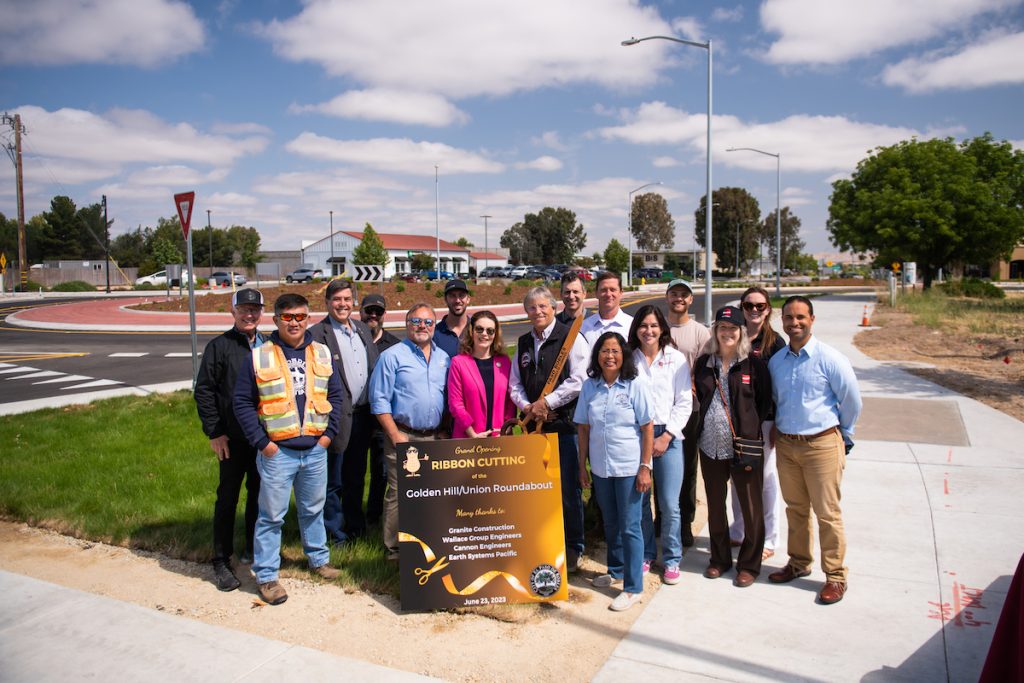 "Putting in traffic lights there would have been far quicker, less expensive, and less annoying than a roundabout. Yes, that intersection was dangerous. Yes, it needed improving and updating. Was a roundabout the most effective, time sensitive and less expensive solution? I do not think so. And if they had finished this faster they could have gotten to all the other roads that ALSO need much needed attention," one resident said on social media.
While the project opened ahead of schedule, Esperanza says they experienced some delays as a result of this winter's storms.
"The biggest obstacle was the storm we had this past winter which delayed the project completion by 4-5 months. Also, it took a while for folks getting used to the closure of the intersection. It took about 2-3 months for the adjustment of the closed intersection and finally figuring out how to use the detour routes," Esperanza told Paso Robles Press.
She added, "[The] Other obstacles were folks speeding on Prospect Avenue and using that neighborhood road as a detour. Folks were also using the parking lot at the Medical Building as a detour route, and it was not appreciated by that building owner."
To celebrate the completion of a large city project — just in time for the heat of summer — a motorcade of city vehicles proceeded through the roundabout while the theme from "Rocky" played.
You can find a video of the event here youtube.com/watch?v=4XFJZEkpvkg and you can find more information on the roundabout here prcity.com/1002/Golden-Hill-and-Union-Roundabout
Feature Image: Paso Robles Mayor Pro Tem John Hamon cuts the ribbon to open the new roundabout at Golden Hill and Union Road on Friday, June 23.