Beloved mayor's legacy remembered, recalling his dedicated service and lasting impact on Paso Robles
by Becca Sligh
Paso Robles Press/Atascadero News Contributor
PASO ROBLES — If there was a photo in the dictionary next to the word "community," it would be of the late Paso Robles Mayor Steve Martin.
The memorial held for Martin took place on Wednesday evening, Sept. 27, in the downtown Paso Robles Park gazebo. With over 200 attendees, some even being community members who brought their own lawn chairs to pay their respects, the almost two-hour memorial was a beautiful tribute to one of Paso's finest. Also among the crowd of viewers was the Paso Robles Fire Department, which hung a flag off the fire truck ladder. The Estrella Warbirds Museum performed an Honor flyover in tribute for Martin, and Jim Highland sang two original songs written and composed by Martin.
advertisement

"Steve Martin, my old friend, there will never be another one of you," began John Hamon, current mayor of Paso Robles. Hamon was among a handful of people to give speeches that reflected on Martin's past, including being the mayor of Paso Robles, a family man, a musical talent, and even a published author.
Hamon went on to say, "From my point of view, the essence of Steve Martin's life, both public and private, was a dedicated service to others."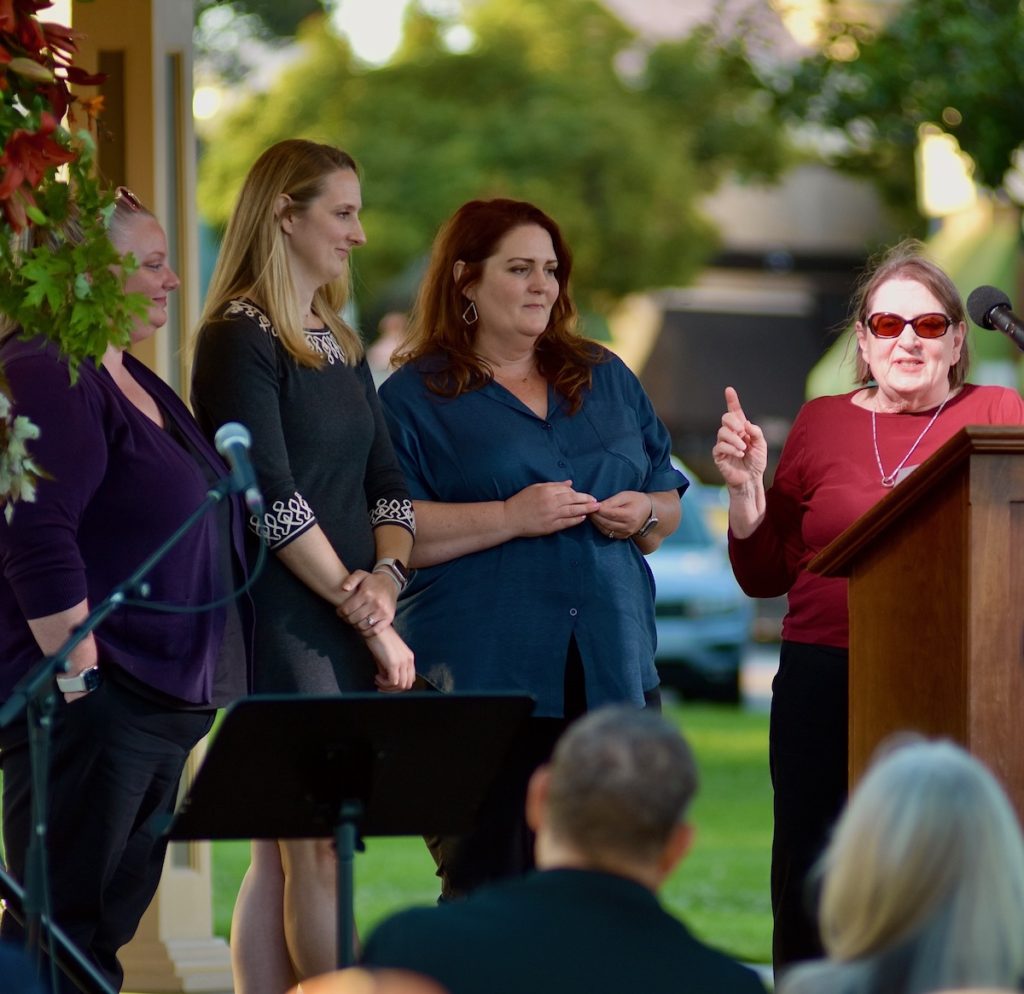 As a lifelong resident of the Central Coast, Martin had served on the Paso Robles City Council from 1987-96. During that time, Martin was elected mayor and served from 1988-90. Among many other positions within city government and community outreach, Martin lived a life full of passion and dedication toward the community of Paso Robles.
"The importance of building a legacy lies in its enduring ability to shape the future," said Paso Robles City Manager Ty Lewis. "Mayor Martin didn't just leave us with a tangible improvement or two or advancements. He left us with the spirit of unity, a blueprint of mutual respect and collaboration between the community, city staff, and our first responders, who work tirelessly to safeguard our well-being."
While Lewis gave an earnest speech about Martin's improvement towards the community with policies, initiatives, and camaraderie, he almost certainly remained keen on the theme that Martin's actions towards city improvement will continue to flourish for years to come.
In addition to Lewis' and Hamon's speeches were a handful of others who proudly celebrated the late mayor's time serving Paso Robles. William Britton, the vice president for information technology at Cal Poly, remarked about Martin's vision for the Paso Robles Air & Space Port. Wendy Lewis, the CEO of the El Camino Homeless Organization (ECHO), shared a story she had heard about how Martin and former Atascadero Mayor Tom O'Malley once spent the night at the homeless shelter while connecting with shelter residents.
O'Malley reminisced about meeting Martin in high school and becoming lifelong friends as they performed in the high school marching band together. John Peschong, the First District supervisor of San Luis Obispo County, mentioned that during a debate in the Paso Robles mayoral race, he and Martin found out they had both married their lifelong partners in Shandon.
"We started to bond. We started to talk about the things we were for, not the things we were against," said Peschong, sharing his story about running against Martin.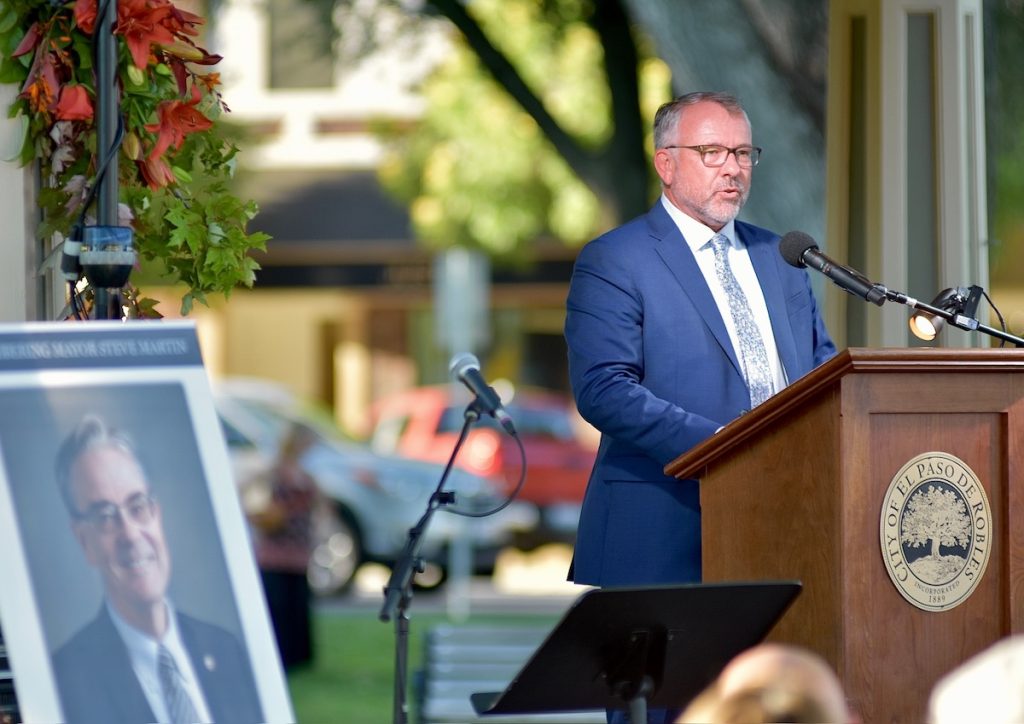 Peschong shared a quote Martin had said to him: "We can disagree on issues. We just don't need to be disagreeable." That quote further reiterated not only the kind of mayoral candidate Martin was but also the kind of mayor he then proved to be. Peschong also shared the Code Of Civility, which was built by seven mayors in San Luis Obispo County and served as a Code of Conduct for how the mayors of San Luis Obispo County wanted to act for their community.
In an emotional tribute, Jennifer Martin, the late mayor's wife, took to the podium with her two daughters and friend and gave a heartfelt accolade to her late husband. While others gave a glimpse of who Martin was inside the office, Jennifer shed some light on who he was outside of the office.
"He is a renaissance man, husband, father, grandfather, brother, friend, Christian servant, playwright, actor, musician, composer, artist, reporter, editor, author, public servant, computer program and radio-phile," Jennifer Martin said. "He truly is, indeed, the voice of Paso."
To conclude, the eulogy was read by Gere Seabbach. O'Malley then read the last letter written by Martin to his beloved community of Paso Robles.
Paso Robles Council, commissioners, city staff, friends in the Chamber of Commerce, Paso Robles Main Street, PRWCA, Hispanic Business Association, political colleagues, friends and supporters, people of Paso Robles:
I have asked Tom O'Malley, a longtime friend and former Mayor of Atascadero, to deliver this message. We worked together for 10 years when I served as the executive director of Main Street in Atascadero, then teamed up as "Dos Alcaldes" (Two Mayors) to create a strong partnership between our cities; a partnership that continues to flourish with the support of current Atascadero Mayor Heather Moreno.
For months, you have noticed my absence at meetings and public functions. As I prepared to resume the position of Mayor for a third consecutive term, I learned that I had an aggressive form of cancer.
Initial analysis indicated that surgery within a couple of months would probably cure me. Unfortunately, complications intervened, giving the cancer the opportunity to spread and become incurable.
As I write this, I expect to have little time left in this world. I wish for everyone to know that I had no idea of what was happening in my body as I campaigned for office. If that was the case, I would never have run or would have dropped out of the race. I have made every effort to do my job as Mayor while fighting this disease, attending meetings virtually, receiving updates from staff, etc. What I have included in this note will fall far short of all I wish to say to you.
I am a man of two cities, having grown up in Atascadero and lived my adult life in Paso Robles.
I am a man of a simple purpose, however, and that is to serve my North County community and treat everyone, supporter, and detractor alike, with dignity, compassion, and respect. I trust I have succeeded most of the time. To those who feel I have failed, I ask your forgiveness. To those who now feel they may have wronged me, I offer my forgiveness.
I face the future with regrets about all I leave unfinished: spaceport, solutions for homelessness, serving as a board member for League of California Cities, Community Hospital Board, broadband access, and all the projects with our city's partners, committees, and community service organizations. I also face the future with wonderful memories of family, friends, and colleagues. I feel honored to have worked with such caring and competent council members and such talented and dedicated staff.
I am also humbled and thankful for the outpouring of support from so many who have wished me well, most not really knowing the challenges I faced. Thank you all for your love and caring.
As a Christian, I move toward the rest of God's plan for me even as I wave goodbye to everyone and everything. He has provided during my lifetime including my wonderful, loving wife Jennifer; my beautiful, talented, and accomplished daughters Nora, Jamie, and spiritual daughter Keri; my sons-in-law Todd and Paul; my grandchildren Abigail, Steven, Malcolm, Caleb; my parents and my brother and sisters; and my solid family of lifelong friends. I love you all and hope to see you all again one fine day.
I thank Tom O'Malley for helping me share these thoughts. Serving as mayors at the same time was a luxury and a privilege. We were always good therapists for each other as we worked to make our cities even more beautiful and desirable places to live, work, and play, sharing a glass of chardonnay along the way.
Now, as always, I hold all of you and our community in my heart, urging you to let your differences be subordinate to your desire to care for one another.
Remember to stay informed, stay involved, and stay strong, Paso Robles. God bless you all and farewell.
Mayor Steven W. Martin passed away on Aug. 14, at the age of 71, after a short but hard-fought battle with cancer. He will be greatly missed. 
Feature Image: Current Paso Robles Mayor John Hamon speaks at the memorial for former Mayor Steve Martin on Sept. 27. Martin died Aug. 14 after a short but hard-fought battle with cancer. Photos courtesy of City of Paso Robles