Accusations of financial mismanagement surface amidst school cuts
PASO ROBLES — On Mar. 10, the Paso Robles Joint Unified School District Board of Trustees unanimously eliminated 13 classified positions. In a split decision (5-2), the Board also eliminated a full-time Audio/Video/Multimedia teaching position and a full-time elementary music position.
"I do not believe the money savings are significant," AV teacher Michael Whitman wrote in an email. "I know my program does not cost much to run currently, and that the program contributes to the high school with its ability to provide video services. About five percent of the student population is involved in these classes each year. This is because it is a pathway with multiple courses, not just a single course."
In a packed room at the PRJUSD Board meeting, students held signs that read "Think of the Students" and "Can you hear all 120 voices?" while they listened to budget talks and calmly waited for their turn to speak. However, board member Joel Peterson confronted audience member Berk Baker during a short break from the marathon board meeting, breaking through a line of chairs to face Baker, saying, "everything was accounted for."
"I felt I needed to let Mr. Baker know that at times his statements are not always accurate," Peterson said. "It is his right to come to the school board and express his opinion. My intention was not to escalate things, but I've listened to him for the last year and a half of my life and I feel he provides misinformation. Our money went to schools, programs and kids. The money was not missing."
advertisement

Moments earlier, Baker had stepped up to the podium, saying that he initially did not want to speak, but felt compelled to after watching board members Peterson and Joan Summers vote against eliminating the AV position. Baker blamed the board members for causing the cuts. Baker admonished the Board for "squandering" a seven million-dollar reserve that he said directly led to the night's cuts. Joan Summers, Peterson, Chris Bausch and Tim Gearhart all served on the board during the controversial tenure of former superintendent Chris Williams and still sit on the board today.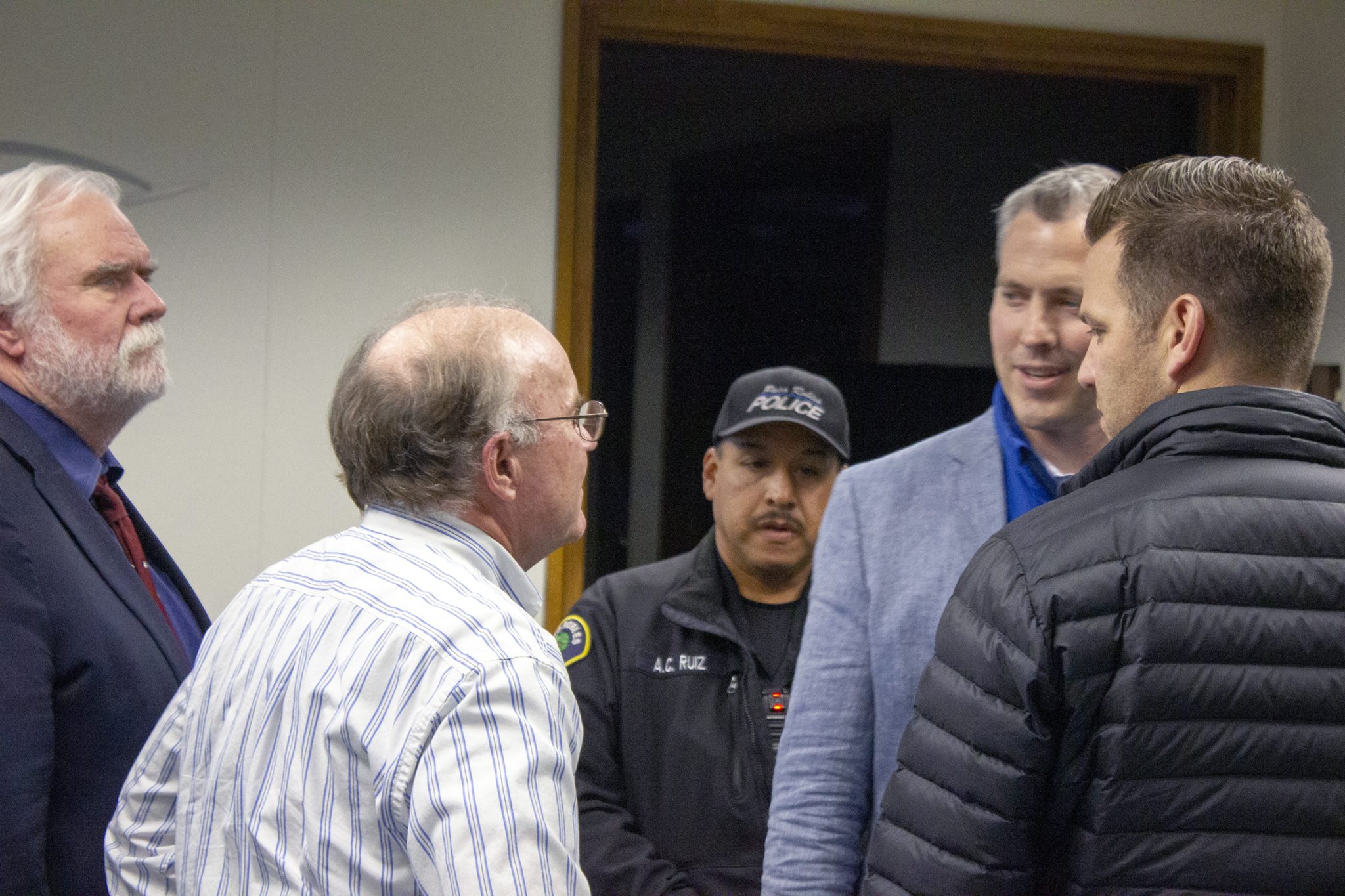 "I think hiding and putting the blame on ADA (average daily attendance) shortfall is really trying to give camouflage to those who are really responsible," Baker said. "This is the fallout from gross mismanagement, corruption, incompetence, and negligence of the four of the past administration. Millions and millions of dollars were squandered, absolutely squandered of our reserve. That's why we have a reserve, so when we have a shortfall, we have a reserve to cover situations like this, but it was wasted."
Baker was referring to budget shortfalls that occurred during previous administrations, decisions that lead from a 10 percent financial reserve in 2015 to 1.73 percent reserve in January 2019. California requires districts to retain at least a three percent budget reserve. Williams took the position in 2014 and resigned in December of 2018 with the Board at the time voting to approve to paying him $113,409, half of his yearly salary.
"I find it amazing that two of the board members that are most responsible for this mess have the gumption to then vote 'no' on the last call on the resolution, incredible," Baker said, "and that the people who are responsible for this, some of them are still sitting up there."
Baker continued. "And the cuts shouldn't be dumped on the small guy. It always amazes me that, wherever it is, whenever there is a cut they cut the small guy. You have to look at the people who are responsible for this mess."
In a phone interview, Peterson apologized if his actions seemed aggressive but said that for the past year and a half, Baker has focused on berating the Board without providing any solutions. He pointed out that after an investigation by the San Luis Obispo County showed that "no malfeasance" was found in the Board's actions.
"It's really easy to look back with 2020 vision," Peterson said. "I don't get to do that. We had to make layoffs last night and that is not fun to do, and I was emotional."
The cuts for classified personnel included full-time positions for a groundkeeper, one custodial position, one physical education paraeducator, a food service and lead, intervention specialists, and an occupational therapist.
In February, the Board cut eight of the district's 12 bus routes and raised rates for school bus passes.
At the meeting Tuesday, the Board also unanimously voted for upgrades to school's wireless network, contingent on its receival of $620,015 from an E-Rate reimbursement. The cost after rebate is $257.854 with $174,725 coming from Measure Bond M funds and $83,129 from the school's general fund.