Vina Robles to host Jason Mraz and Raining Jane on Oct. 26
By Meagan Friberg
As part of his North American tour, singer-songwriter Jason Mraz will make his way to the Vina Robles Amphitheatre on Saturday, Oct. 26. Joining the multi-platinum and Grammy award- winner will be the all-female group, Raining Jane. The night — part of this cleverly named tour run — Ladies & Gentleman, An Evening with Jason Mraz & Raining Jane — promises tried and true favorites along with a mix of new material, according to Mraz during a recent phone interview.
"We are hitting the road to test out some of the new material as well as bring some positivity back into the atmosphere to balance out any of the negative vibes in this world," Mraz said, adding that he has spent the past few weeks working in the studio on songs for a new album. And he and Raising Jane are thrilled to be bringing some of that new material to the Vina Robles crowd. "We'll be bringing some of the old favorites — some will be remixed and reimagined — and songs the crowd has never heard before. It's going to be a show filled with musical diversity."
Although he didn't specifically say which songs will make an appearance at Vina Robles, there's a chance the playlist will include "The Remedy (I Won't Worry);" "Wordplay;" "I Won't Give Up;" "I'm Yours;" and "Lucky" which Mraz wrote and sang with Colbie Caillat.
advertisement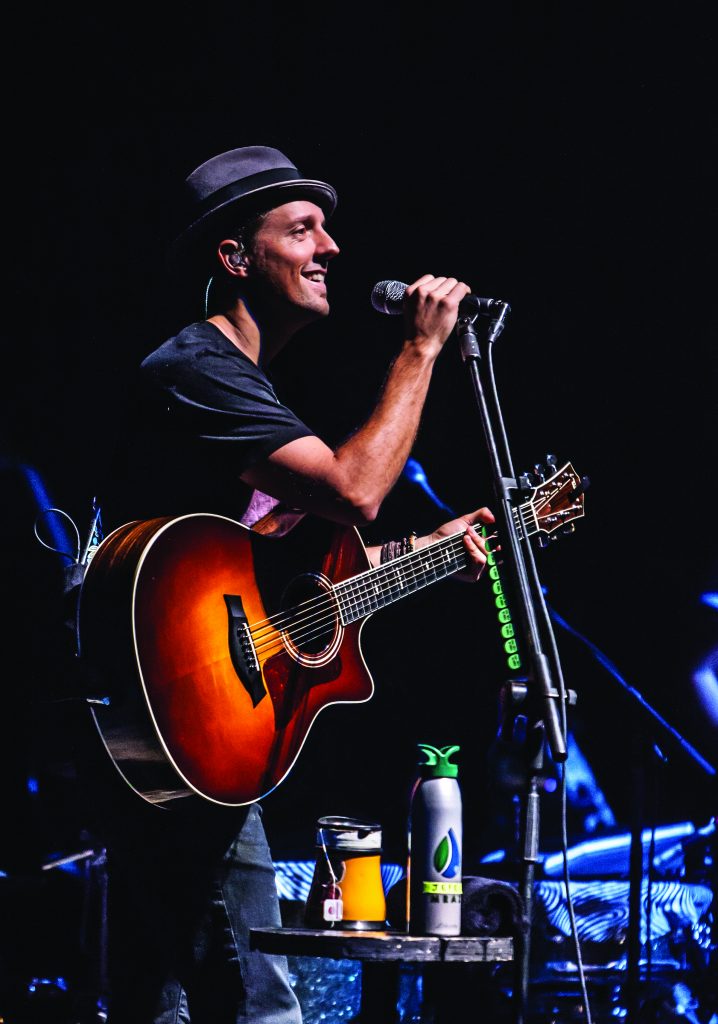 From his first acoustic album, "Yes!," made up of an 11-song collaboration with Raising Jane, this reporter is hoping to hear favorites such as "Love Someone." The ladies of Raining Jane — Mai Bloomfield, Becky Gebhardt, Chaska Potter, and Mona Tavakoli — also teamed up for his "Know" album to deliver fun songs including "Have It All."
When asked to describe his music genre, Mraz said the terms we've come to know over the years seem to be melting away.
"There are so many blurred lines between genres that people are now starting to use moods as a way to describe the music they like and want to listen to," he said. "So, for this tour, the mood is going to be humorous, harmonic, easy listening, include an occasional up-tempo and, as always, the message is going to be positive and love-centric."
That message of positivity and love is what draws many people to Mraz.
"Even as a kid, I thought of music as my friend and threw myself into it," Mraz said. "I like looking back on those times when music was fresh and fun. For me, music has always helped me keep my attitude up because it was a constructive, beautiful thing to do."
As he grew into early adulthood and started doing public shows, Mraz said he realized people were giving him something valuable — their time and attention.
"I had a huge responsibility to make good with that time; to entertain people and give them something delightful, pure, humorous, vulnerable, and authentic; that has always been the driving force for me as a creator," he said. "I think, 'What can I do to truly appreciate someone's time? How can I have some fun with them, educate them or, at the very least, entertain them and give them a happy place to be for those hours they have entrusted me with?' And, along with that, I find attitude is so important."
Attitude, Mraz said, is part of our life experience and he wants to help keep people focused on the positive.
"So, if I'm down or bullied for any reason, it's going to be that attitude that is going to pick me up and help me to keep going," he said. "I try to work off of that when I am writing a song, even if I am tired or the world seems to be falling apart. I just try to keep the attitude strong and try to influence people to redirect their attitude the best they can through my words and music."
He's looking forward to bringing this attitude to the live performance at Vina Robles.
"It's going to be great to be able to share this space, this environment with everyone," Mraz said. "We get to sing together, be part of people's lives, and harmonize with the crowd. In a live show, all of this becomes a thing, a moment, a happening."
Purchase tickets for this moment with Jason Mraz and Raining Jane at vinaroblesamphitheatre.com. Doors open at 6:30 p.m. and the show starts at 8. For more information, see jasonmraz.com.