Over 100 talented artists display diverse range of creations, drawing art enthusiasts from across California
PASO ROBLES — Over 100 artists filled Paso Robles City Park last weekend for the biannual November Art in the Park. The event, organized by Steve Powers and Company, has been a beloved fixture in the community for many years, drawing art lovers from all over California and beyond.
Local artist and Atascadero High School teacher Andrew Wilkie displayed his "Art Grounded in Coffee" series at the park. A returning artist to the park show, Wilkie enjoys seeing past customers.
Growing up in Colorado, Wilkie developed a love for the outdoors at a young age and was encouraged by family to pursue visual arts such as ceramics, stained glass, batik, photography, sculpture, drawing, and painting. But his love of coffee developed while living in Costa Rica. From there, he began his coffee series in 2015 and has since sold pieces to customers as far as France and all over the country.
Wilkie had previously seen sand art, which uses a similar technique, but he wanted to incorporate coffee somehow and began experimenting with used coffee grounds. After playing around, he learned to work with different fresh coffee grounds that offer different shades of brown and black.
Living now in Morro Bay, Wilkie finds inspiration from nature, but he says his inspiration can strike from almost anything. For the past 28 years, Wilkie has taught human anatomy, physiology, and biology, but is soon looking to have a little more time for art in his future.
Another artist and Paso Robles local, Samantha Barbieri, has been a vendor at three Art in the Parks, including Morro Bay and Paso Robles.
"My art is best described as contemporary Western art. I use black and white acrylic paint on canvas," Barbieri said. "I find inspiration in accurately portraying the hardworking and humble individuals in American Western culture, including cowboys, ranchers, and agricultural workers."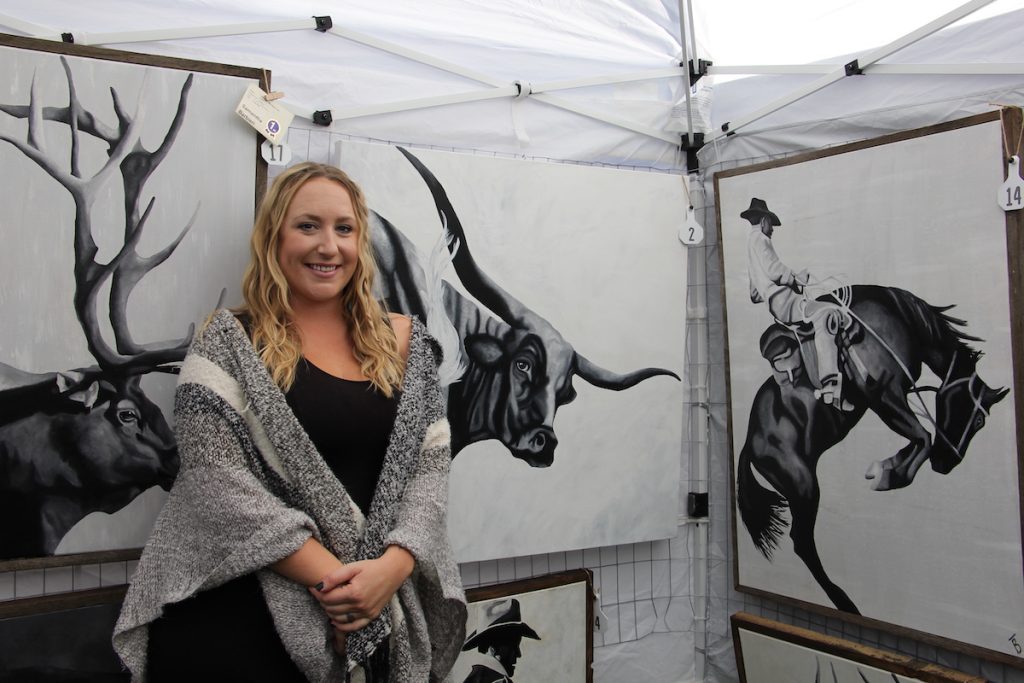 Barbieri, also known as Bar B Fine Art, is a self-taught contemporary western artist based in Paso Robles.
"This country is so rich with history that I find it important to attempt to invoke emotions through images of influential Natives who shaped this country," Barbieri said. "I just hope some of my art can make people feel something, whether that be encouragement, motivation, creativity, or even nostalgia."
Despite being held in November, warm weather welcomed the crowds and artists to the park for one last hurrah before colder temperatures come to the county. Many of the artists present were local or very familiar with the area. Alexa Alexander used to live and own a downtown Paso Robles business before moving to Southern California. However, she always enjoys coming back to Paso Robles with her folk art. For over 20 years, Atascadero resident Mike Marple has made his unique birdhouses on the Central Coast, taking them to different art shows.
For two days, Nov. 4 and 5, artists showcased their work and creations, including original works of art, including paintings, sculptures, ceramics, jewelry, and photography. Art in the Park is recognized by the artists as one of the top 10 fine art shows in the state of California.
For more information about Art in the Park, go to the Steve Powers and Company website at pasoroblesartinthepark.com.
Feature Image: Local artist and Atascadero High School teacher Andrew Wilkie shows off a piece from his "Art Grounded in Coffee" series, at the Art in the Park event in Paso Robles City Park. Photo by Camille DeVaul