By Elisa Huot
Former educator, toddler parent, and Paso Robles resident
For 20 years, Paul and Patty Hoover have farmed their 60-acre property in Paso Robles with a particular love of the land. Nestled in the El Pomar district, this slice of paradise boasts 200-year-old oak trees and 150-year-old olive trees.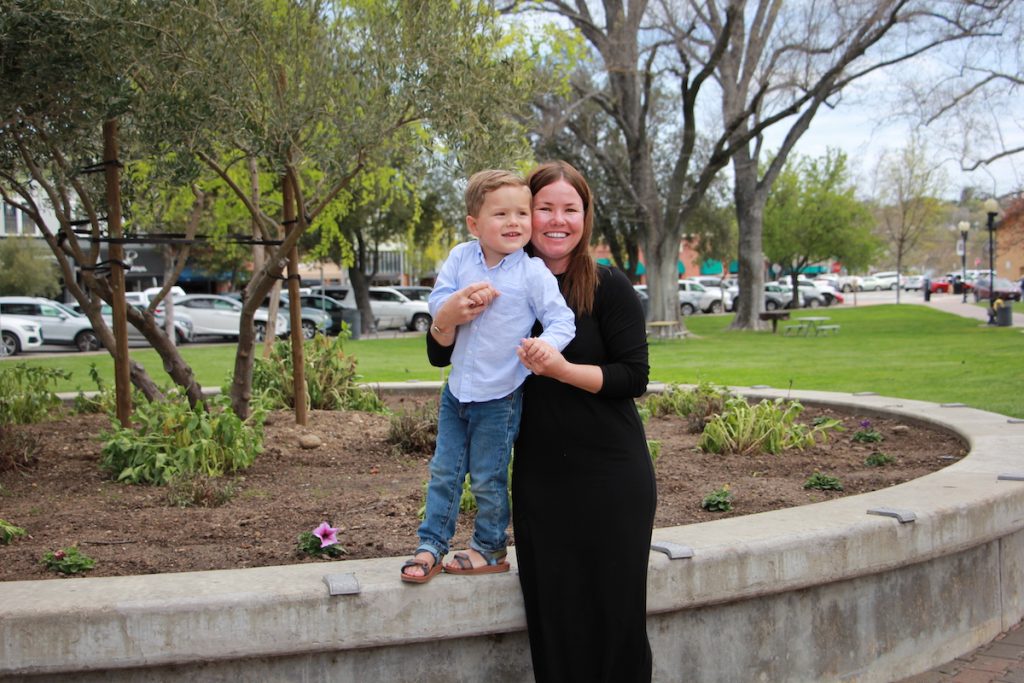 Sitting down on their 44th wedding anniversary in the cozy setting of their tasting room, the California natives and Cal Poly graduates described the vibe of the winery as "Fun, not fancy." While they started with just two customers a day and grew to be open seven days a week with 14 varieties of grapes and 22 wines, there is no air of pretension to be found at this vineyard. Paul and Patty pride themselves on being eco-friendly, dog friendly to friendly dogs and, with four young grandchildren, they are all too familiar with the need for kid-friendly tasting.
advertisement

Still Waters, the name being an ode to a favorite family pastime of skiing, is home to koi ponds with some fish as old as the business itself and names like Penelope and Dora. Stop into the tasting room for a small cup of fish food before settling in the grassy picnic area with umbrellas. With grown-up supervision, kids are welcome to feed the koi and experience nature. The shaded picnic area is surrounded by hand pump fountains with cool running recycled water and sits adjacent to the climate-friendly olive tree grove. Special occasions and family experiences can be arranged in the cool oasis under the age-old canopy. Be sure to pick up a bottle of their extra virgin olive oil to take home or enjoy with some fresh bread while you taste. Customers are welcome to bring a picnic or purchase a made-to-order cheese plate. Kids can enjoy a free juice pouch fresh out of the cooler. You may encounter a chance visit with Patty or Paul as they enjoy mingling with the guests and chatting about the wines.
With a focus on the three E's of sustainability (environmentally friendly, equitable socially, and economically feasible) many efforts to maintain a connection with the land and preserve it for future generations are present throughout the estate. Take a stroll through the vegetable garden which provides fresh produce for the employees and guests. Fresh eggs for the family and employees come from the 20 hens that roam the property, fertilizing the vineyard and adding to the farm-like ambiance. Hand-harvesting reduces soil erosion and compaction. Still Waters wines are made in the old-world style, letting the grapes do the talking, Paul cannot speculate as to what future wines will taste like and you won't find them on a grocery store shelf. With 70 percent of the business coming from wine club members, the goal for this wine-making couple is to continue producing estate-grown, sustainably-farmed wines without growing through distribution.
Book a private vineyard tour and barrel room tasting (charcuterie included) or spend an afternoon with family and friends enjoying bottle service in the ranch house where Paul and Patty spent weekends while building a home on the property. Paul, a commercial fisherman, serves up his fresh catches in the form of fish tacos for wine club members during live music concerts on Saturdays (tickets can be purchased for non-club members). Bring the whole family to relax, dance and enjoy the property's many offerings that have been procured through a balance of the land, people, and practices working together. 
PASO ROBLES PRESS MAGAZINE
Copies of Paso Robles Press Magazine are directly delivered to 23,000 readers in zip codes 93446, 93451, and 93465 and 2,000 dropped with support from advertisers and subscribers. Together, we are Making Communities Better Through Print.™
To subscribe or advertise, click here.