It's a Friday afternoon in January and the tasting room of Tobin James Cellars on Highway 46 East is picking up speed before the onslaught of weekend visitors arriving in Paso Robles' wine country. I'm here to meet Toby (as he is fondly called) and experience the quiet side to his winery — the barrel room.
If Toby sports a pleasant smile in his jam-packed tasting room, his face lights up as we enter the barrel room. Here Toby's in his true element and highly animated. In fact, his winemaking journey began as a barrel room manager at the Estrella River Winery. There, he said, "I found my love."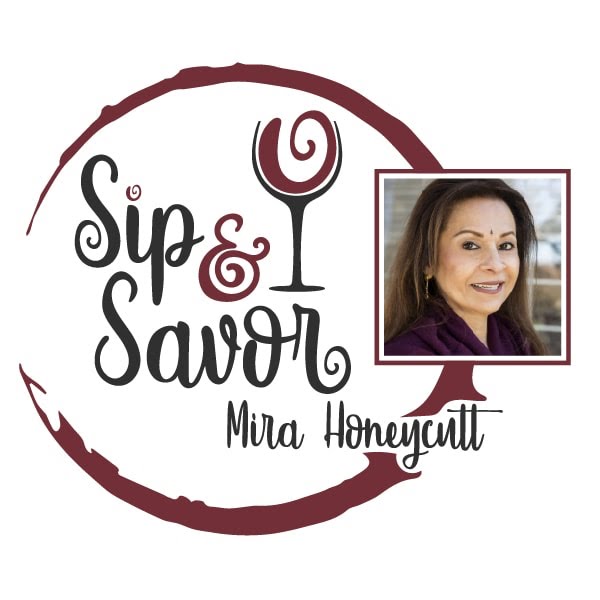 The cold, vast cathedral-like room that holds some 8,000 barrels is enveloped in heady aromas of vanilla and oak, This is where it all began, said Tobin James, founder of Tobin James Cellars celebrating its 33rd year in the wine industry.
"When we started, I took people to the barrel room for wine tasting," Toby recalled. "We had no tasting room." Those early years of intimate tastings have morphed into his enormously successful Wild West saloon-style tasting room, which can get jammed with between 800 to 1,000 people on weekends.
advertisement

The barrel tasting, however, is limited to a few special guests.
The neatly stacked floor-to-ceiling oak barrels stand guard like soldiers, noted Toby. He compared it to the collection of Terracotta Warriors, sculptures depicting the armies of Qin Shi Huang, the first Emperor of China. "This is an incredible army that I have," he quipped.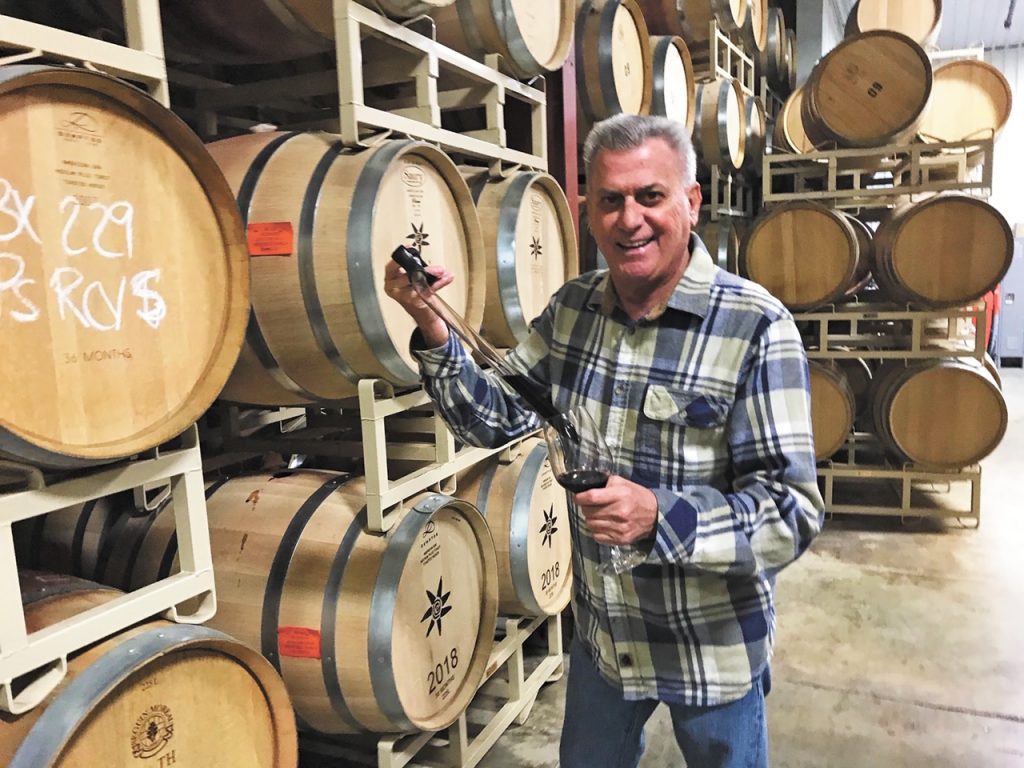 The wines aging in these barrels are like his children. "It's like watching kids grow," remarked Toby. "What's exciting is that they're still growing," he commented on vintages ranging from 2016 to 2019. "They're changing, going through teen years."
Wines are produced from estate vineyards, planted to cabernet sauvignon, merlot and cabernet franc, a blend of which goes into the Private Stash label. Also, fruit is sourced from prized vineyards in the Paso region for dozens of other bottlings. While Toby holds court in the tasting room and overseas winery operations, winemaking is done by veteran winemaker Jeff Poe.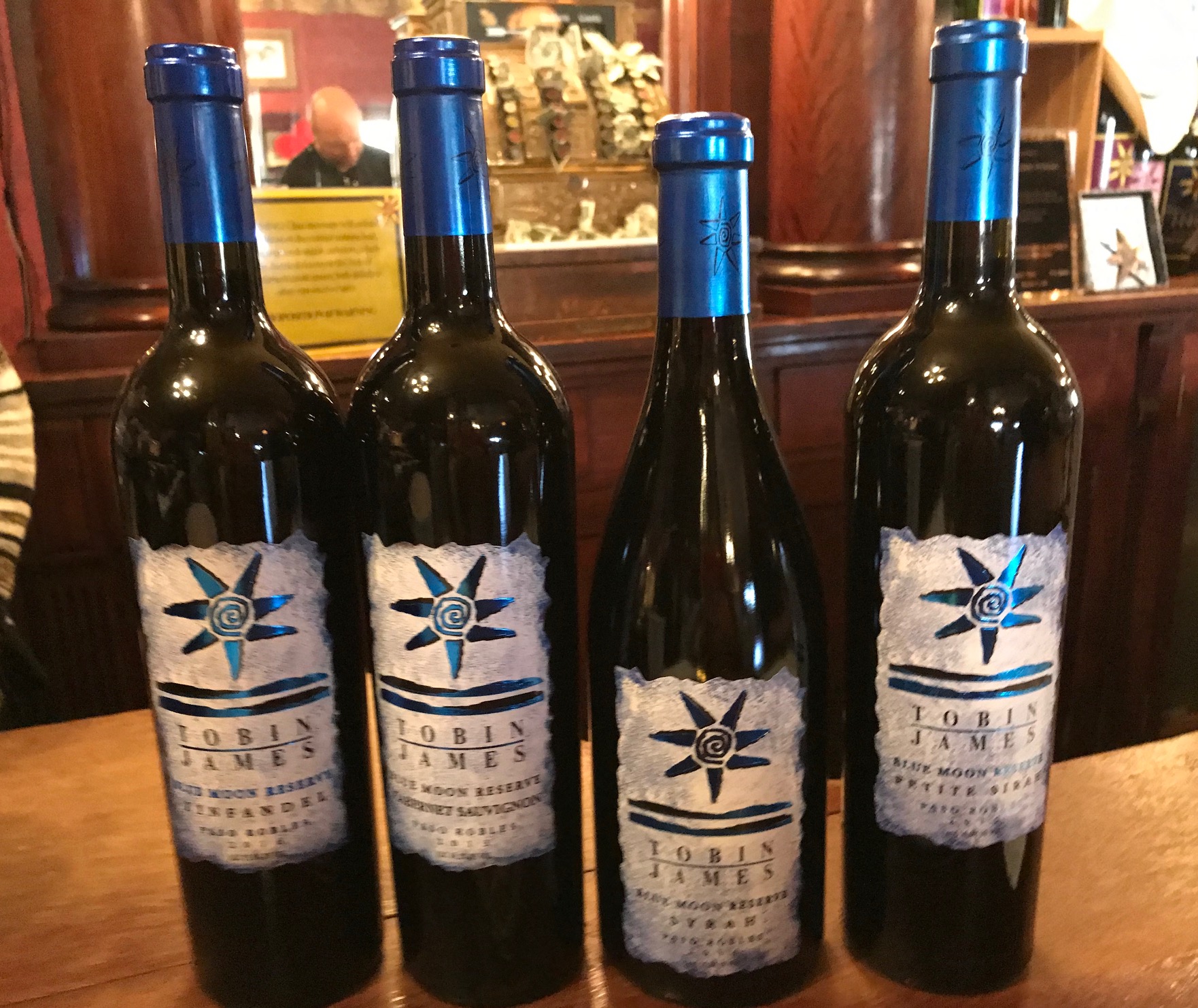 The oak barrels, both French and American, are a combination of new, one-year-old and neutral (three or more years old) barrels. For Toby, this is his spice rack: he could blend wines from new and neutral barrels and from different vineyards.
Glass "wine thief" in hand, Toby, beaming and enthusiastic, spots a row of zinfandel barrels. He plunges the tool into one of the barrels, extracts a glass-worth of wine and his zippy one-liners come fast and furious. We tasted the 2018 vintages of zinfandel, the one from Dusi Vineyards, a raisiny and plummy wine that was "like a roughneck on the playground" and the Sanders Vineyard was yet another "bully at school." The 2018 deep-hued petite sirah from French Camp Vineyards was a big juicy wine. "It's a bit tight and needs to be tamed," Toby insisted. These wines will no doubt see more barrel aging.
Taking a sip of the 2018 chewy cabernet sauvignon from West Side Ranch, Toby quipped: "That's a teenager, it can knock the hell out of you. We'll barrel age for another six months to a year."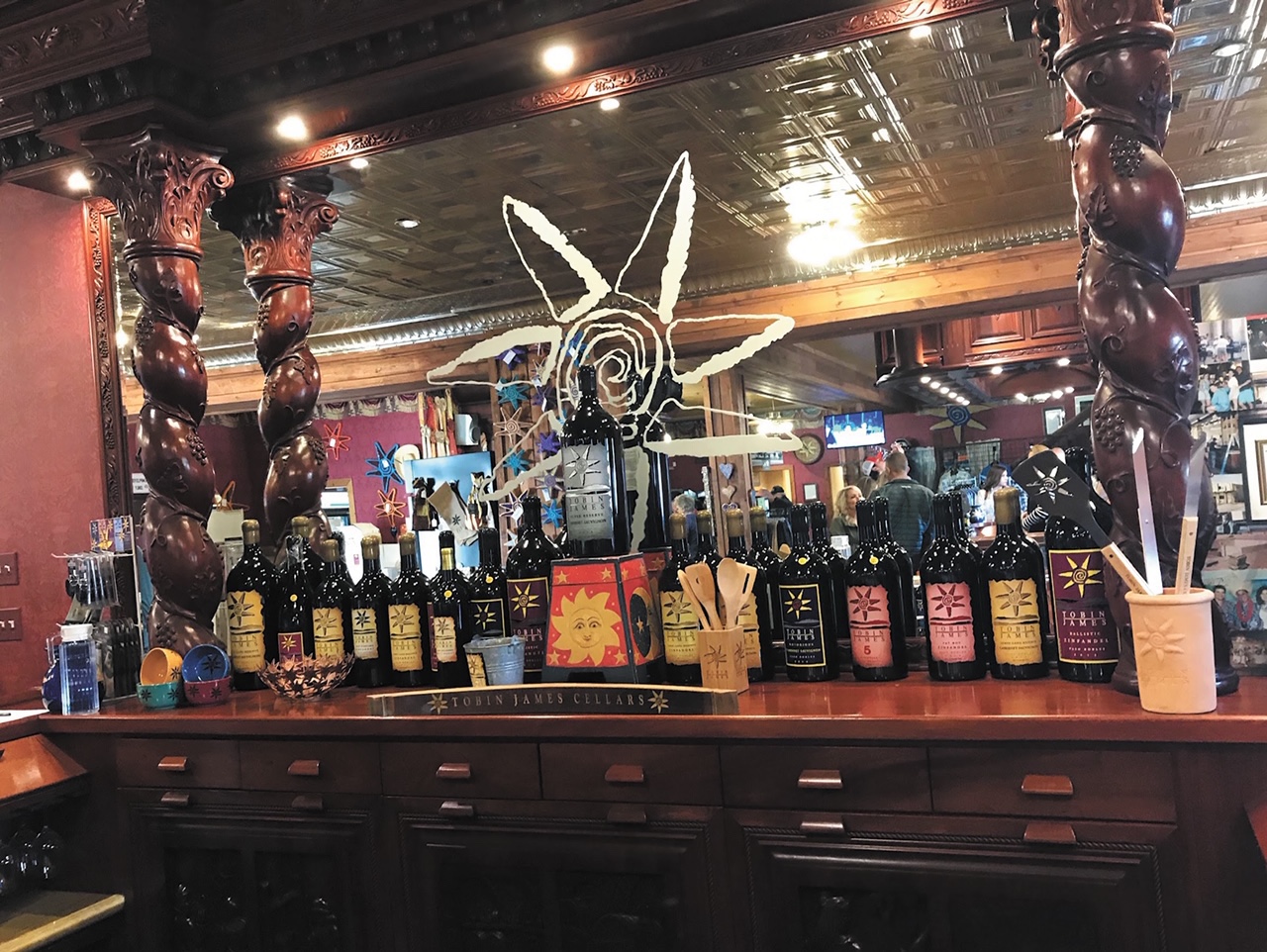 Among the 2017 vintages that we tasted, the malbec from the West Side Ranch revealed sexy, spicy notes and the rich round, cherry-loaded barbera was ready for bottling, suggested Toby. Among the 2018 vintages of syrah, there was the lush and meaty style from French Camp Vineyards and a peppery one from West Side Ranch.
Tobin James Cellars is renowned for its different bottlings of zinfandel. "It's our favorite child, we believe in it," Toby remarked. However, the tasting menu boasts more than 30 wines, from Bordeaux and Rhône style wines to pinot noir, sangiovese, moscato and late harvest dessert wines.
Toby's story itself is a saga of kismet. His father grew up in New Jersey in an Italian neighborhood where everyone made wine. The family later acquired a 30-acre vineyard in Indiana where young Toby tended the vines during summer and later worked with his older brother who owned a wine shop in Cincinnati. This is where Gary Eberle, founder of Eberle Winery, stopped by on one of the promotional visits to sell his wine. Eberle casually invited Toby to visit Paso Robles. The call of 'go west young man' beckoned and Toby took up Eberle's offer. "He didn't think I'd do it, but I showed up." In Paso, Toby started at Estrella River Winery and later moved to Eberle Winery.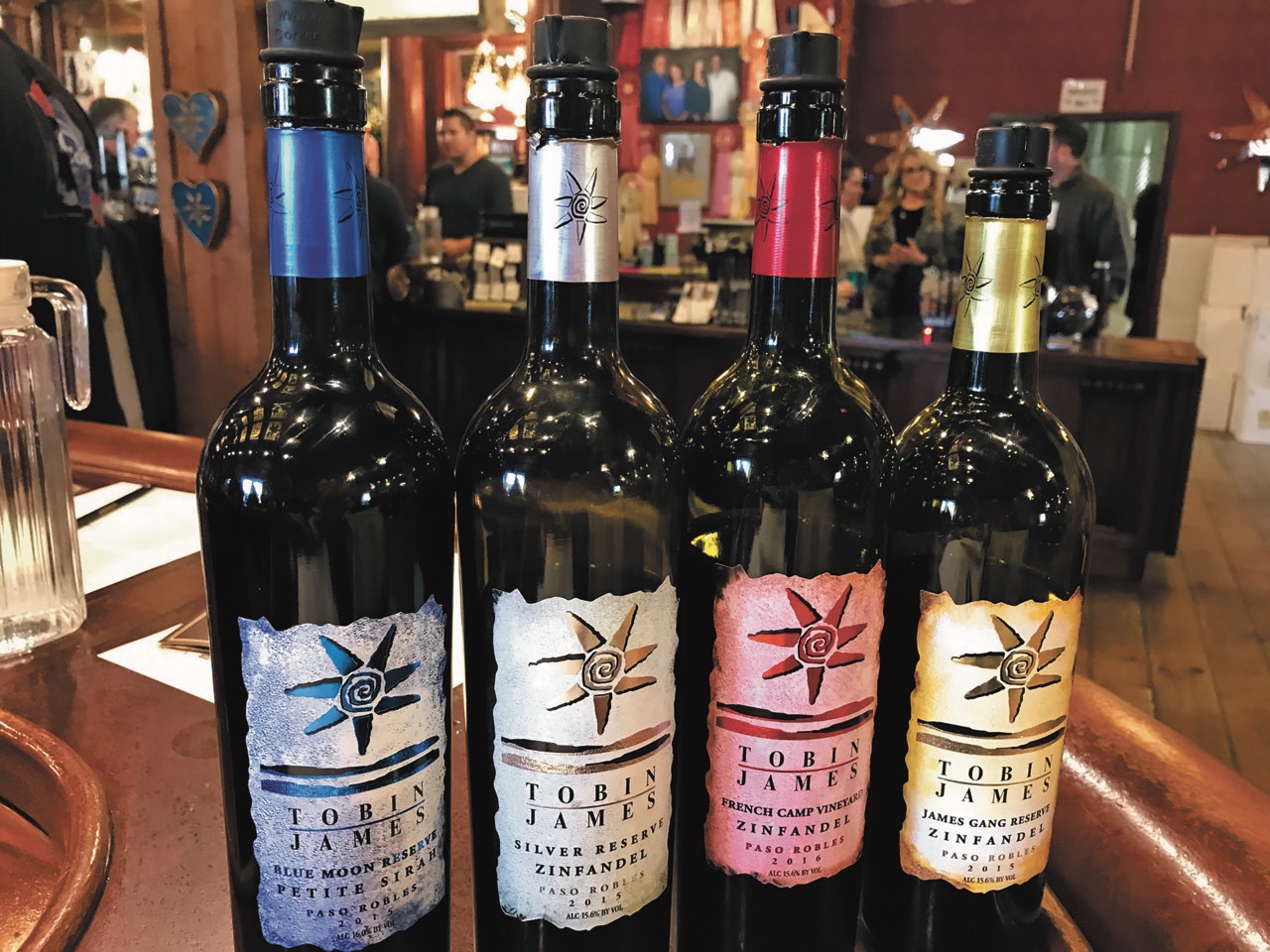 It was the mid-1980s when Toby lucked out. A vineyard manager at one of Paso Robles winery had an excess of six tons of zinfandel that nobody wanted, recalled Toby. "Even Gary said no." Toby took the tonnage of zinfandel and made his first wine. "Now I'm across the street from him and married to his daughter," said Toby of the manager who unloaded the truck. That very first 1985 Blue Moon zinfandel that Toby crafted earned him gold medals.
"I was a wheeler-dealer," recalled Toby, as he developed a skill and figured how and where to source free grapes in the region. "If life burdened us down, we got up and brushed ourselves." For the savvy vintner, there's only one kind of business — "tepeat business," Toby said with a laugh. Indeed, some of the loyal patrons have been visiting for over 20 years.
Nostalgic about Paso's history, Toby remembers when there were only two stops lights in town. "That was the best time of my life," he fondly reflected.
To pay homage to Paso and give back to the town that has given him great success, Toby purchased the abandoned lot at the corner of Spring Street and 18th Street with a mission to gift it to the city as a community park.
"I didn't want another liquor store or gas station at that corner," Toby noted. "This town deserves something pretty to look at."
Toby is unabashedly proud of his big gutsy style wines. "Our customers like robust wines," he remarked. "Our signature is: it's Paso in a glass." Meanwhile, those Tobin James wines aging in barrels have a ways to go before they are poured into a glass.