The Floral Parlor: Playful, Whimsical, and Modern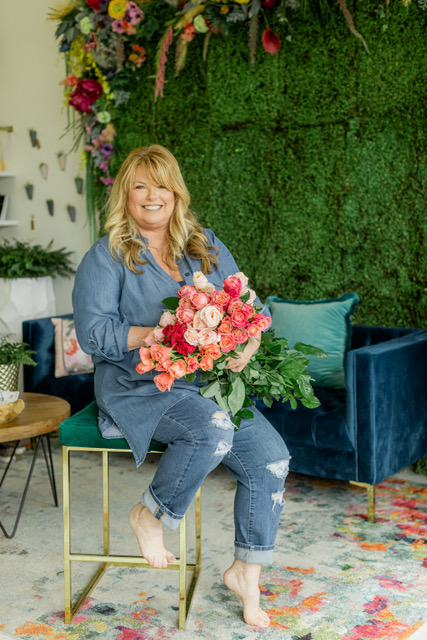 The Floral Parlor was a vision long in the making, but after a night at the Paso Robles Inn, and a morning walk for coffee, that vision was on its way to becoming a reality for Sunny Sheldrake.
Sunny opened The Floral Parlor on Spring Street in the hub of Paso Robles. Within her brick walls, Sunny and her team bring to life whimsical and modern floral designs. With each coming season and holiday, the shop is brought to life with creations only imagined in fairy tales. An Orange County native, Sunny is a mother of four grown children and grandmother of three. She escaped the corporate world to live a life she always romanticized having.
Creating floral designs from the heart, Sunny continues making personal connections with the community with her "sunny" disposition, sourcing quality florals, and adding value to each and every design or event she touches.
advertisement

The Floral Parlor strongly believes in giving back to the community. One way they do this is with its auction donation item of "Flowers a Month for a Year," which has been key in raising charitable funds for the Redwings Horse Sanctuary and Rescue, and Paso Robles Youth Arts, just to name a few. They are looking forward to promoting and contributing to its newest nonprofit, Applause Children's Theater (ACT) of Paso Robles.
In the shop, you can find fresh flowers ready for pickup or order online for delivery. They deliver flowers daily all over the Paso area and do floral designs for weddings, corporate events, and winery parties.
"I want to thank the community of Paso Robles for their support and for making The Floral Parlor possible," says Sunny of her newfound home. "This is such a special place, and I give thanks every day that I get to live here. I love seeing each and every one of your faces when you come in to visit the shop, and every time we get an order my team and I do a happy dance."
PASO ROBLES PRESS MAGAZINE
Copies of Paso Robles Press Magazine are directly delivered to 23,000 readers in zip codes 93446, 93451, and 93465 and 2,000 dropped with support from advertisers and subscribers. Together, we are Making Communities Better Through Print.™
To subscribe or advertise, click here.