Paso Wine region is expanding at a fast click with over 200-plus wineries and counting with each new vintage. The majority of these are family owned with under 5,000 annual-case production. Amid this plethora of commendable wineries, there are several hidden gems.
In the next few months, this column will feature a handful in each of its three-part series.
advertisement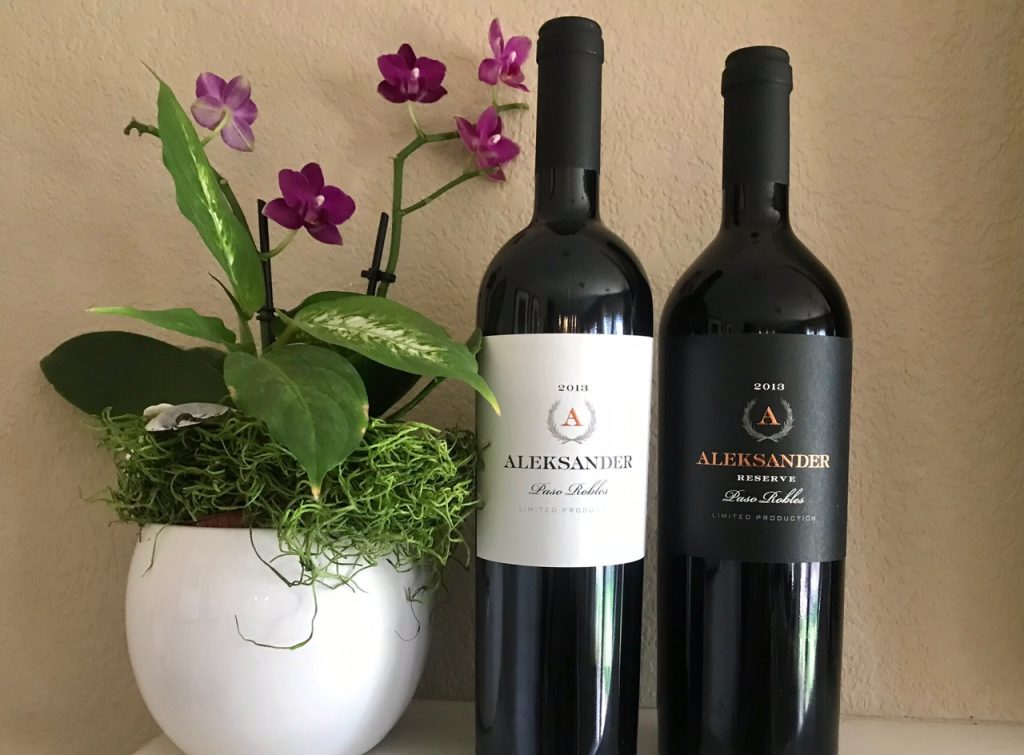 Aleksander Wine
Interestingly, Goran and Ksenija Bjekovic and their eldest son Sasha have been making wine since 2010 in their Creston winery, and yet few locals are aware of this outstanding wine.
Aleksander produces only two Bordeaux-style wines, the white label and the black Reserve from its 30-acre estate in Creston. The Merlot-driven wines are blended with Cabernet Sauvignon, Malbec, Petit Verdot and Cabernet Franc, in different percentages depending on the vintage.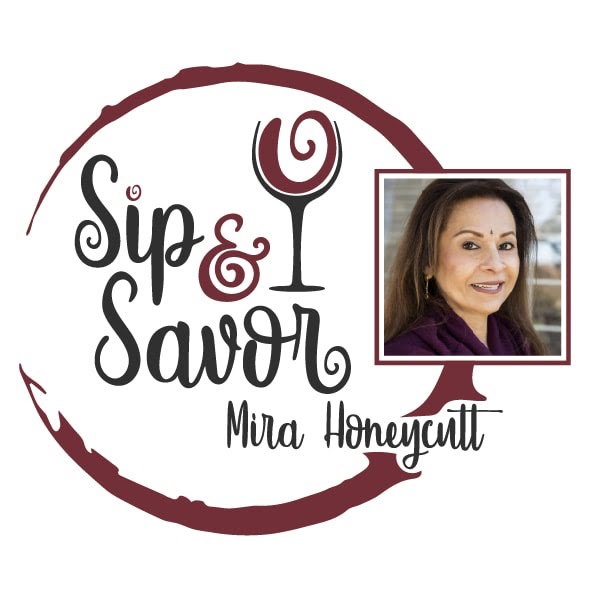 It was my introduction of the 2010 Reserve that transported me to Bordeaux's Pomerol region. In fact, so sublime was that wine, that I thought in a blind tasting it would stump the palate of the most sophisticated sommelier.
The family's journey began in Slovenia, moving on to Italy's Friuli Venezia Giulia region which sparked Goran's love for wine and where Sasha Vujacic's early basketball career flourished. A selection in the 2004 NBA draft by the L.A. Lakers brought Sasha, his two siblings and his parents to Los Angeles.
"We were not looking for a vineyard but wanted to be in the countryside and Paso was close enough to be near our three children," Goran told me. "I was impressed by the diversity of grapes, and the energy was so positive here."
With experience and appreciation of northern Italian wines, Goran's approach to winemaking is old world, a combination of the aging process and barrel choices that give complexity to his wines.
Goran is now launching varietal wines, a special four-bottle pack of 2018 Cabernet Sauvignon, Cabernet Franc, Malbec and Merlot. "It's a celebration of our family's success," he said of the club members-only wine, barrel-aged for forty months.
It's a family affair at the Aleksander estate, harvesting grapes and olives (for a small production of olive oil), winemaking and hosting a tasting experience elevated by Ksenija's delicious homemade charcuterie.
The Royal NoneSuch Farm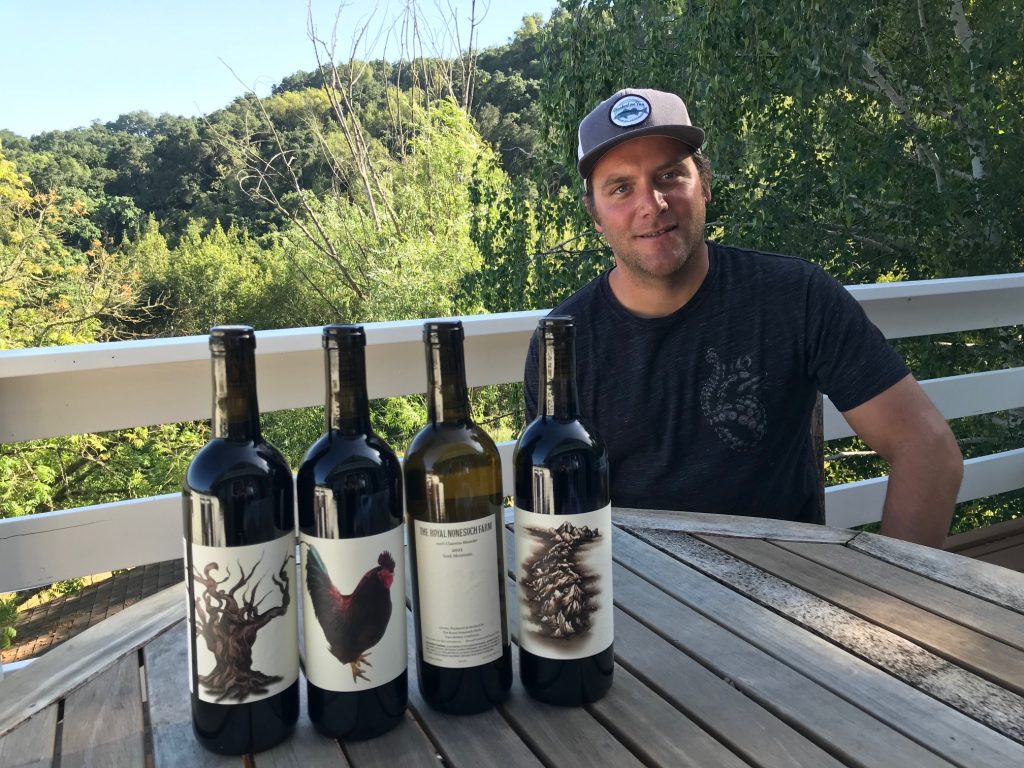 High above the Santa Lucia range amid a dense live oak forest, Anthony Yount and his family found a sweet spot of land in the minuscule York Mountain AVA tucked between Cambria and Templeton.
The 25-acre hillside ranch was acquired in 2011 where Anthony and his wife Hillary planted 7.5 acres to Grenache, Syrah, Graciano and Clairette Blanche.
"When we planted, we wanted to do just one wine each vintage, a red and a white," Anthony Yount told me driving through the dusty path flanked by vineyards at an incline of 1,400 feet scaling up to 1,800 feet at its highest point.
The vineyard is predominantly planted to Grenache, Yount's favorite variety. "I like its versatility," he said. "It can be fruity and spicy, elegant and powerful, and its food friendly."
Tasting the 2021 Red, the surprisingly peppery side of Grenache opened on the palate, followed by a bolt of blackberries from the Syrah and a hint of herbal expression lent by Graciano.
The 2021 White, a varietal Clairette Blanche, was a heady call of melon and tuberose on the palate, followed by a seduction of honeycomb.
Yount has added two varietal wines (not every vintage) available to club members only. The bold and gutsy inky 2021 Spine Syrah showing muscle-flexing tannins begs to be cellared. This will be released in spring 2024; and the richly textured 2021 Hokum Grenache aromatic with rose petals and nuanced tannins.
Walking around the ranch, Yount points to a section of a rocky hillside revealing the diversity of soils – limestone, clay and sand. It's this treasure of soils combined with steep topography and cool ocean breeze that deliver such nuanced wines.
Yount's viticulture practice includes dry farming, no pesticides and sheep in the vineyard for weed control. His vinification incorporates whole cluster fermentation, native yeast, a mix of concrete and foudre for the red wines and barrel fermentation for whites. All wines are aged 18 months. A minuscule 750-annual case production is available online only.
Copia Vineyards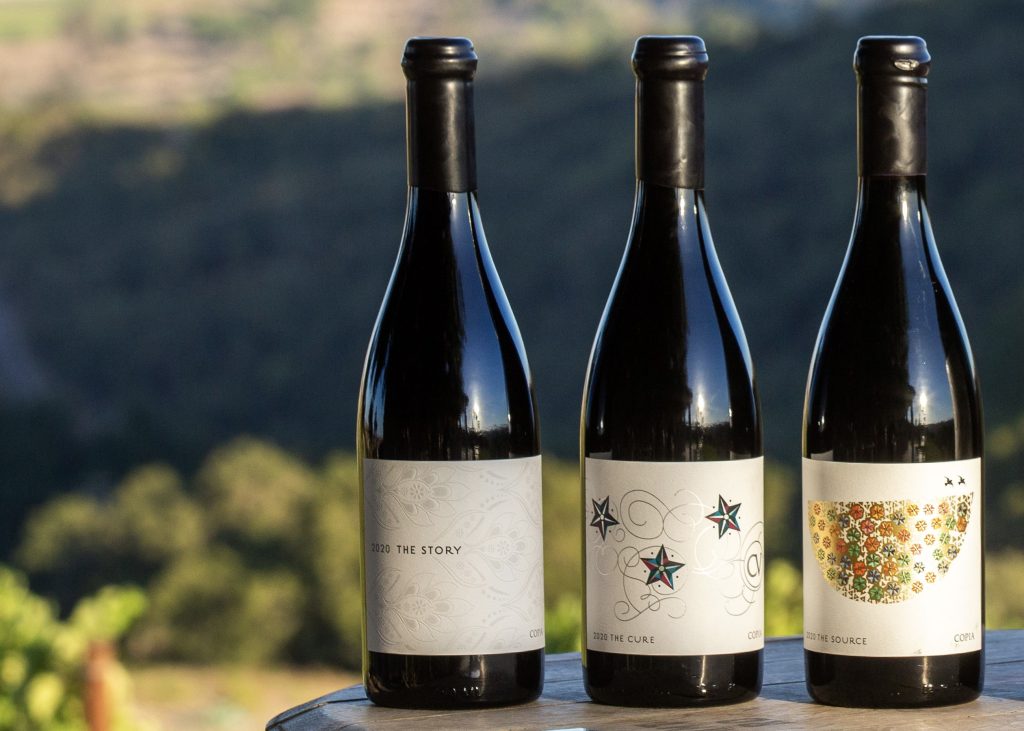 In a few short years, Copia has made its mark with Rhône-style wines crafting their signature blends. Its three flagship wines are much like siblings but each with a distinctive characteristic.
The Story, a Grenache-driven blend, rocks with the freshness of raspberries. The Source, a Syrah-driven blend, soars with dark chocolate and blackcurrants. The Cure, the GSM blend, is a carousel of tart red cherries laced with hints of caramel.
The wines reflect winemaker Varinder Sahi's earnestness. "Every wine we've made is with our own hands," he expressed.
Since 2016, Varinder and his wife Anita's Paso experience has grown organically: first interning at Booker, then acquiring the Copia ranch in the Willow Creek District, establishing a downtown tasting lounge and now expanding to a 27-acre property in Adelaide District complete with a winery and a tasting room.
"We stumbled on this," said Varinder of their acquisition of the former Vines on the Marycrest winery. "This winery size was a good fit for us." This purchase was prompted when the Sahis, who were producing their wines at Denner, had to find a new home when Denner got sold. Plans include replanting 20 acres.
Copia wines are made from its Willow Creek estate vineyard along with sourced fruit from prestigious vineyards on Paso's westside and from Santa Barbara County.
Cordant Winery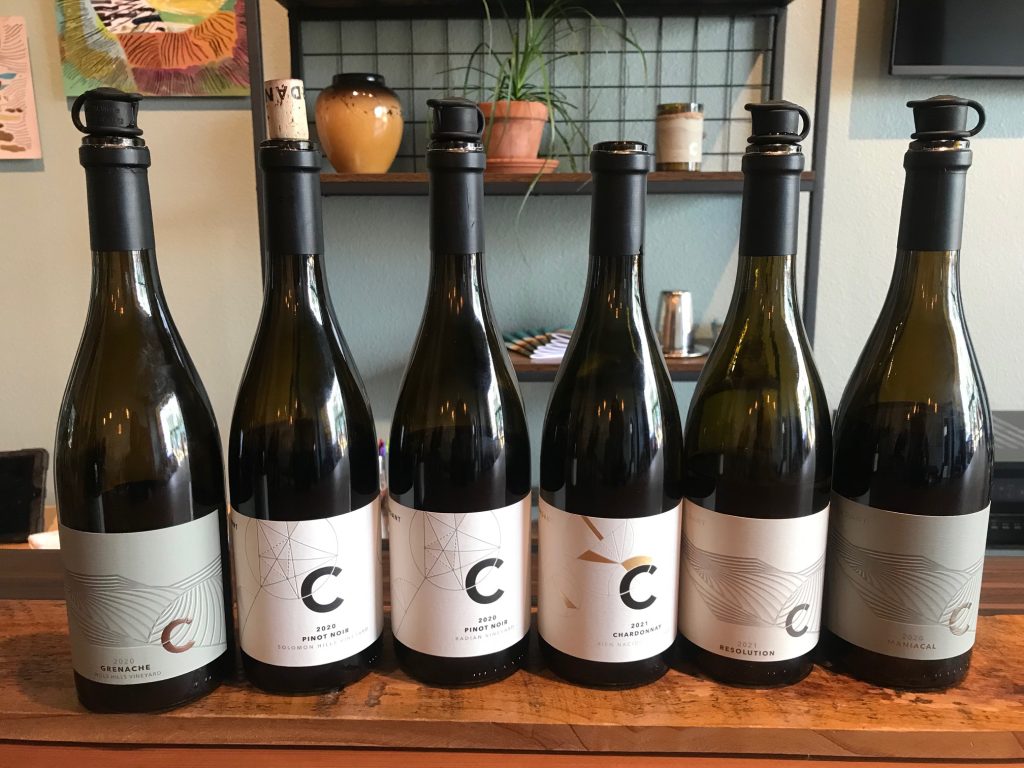 The focus at Cordant is on vineyard-designate wines. Be prepared to dive into a terroir-driven tasting of Burgundian and Rhône style wines from some of the Central Coast's most prestigious vineyards.  
"We are about different vineyards that express wines differently," owner David Taylor told me when I met him and his wife DeeAnn at their Ramada Row tasting room. They source fruit from some 15 vineyards in the cool climate regions of Monterey and Santa Barbara counties as well as in Paso. The small lot wines from 100 to 200 cases make up the approximately 3,000-case annual production.
Cordant wines are not heavy-handed. There's a thread of balance and structure that runs through the portfolio in the hands of winemaker Scott Stelzle. "We are going for a lighter style and elegance," Taylor noted.
Such elegance is expressed in two 2020 Santa Barbara County Pinot Noirs we tasted side by side: the deeper fleshier flagship Pinot from Radian Vineyard in Santa Rita Hills and an ethereal one from Solomon Hills in Santa Maria Valley. Both wines are framed by a pleasurable arc on the palate from start to finish. The Pinot portfolio goes through 17-month bottle-aging and the Rhône wines 21 months.
Among the Rhônes, we savored 2020 vintages of the Wills Hills Grenache, a brilliant rendition from Paso's Willow Creek District and Maniacal, a well-knit GSM blend from Adelaida District's Luna Mata vineyard
"We tend to end our tastings with whites," Taylor commented as we moved on to the deliciously aromatic 2021 Resolution, a brilliant white Rhône blend from Paso and the 2021 Chardonnay, from Santa Maria Valley's famed Bien Nacido vineyard vibrating with white peach flavors and scintillating acidity.
Symbiosis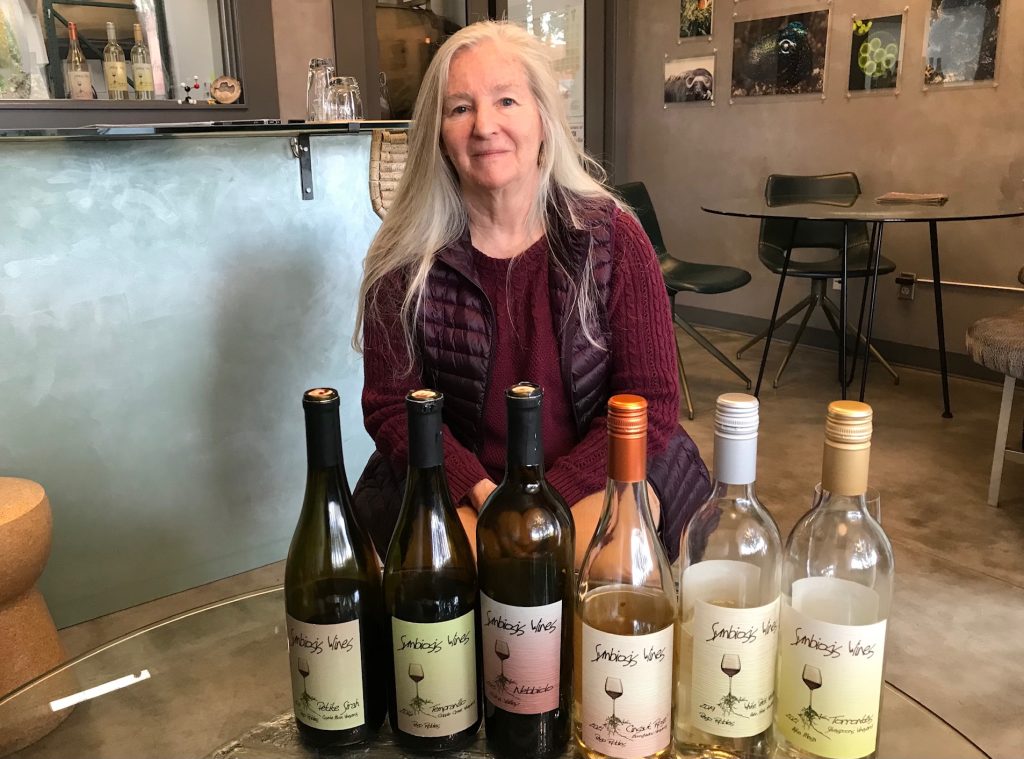 Symbiosis is one of only two downtown Paso wineries. Here on 12th Street, Glenna Thompson produces, packages and sells her minuscule annual 500-case production. 
An environmental microbiologist, the soft-spoken Thompson arrived in Paso via San Diego and Santa Barbara working in winery labs. "You can't help but learn how to make wine."
My introduction to Symbiosis came via Torrontes, a refreshing white Argentinian grape. At the time Thompson was one of two Paso winemakers producing it. In addition to the vibrant Torrontes, you'll find intriguing varietal wines such as a white Petite Verdot and the palest Rosé of Cinsault. There are no blends at Symbiosis. What makes her wines special is her bottle-aging process.
"I have a backlog of reds," she noted as she uncorked a 2011 Petite Sirah expressing a youthful spirit despite its age and a 2015 Nebbiolo, evoking old-world austerity with a California nose. The 2016 Tempranillo showed a typical Paso expression of bright raspberry fruit.
There's an educational approach to tasting here. Each wine (red and white) is served in two different glasses side by side, a regular wine glass and a Cognac glass. The fluted Cognac glass, she noted, amplifies the alcohol, concentrating the experience on the palate.
Indeed, a unique tasting is offered at Symbiosis.
(This is the first in a series of three articles).