No Pioneer Day is complete without a pot of beans cooking. Since 1931, enough beans to feed the entire community have been cooked over a fire early in the morning before the Pioneer Day parade. All of this was in effort to bring the community together and has been fondly known as the annual Bean Feed.
Of course, the Bean Feed would not be possible if it weren't for — well, the beans, of course.
For the last two years, the dry beans have been donated by King City farmers Richard and Joan Morgantini and the Morgantini Ranches. Sadly, Richard passed away in February of this year at the age of 93. Prior to his passing, Richard wanted to ensure that beans would still be delivered and donated to the Pioneer Day Bean Feed this year. 
advertisement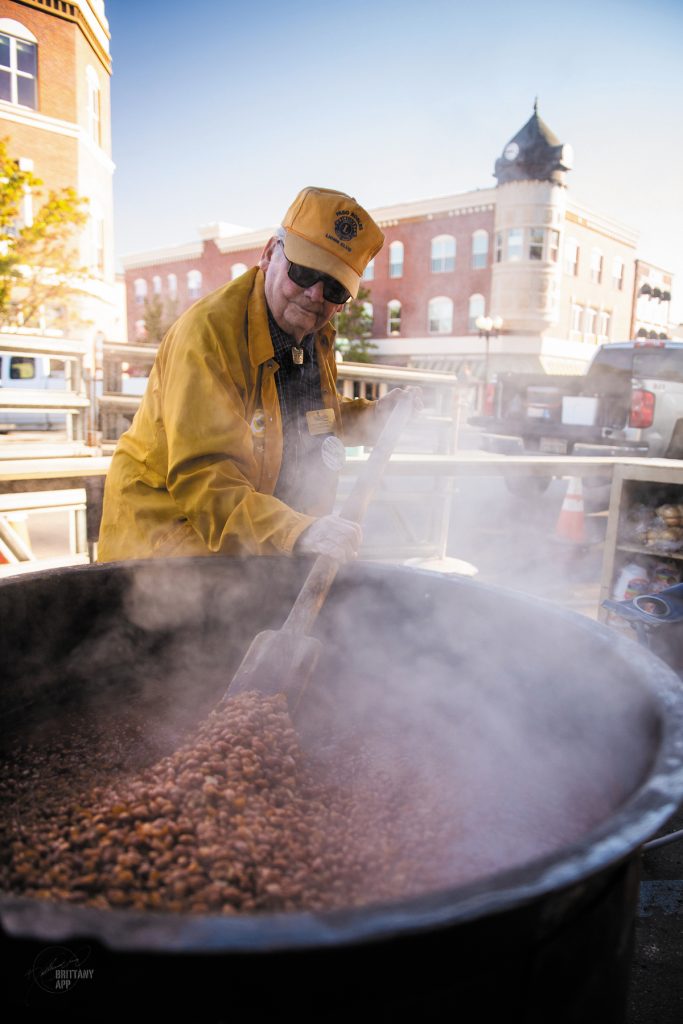 Last year, Richard told Paso Robles Press Magazine he and Joan love to give back to their community and wanted to contribute to the Pioneer Day festivities.
According to his obituary, Richard was born Jan. 23, 1930, in Greenfield, California to Charles and Mary Morgantini. He attended King City High School, where he was an active member of FFA and then served in the United States Navy in a combat construction battalion. For 65 years, he dedicated his life to his passion of farming and restoring vintage tractors.
Richard gave back to his community in more than one way. He was first elected to serve on the Monterey County Board of Education in 1979 and continued to do so for the next 28 years. Before that, he served on the Soledad School Board for 12 years. Richard even found the time to serve on the board of directors for several agricultural related organizations and continued to give back to his community through his church, American Legion, 4-H, and more.
The current captain of the Bean Feed, David Kudija, reiterates that volunteers are what makes the Paso Robles Pioneer Day wheel go round.
"To my mind, the strength of the Paso Robles Pioneer Day committee is its ability to attract young members," he said. "So many of the civic organizations in Paso Robles and surrounding communities, and I am sure across the country, are suffering and often disbanding due to the age of their membership. Those who have been part of the organization for many years are aged and infirm and, in many cases, no longer with us, and there are no young members joining the group to replace them. A core strength of the Pioneer Day committee is their ability to attract young people to their group."
Richard's dedication to giving back to Pioneer Day and the bean feed inspired another local couple to follow in his footsteps.
Paso Robles locals Ren and April Gomes of A List Properties heard of Richard and decided that was how they wanted to support their community. As a boy, Ren would attend Pioneer Day with his grandparents and bring home a pot of beans for the family. Now, Ren and April, who live in his grandparents' house, have come full circle by covering additional costs for the bean feed.
Ren and April are looking forward to being able to contribute to keeping the heritage and traditions alive in Paso Robles.
"When you think about how many people actually enjoy that day and the tradition and those that are able to interact in that event, it really encompasses such a broad spectrum of ages and groups and bringing families together and appreciating our small town," April said.
David adds, "This ability of the committee to attract young members convinces me that this great Paso Robles tradition will continue for many years to come."
Several dedicated Bean Feed volunteers have passed away within the last year. These people dedicated many hours to Pioneer Day and loved everything it stood for. So, we would like to dedicate this year's Bean Feed in memory of those who made it special: Richard Morgantini, Harry Ovitt, Tom Flynn, Denise Schinbine Cameron, and Don Keefer.
Beans are served by dedicated volunteers at 12 p.m. on Pioneer Day this Oct. 14. They can be found in Paso Robles City Park across from the Clock Tower on 12th Street.
We look forward to sharing beans and memories with you this year!
PASO ROBLES PRESS MAGAZINE
Copies of Paso Robles Press Magazine are directly delivered to 23,000 readers in zip codes 93446, 93451, and 93465 and 2,000 dropped with support from advertisers and subscribers. Together, we are Making Communities Better Through Print.™
To subscribe or advertise, click here.