UPDATE: CAL Fire Incident Report: Fire started at 4:33 p.m. on Saturday, August 1, now contained at 10%, two structures have been destroyed, 450 structures still threatened. Firefighters continue to establish control lines in steep rugged terrain. Critically dry and receptive fuel beds and drought stressed trees are a concern. The area has a very active fire history. Heat and winds are of concern today. Numerous firefighting air tankers from throughout the State are flying suppression mission as conditions allow.
Agencies on scene are SLO City Fire, SLO County Sheriff, Ventura County Sheriff, Kern County Fire, Five Cities Fire, Morro Bay Fire, PG&E, SLO HEET, Red Cross, CDCR, CCC.
UPDATE 10:30 a.m.: Evacuation Orders still in pace for Pond Fire burning in Parkhill area
Evacuations issued for wildland fire burning easy of Santa Margarita in the Parkhill Area. Fire is approximately 2,000 acres.
Evacuation Order issued for residents south of HWY 58, west of Huer Huero, north of Las Pilitas Rd and east of PozoRd. Residents in this area are directed to leave immediately.
Evacuation Warning issued for residents south of Las Pilitas Rd, west of Parkhill Rd to Pozo Rd, north and east of West Pozo Rd. to HWY 58. Residents in this area should be prepared to leave.
If assistance with evacuating large animal is needed, contact HEET at 805-550-0213
Evacuees can receive assistance at the Santa Margarita Elementary School at 22070 H St. in Santa Margarita.
Follow @xslimt3 on twitter for continuing information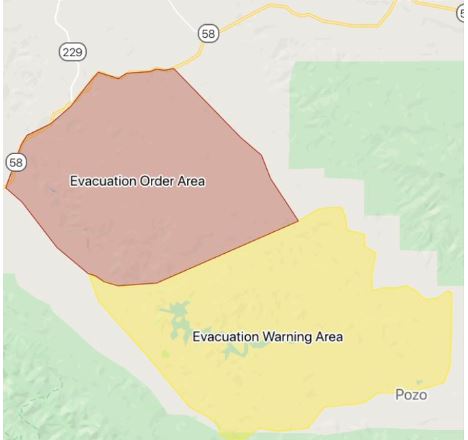 UPDATE 4 a.m.: If you need assistance with large animal evacuations, contact SLO HEET at 805-550-0213. Staging and Shelter areas have relocated to Railhead Ranch Area.
EVACUATION WARNING South of Las Pilatas Road West of Park Hill Road to East Pozo Road, North and East of West Pozo Road to Highway 58.
UPDATE 08:45 p.m.: Fire is 0% contained, per CAL Fire, the incident is now being called the Pond Fire. EVACUATIONS — South of Highway 58, West of Huer Huero Road and North of Las Pilitas Road, East of Pozo Road.
Current EVACUATION Center is Santa Margarita Elementary School located at 22070 H St. Santa Margarita, CA 93453. Fire is approximately 2,000 acres burning East of Santa Margarita, South of Highway 58 as of 8:45 p.m.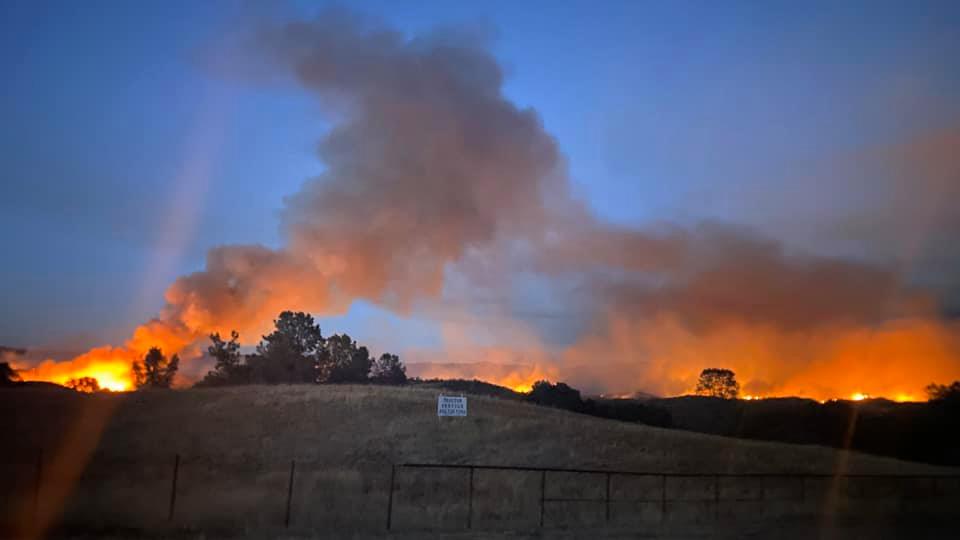 Cal Fire SLO reported firefighters are battling a wildland fire near Katacreek Road in Creston and is currently over 50 acres. Road closures in effect on Hwy 58 and evacuations are taking place.
This is a developing story check back for more details as they become available.