Creston Village gives therapy dog a retirement party
PASO ROBLES — When Sandy walks into a room, people can't help but smile and want to be near her or pet her. She has the innate ability to bring the best out of people.
From her wagging tail, to her big brown eyes and her soft yellow coat, Sandy instantly puts people at ease.
Sandy, a 10-year-old therapy dog owned by Larry Schiffer, has been visiting Creston Village, a Pegasus assisted living and memory care community, in Paso Robles for the past eight years.
"Pet therapy for our residents is just magical. All ages love a big friendly dog. It (therapy dog visit) is one of their very favorites," said Michael Mayfield, Creston Village executive director.
advertisement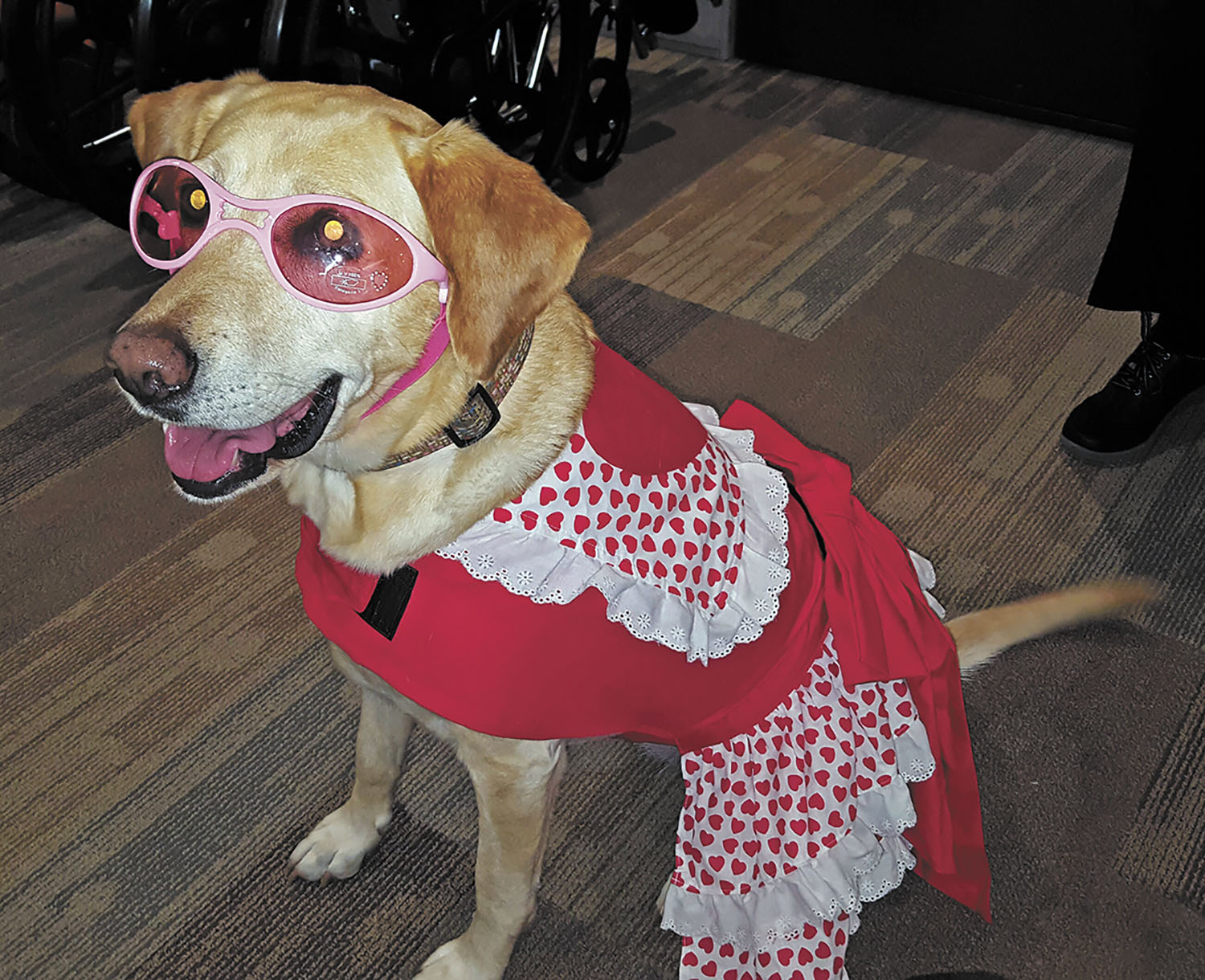 Sandy mingles with people in the facility's "living room" and then makes personal visits to apartments before finishing up in the "memory care" area. Visits by therapy dogs happen twice a week at Creston Village.
Therapy dogs differ from service dogs. According to the Alliance of Therapy Dogs, service dogs are trained to perform tasks and to do work that eases their handlers' disabilities.
Therapy dogs also receive training but have a completely different type of job from service dogs. Their responsibilities are to provide psychological or physiological therapy to individuals other than their handlers.
"Residents absolutely love her. They prepare to bring her treats every time she comes," said Kellie Howard, Creston Village Life Enrichment director. "She goes and sits with anybody we ask her to. She is a very, very sweet dog."
Sandy made her final appearance as a therapy dog at Creston Village, one of four assisted living facilities she frequently visited in North County, in mid-October.
"She is officially retiring," Schiffer said. "She has been forced into retirement due to illness. She has been a staple in this community. She had a costume for every single holiday that she would wear."
At the retirement party, she received a plaque, plenty of dog treats and a large card signed by Creston Village residents.
Schiffer said from the time he adopted her he knew she would be a great therapy dog. He was volunteering at an animal shelter in Tennessee and fostered her. Not long after moving to Paso Robles, Schiffer and Sandy, who was 2 years old, began the therapy dog certification process. Shiffer said the training is pretty rigorous and much of it is completed while on the job.
"It's been the most rewarding thing I have ever done," Schiffer said. "I've always wanted to give back because of how fortunate I have been in my life. This has been a wonderful way to give back on a very small basis."
Schiffer said he and Sandy were the first therapy dog team at French Hospital in San Luis Obispo. They went to French Hospital for four years.
With Sandy in retirement, Schiffer was not ready to hang up the therapy dog leash. He and 3-year-old Gracie, a black Great Dane, is certified and are now making the weekly visits to Creston Village and other facilities in North County.
"I've always said that the reason I do this is because it makes me smile," Schiffer said. "Whenever we go to places like this I am smiling from ear-to-ear when I see how people react to her. That to me is the most rewarding thing."