Hair was donated to Children With Hair Loss to make wigs at no cost to the children who receive them
By Blake Ashley Frino-Gerl
Guest Contributor
TEMPLETON — Breast Cancer Awareness Month has just passed and a few students at Templeton High School (THS) spared their time and hair to give to nonprofit Children With Hair Loss. A recurring event from past years in Matt Macfarlane's High School ASB Community Leadership class, junior and student philanthropist Audrey Higgins orchestrated the giving event.
Four students, along with the high school's cheer coach, Summer Ramos, donated hair to make wigs to Children With Hair Loss, while also raising awareness of the positive impact it has for children with a variety of circumstances that causes their hair loss.
advertisement

The event has become quite the community effort with stylists from the Designs School of Cosmetology in Paso Robles donating their time and effort to provide the haircuts. Lori Breault is an instructor at the cosmetology and has assisted in the donated haircuts for the second year.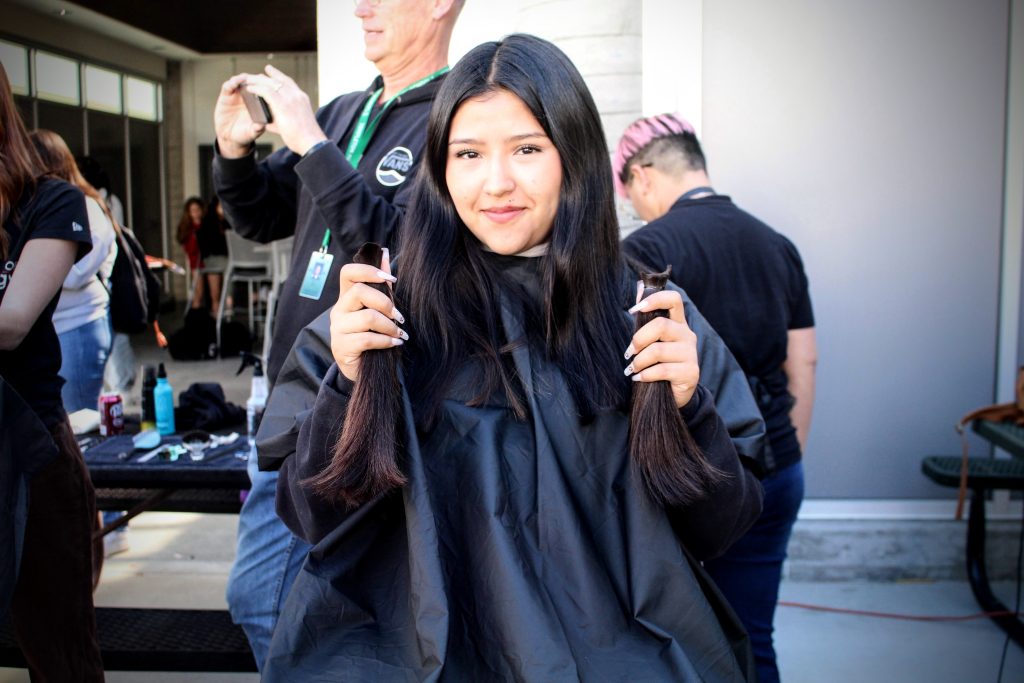 Needing at least 8 inches of hair to donate, it was tough for some to let go of that much length. Hair is an extension of oneself, something that we are accustomed to and take care of, and is noticeable on a daily basis. Yet, understanding that the hair will grow again, and giving it for a meaningful cause makes it worthwhile and easy thing to do.
When it comes to cancer, many are affected or know someone who is affected by it. Seeing her sister battle and overcome cancer hit home for Ramos. Her sister loved her wig, and so Ramos decided to donate her own hair to provide some goodness for another person who wants a wig and feel a sense of normalcy.
The goal for the nonprofit, and therefore the students, is to provide Children With Hair Loss with enough hair to create wigs — at no cost to the children who receive them. Taking the time and effort for students and teachers at the high school, along with the cosmetologists, is meaningful.
"The annual tradition is to give back whenever needed," MacFarlane said. "It gives people who feel powerless against cancer, [the ability] to do something."
"Part of me is grateful we do this on campus," Higgins said. "For people who have cancer, this is a small sacrifice we are making."
The school is passionate in supporting causes — fall athletes wear pink shirts provided by Movement For Life and Radiology Associates to show cancer awareness. The leadership class works with Salvation Army to provide children with Christmas gifts and they also have a blood drive and a sock drive for CAPSLO — all as a means to give back.