PASO ROBLES — The Paso Robles City Library has announced its calendar of events and activities happening in July.
Bring the sea inside with colorful macrame fish as August craft wraps up Dive into Summer
July 1, Round out the ocean-themed Summer Reading Program — Dive into Summer — by making a fish wall hanging to display. Using the square knot, double half hitch, and lark's head knots, learn to add in various colors of macramé cord to create a colorful fish like the one depicted. The fish can be hung from the wooden ring included in the kit. This is a perfect class for beginning and intermediate level knot crafters.
advertisement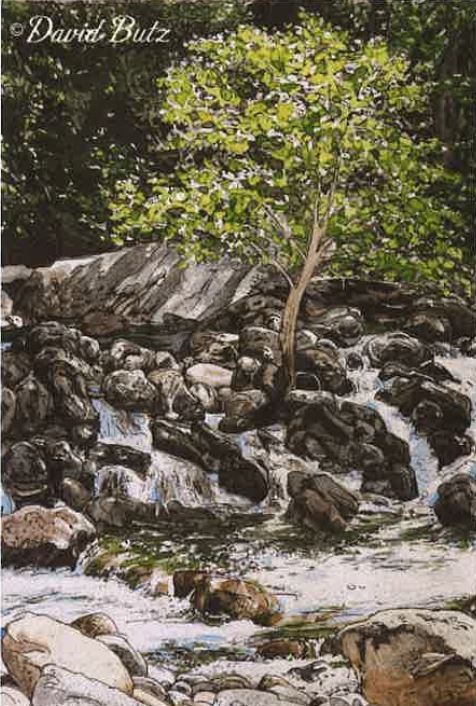 David Butz art on display in July
Pushing the limits of printmaking
Capturing the beauty of nature, from its raucous spectacle to its soft quiet moments, David Butz explores the parks and wilderness areas of the western United States, searching for breathtaking subjects to translate into prints and paintings. Adept at expressing effects of light and water, Butz hopes to provoke the same emotions for the viewer that he feels when witnessing a scene. He explores printmaking processes, pushing limits and trying new techniques, including intaglio printmaking. His exhibit in July will consist of about 15 framed pieces, mostly etchings and other prints.
Summer in the City fun continues at the Library
The Library's popular Summer Reading Program continues this month. Simply register through Beanstack, then hook a good book and get started. Log your minutes to earn great prizes. One lucky reader will win the Grand Prize — a one-year membership to the Monterey Bay Aquarium, so you and your family can get up close and personal with all the fish in the sea.
Then enjoy more family-friendly activities and performers on Wednesdays at 2:30 p.m.
July 5 — Magician Shawn McMaster
July 12 — Finding Nemo: Dive into a Good Movie
July 19 — Tidepools on Tour
July 26 — Sand Art
Some programs require free admission tickets, available 30 minutes prior to program.
Ocean-themed programs and events continue with 'The Island of Sea Women' by Lisa See
The Summer Reading Program's Dive into Summer theme continues this month with a group discussion of Lisa See's "The Island of Sea Women" on Wednesday, July 19, from 6 to 7 p.m., in the Library Conference Room.
Mi-ja and Young-sook, two girls living on the Korean island of Jeju, are best friends who come from vastly different backgrounds. When they are old enough, they begin working in the sea with their village's all-female diving collective. As the girls start their positions as
divers, they know they are beginning a life of excitement and responsibility — but also danger. Little do the two friends know that forces outside their control will push their friendship to the breaking point.
This title is available in various formats through the catalog. Registration is required for each participant. For ages 16 and over.
The Paso Robles City Library is located at 1000 Spring St. and is open Monday through Friday, from 9 a.m. to 7 p.m., and Saturday from 9 a.m. to 4 p.m. For more information, visit prcity.com.