Individuals behind 'Embrace White Pride' sign remain unidentified, reports CHP
TEMPLETON — In response to a photo that recently circulated depicting two individuals standing on the Vineyard Drive overpass in Templeton, holding a sign that read "Embrace White Pride," the local group Little Queer Paso organized a rally titled "Rally Against Hate" on Wednesday, May 10, from 2 to 6 p.m., at the same overpass location.
An estimated 100 individuals gathered on the overpass throughout the day, holding a diverse array of signs and waving to passing cars, eliciting honks of support.
Little Queer Paso group leader Eric Alcosiba-Bergmann helped organize the rally. He learned of the "Embrace White Pride" banner while moving back to Paso Robles from Florida. Alcosiba-Bergmann lived in Paso Robles for "two to three years" before moving to Florida. While living in Paso Robles, he helped begin the Little Queer Paso group in 2021 with about 10 to 15 people as a support and social group. The group, primarily on social media, now has over 700 members. Alcosiba-Bergmann says the group enjoys holding an occasional bar crawl, planning rallies, and participating in the community as much as they can.
advertisement

In response to the controversial banner, Alcosiba-Bergmann said, "We want to not stay silent about it because we didn't want everyone else coming through on this busy highway to see that we are a county that has embraced white pride like that. But we speak out against racism, and that was the point of this event to show love, acceptance, support, and show overall to the community that we are all here for each other."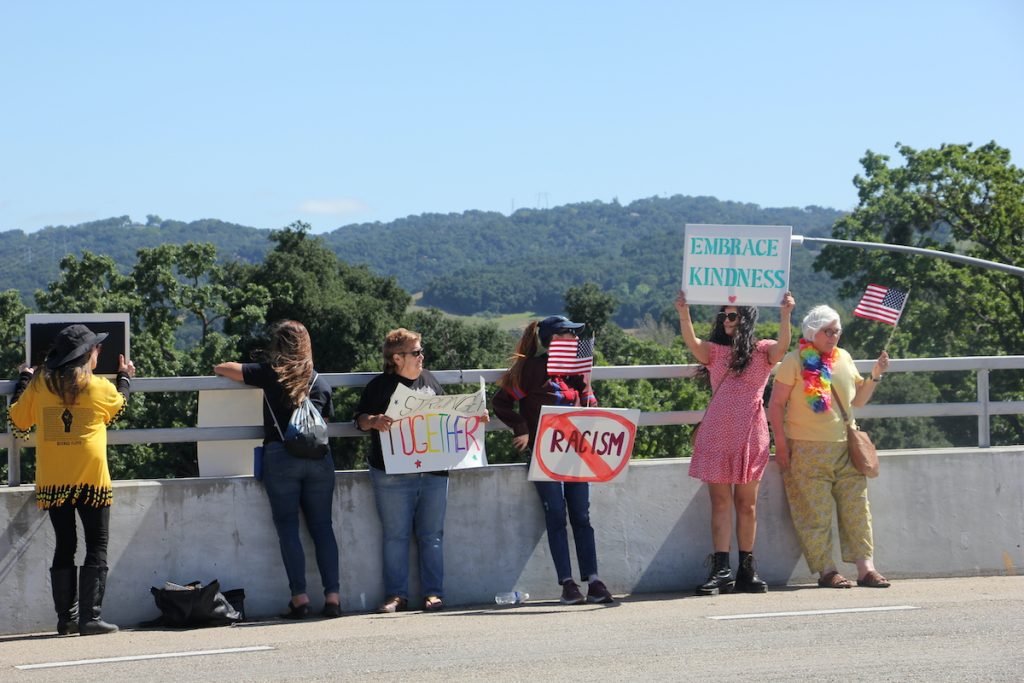 The Vineyard Drive overpass remains under the jurisdiction of the California Highway Patrol (CHP), which Paso Robles Press reached out to for a response to the banner. A spokesperson for the local CHP told us that while they were aware of the banner by email, a report was not filed. 
Though controversial to many, CHP stated the banner was free speech whether or not it was affixed to the overpass adding "By holding the banner, it did not violate the law regarding attaching signs and banners to Caltrans property."
CHP told us that there had been no effort to identify the sign holder. The two individuals photographed holding the banner were wearing masks and were unidentifiable. CHP did, however, question another group that holds signs on the overpass weekly, who told CHP they were not responsible for the banner.
While there is no Merriam-Webster's Dictionary definition for "Embrace White Pride," it is often associated with white supremacy — defined by Merriam-Webster's Dictionary as "the belief that the white race is inherently superior to other races and that white people should have control over people of other races."
Alcosiba-Bergmann told Paso Robles Press that after posting the planned rally on social media, word spread and it soon involved other local organizations, including Templeton Proud, NAACP, Paso Cares and more.
"It wasn't primarily a queer issue. It was a racial issue, and what the word 'white pride' [means], it has such a nasty hate to it that umbrellas and covers everyone," explained Alcosiba-Bergmann. "If we don't act, then that's it; everyone is just going to think we are a county of intolerant racists."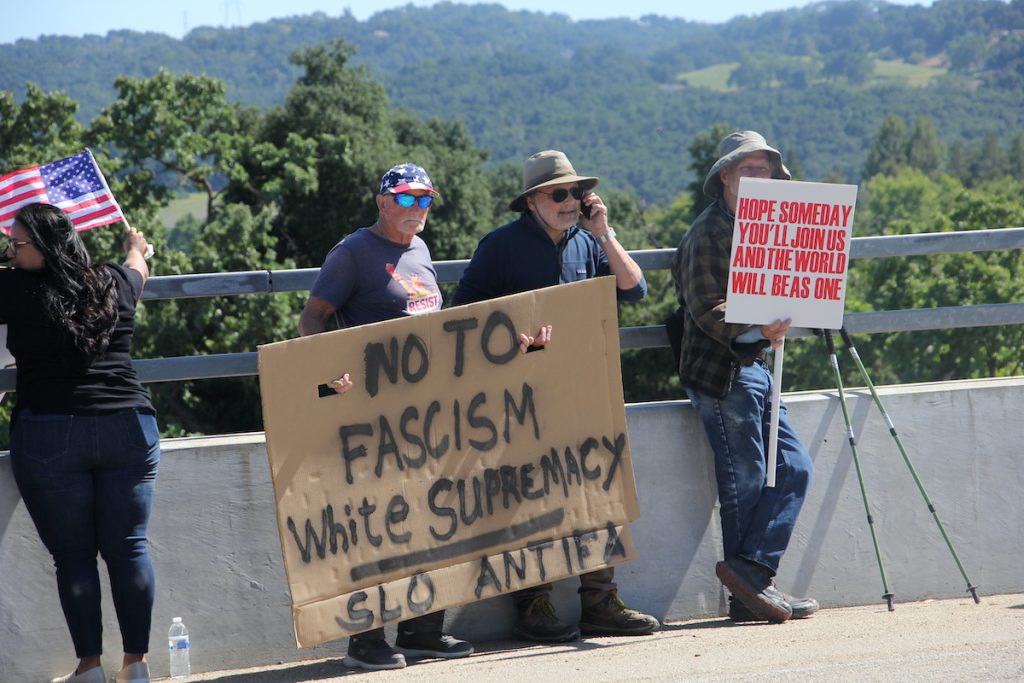 Alcosiba-Bergmann, who was impressed with the turnout for the rally, noted the group was mostly receiving a positive response from the community.
"The biggest message that we want to get out is that North County does not accept or tolerate racism, and we are a community of acceptance and support," he adds.
On Saturday, May 13, Alcosiba-Bergmann's group responded to another "Embrace White Pride" banner on the Vineyard Drive overpass. That Saturday, four masked men held a banner reading "Embrace White Pride" banner with a variation of an "Othala Rune" symbol. According to Wikipedia, othala is essentially ancient Germanic language for "heritage; inheritance, inherited estate," and rune translates to a "letter in a set of related alphabets known as runic alphabets native to the Germanic peoples."
The symbol has historically been used and manipulated in Europe for symbols like the swastika and Celtic cross, later being appropriated by the Nazi party and neo-Nazis.
On Saturday, Alcosiba-Bergmann and other community members met with the banner group on the overpass with signs in hand to counteract the "white pride" banner. Reports say that the men would not identify themselves and later left the overpass.
Paso Robles Press is following this story and will update as more information becomes available.