Inclusive recreational facility promises thrilling rides for all ages, starting construction on Sept. 15
PASO ROBLES — On Tuesday, Sept. 5, the City of Paso Robles hosted a groundbreaking celebration at Barney Schwartz Park for the bicycle pump track set to officially begin construction on Friday, Sept. 15. The pump track will be the first of its kind in Paso Robles and all of San Luis Obispo County.
The track was designed by California Skateparks, who were also designers of the Tokyo Olympic Skatepark. Created to appeal to all ages, the bicycle pump track includes separate tracks for both beginning and intermediate riders. The track is scheduled to be finished in time for riders to enjoy this spring.
This project, managed by project architect Zach Wormhoudt of California Skateparks and built by Greenwald Builders/Fron­ter Skateparks, offers a distinct feature due to its hillside location. It stems from community input gathered in a 2021 survey, ensuring that it incorporates features desired by local residents.
advertisement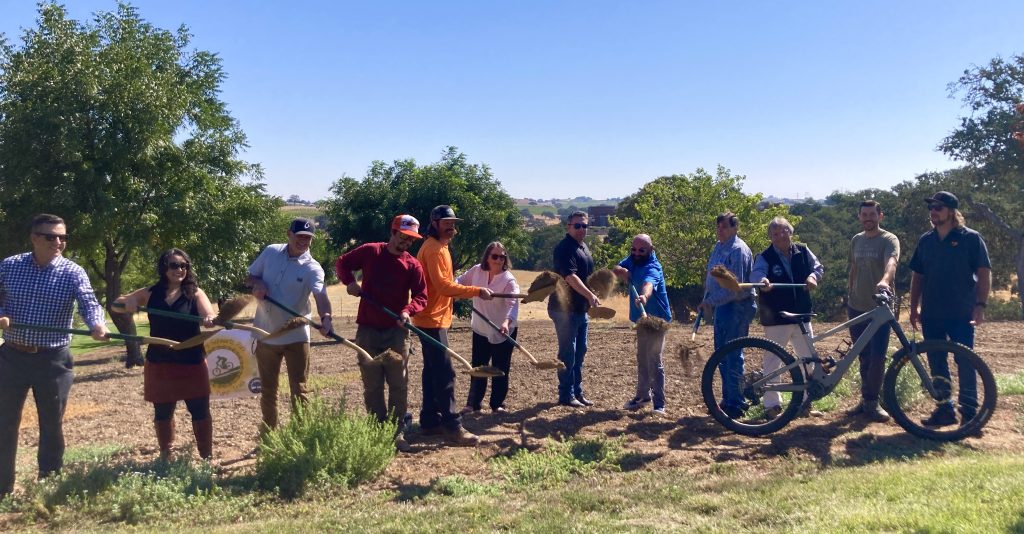 What sets this pump track apart is its continuous loop design, comprised of rhythmically connected rollers and banked turns that allow riders to navigate without pedaling. Its accessibility to riders of all ages, coupled with its hillside location, distinguishes it from traditional BMX tracks.
While there is a BMX-style dirt track in Morro Bay, this pump track is set to become a one-of-a-kind attraction in the area. It promises to provide the community with an exciting and inclusive recreational facility, thanks to thoughtful planning and generous funding.
Funding for the pump track is being provided by the REC Foundation through the Dale Schwarz Memorial Endowment Fund with an estimated cost of over half a million dollars for the design and construction for the project.
During the bicycle pump track groundbreaking celebration at Barney Schwartz Park on Monday, the City of Paso Robles and the Paso Robles REC Foundation were recognized by Congressman Jimmy Panetta and Assemblymember Dawn Addis for their commitment to provide new recreation opportunities for the community.
Construction is officially scheduled to commence on Sept. 15, with an estimated timeline of approximately 140 calendar days.
Feature Image: Pictured (from left) at the Barney Schwartz Park pump track groundbreaking are Community Services Director Angelica Fortin; Andrea Chemlik, district director for Assemblymember Dawn Addis; Diane Zannotti, district aide for Congressman Jimmy Panetta; REC Foundation Chairperson Chris Taranto, and REC Foundation member Mike Rundstrom. Photo courtesy of City of Paso Robles