Wow, summer is almost over…the Fair is behind us and it's nearly back to school time already.
It's Back to School
It's back to school for area youth this month and we have several stories by Judy Bedell and Meagan Friberg, starting on page 16, to assist students and their parents in preparations for return to the classroom. 
And yet another FANTASTIC fair!
I tip my cap to CEO Michael Bradley and his crew at the California Mid State Fair. Awesome job, gang. We were there almost every day and loved it. Great displays, upgraded grounds and the place never looked better! Our grandkids really appreciated the rides and the new Carnival crew were extremely polite helping them…much appreciated by Gramps and GmaRho!
…and more!
There's several more stories on a variety of topics I think you'll enjoy, looking forward to the 2nd edition of the Paso AirFest coming August 25 and 26, plus an interesting cool story by Melissa Chavez about George Marrett…an accomplished pilot who always wanted to be a pilot growing up (don't miss the cool photo of him as a child with his aviator goggles and 'helmet').
Wine Country Theatre is preparing for another great production – this time it will be the "Gypsy," the Paso Robles Rotary is presenting the 19th Annual Winemakers' Cookoff on August 12 (see page , and congratulations to Don Jacobs, honored as this year's Rotarian of the Year…plus so much more.
We're planning changes next month…you loved our glossy cover wrapping our focused local coverage…and our name change to PASO Magazine. Next month we'll surprise you further, a bit of a different direction…stay tuned.
Paso Pops 
While last year's inaugural event was cool, albeit a bit chaotic…this year the committee learned from it and moved forward and reinforced a "new July 4th tradition here to stay."
Paso Pops founder Steve Cass shares his thoughts about this year's rendition of Paso Pops: "By all measures, Paso Pops 2017 sponsored by the Paderewski Festival and held on July 1st at the Paso Robles Horse Park was a huge success and an annual event positioned to become the county's new Independence Day celebration tradition of choice. A big draw for Central Coast residents, Paso Pops' 4,000 attendees included those from 51 California zip codes, nine states and two Canadian provinces.
"Issues that arose at last year's inaugural event were addressed and solved: from well-managed traffic patterns both to and after the event, to easy parking, authorized picnics, adequate food trucks, ample and speedy local wine and Firestone Walker beer purchases, and an increased number of jumbo screens and speakers.
"The San Luis Obispo Symphony and Chris Woodruff put on a terrific patriotic 'Pops' program. Paso Wine Man and Emcee Casey Biggs made a stirring entrance to 'God Bless America.'  The Swing Dolls' WWII era songs were a crowd pleaser.  The lavish fireworks display provided a stunning event finale.
"A sincere thank you to the hundreds of volunteers, dedicated organizing committee, and many community sponsors who made Paso Pops a success.
"In 2018, the event will be held on July 4th, so mark your calendars now!  Check www.pasopops.org for details to come."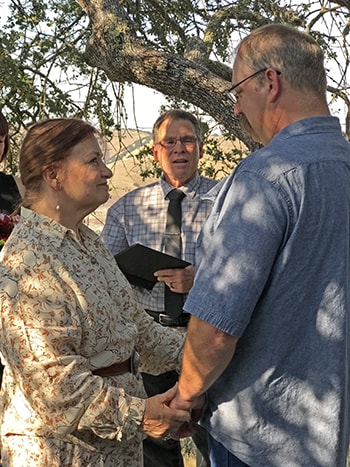 Congratulations to our own Dorothy Rogers, writer of all things Hoofbeat…this past month she got married!…to long time friend and business partner, Aaron Winchell, at their home overlooking Lake San Antonio. I was honored to be asked by Dorothy to walk her in…so blessed! The pictures are of her and Aaron and Pastor Steve Calagna, and of us walking in together. Amazing day!