Local distiller Aaron Bergh converts operation to produce hand sanitizer
Distilling spirits runs in the family. Master distiller Aaron Bergh's great-great-grandfather's moonshine operation was shutdown during prohibition, now Bergh's distillery supplies the FBI with hand sanitizer during COVID-19 pandemic. Meeting needs of first responders and other agencies in desperate times, Bergh converted the Calwise Spirits distillery to sanitizer production.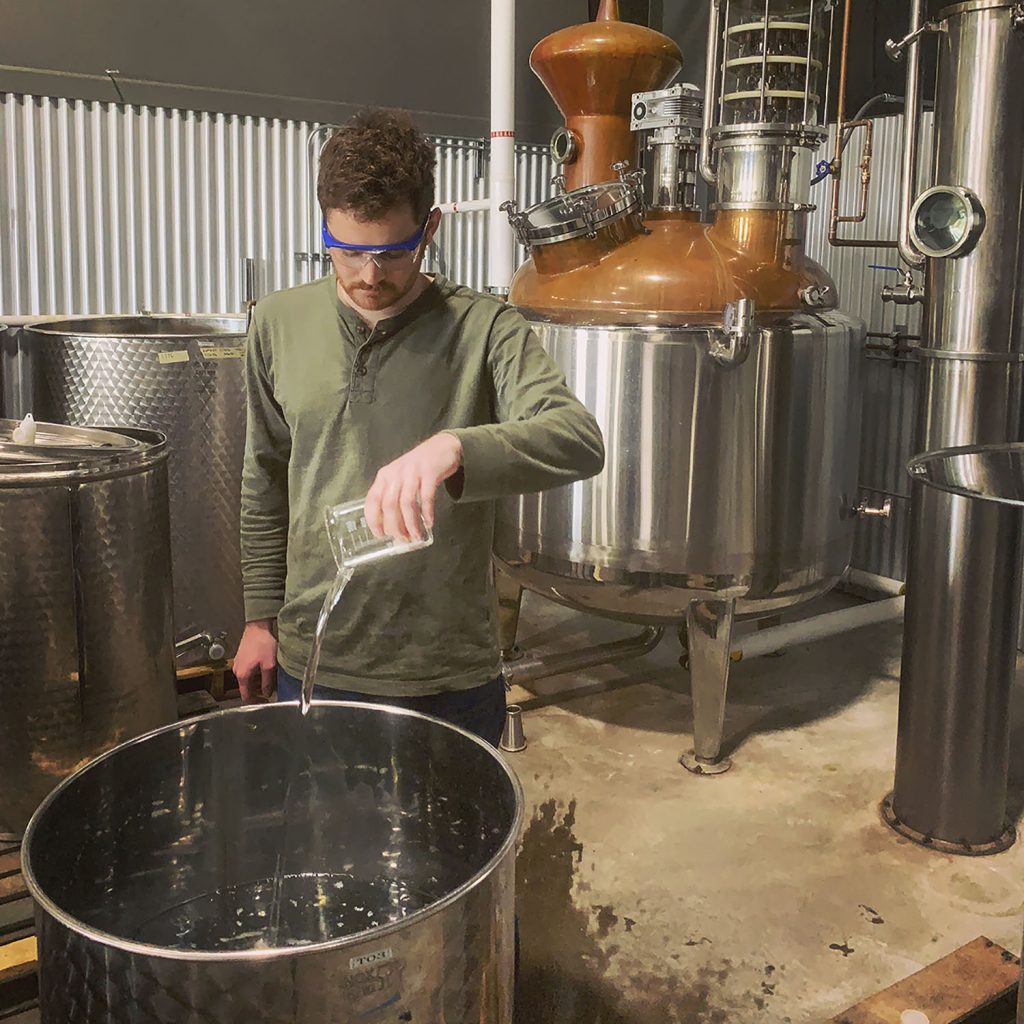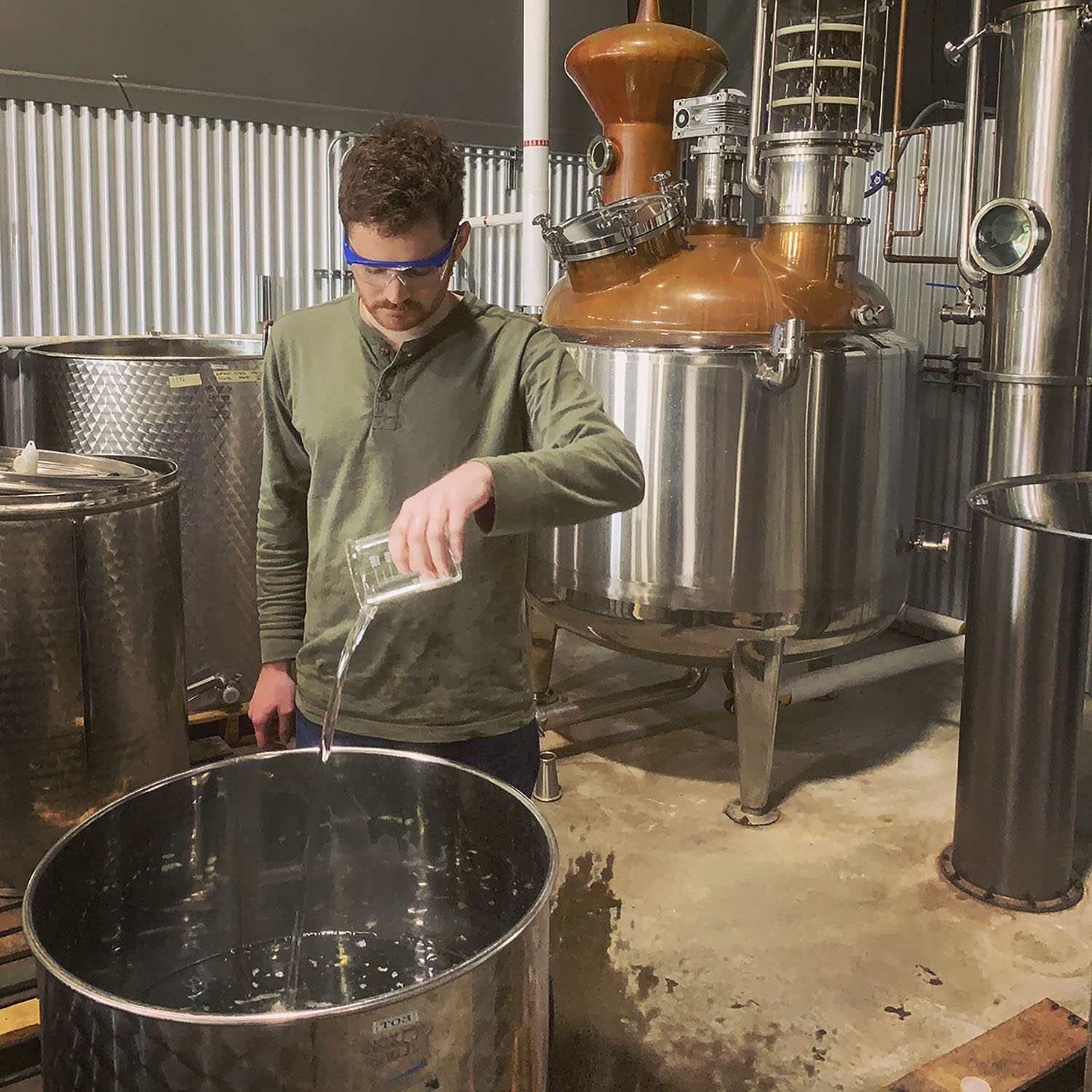 Bergh made the pivot after seeing calls from agencies serving the community's most vulnerable, and invites additional agencies in need to contact him.
"It concerns me that our community servants don't have sufficient sanitizer at a time when they need it more than ever," said Bergh, who is known for producing craft gins and rums at his distillery in south Paso Robles. "I realized that my equipment and supply chain expertise could help out these everyday heroes as they work tirelessly to keep us safe."
In a short amount of time, Bergh has started supplying bulk hand sanitizer to the Templeton Fire Department, San Luis Obispo Regional Transit Authority, the Camarillo Police Department, 40 Prado Road Homeless Services Center, SLO Food Bank, and others.
Most sobering was a call he received from the FBI field office in Los Angeles. His first reaction was cautionary.
"Am I doing something wrong?" Bergh said. "Is this real? Is this somebody posing as an agent?"
The disconcerting feelings are understandable considering Bergh's family history. During prohibition, the feds shut down his great-great-grandfather's moonshine operation, and a call from the FBI could certainly have disturbed the family spirits.
After sifting through reactionary thoughts, he was assured that it was the FBI in need of sanitizer, and his curiosity turned to surprise.
"They are organized, and you would think they have access to supplies," Bergh said, "but they are out just like everyone else."
Being a local source for a federal agency in a time like this lifted the spirits of Bergh, and he said he hoped others would be inspired to do what they could to help in this time.
"They have agents out in the field as part of the COVID-19 response team, and they are worried about running out of hand sanitizer," Bergh said. "This sanitizer is going to make a huge difference in keeping them and the public safe."
Getting The Word Out
First responders, government agencies, and charities in need of hand sanitizer may also contact Bergh at sanitizer@calwisespirits.com. His current pricing — based on existing supply costs — is $15 per gallon, which stands in contrast to the high markups seen elsewhere on hand sanitizer.
"I hope to get more of our hand sanitizer out there so that our public servants can safely do their jobs in this time of crisis," Bergh said.
A Community Effort
According to Bergh, the FDA has given distilleries the authority to produce sanitizer under World Health Organization standards.
"As far as I know, this has never happened in the United States, it's totally unprecedented," he said.
Bergh's sanitizer is made with three key ingredients: glycerin, hydrogen peroxide, and ethanol alcohol, typically used for making spirits.
He is quick to point out that other local businesses have helped him secure necessary supplies, including Cook's Vanilla, Golden Apple Cannabis, and RS Paul Construction.
"These companies have stepped up and helped make a difference," Bergh said. "This is truly a community effort."
However, Bergh is concerned about possible future supply chain issues and is hoping to crowdsource additional supplies, if needed.
"Although I'm adequately stocked right now, I'm concerned about supplies running out, and I may be needing additional hydrogen peroxide and glycerin, as well as large bottles and other containers for packaging," he said. "I invite anyone who might have inventory or access to these items to contact me."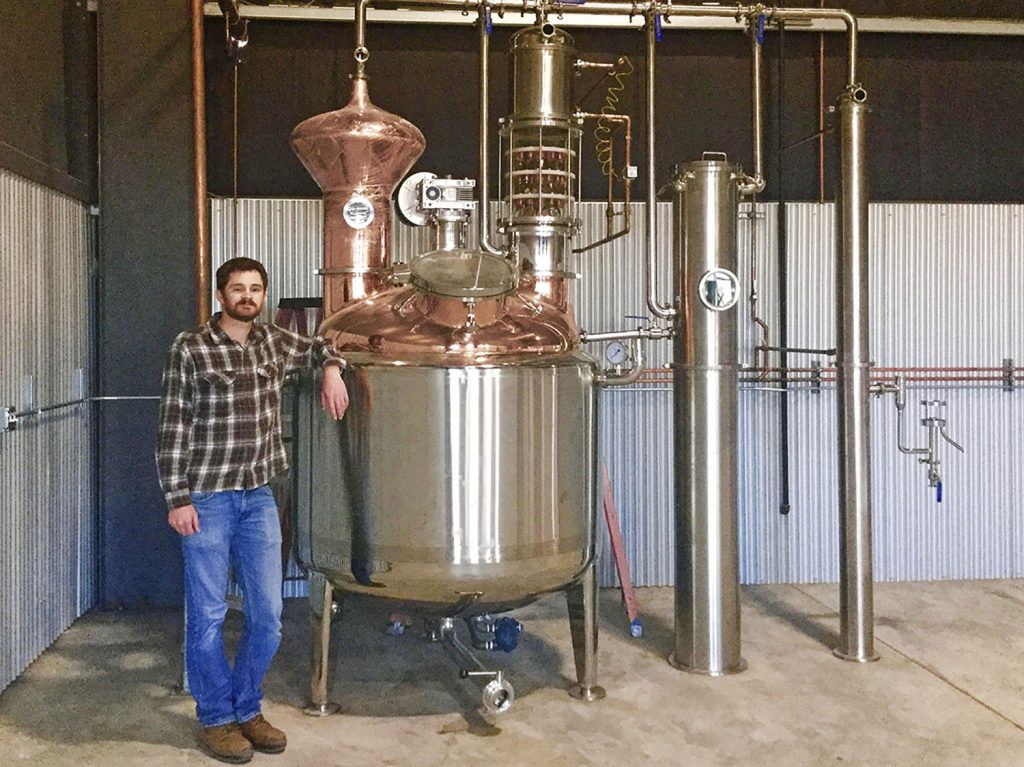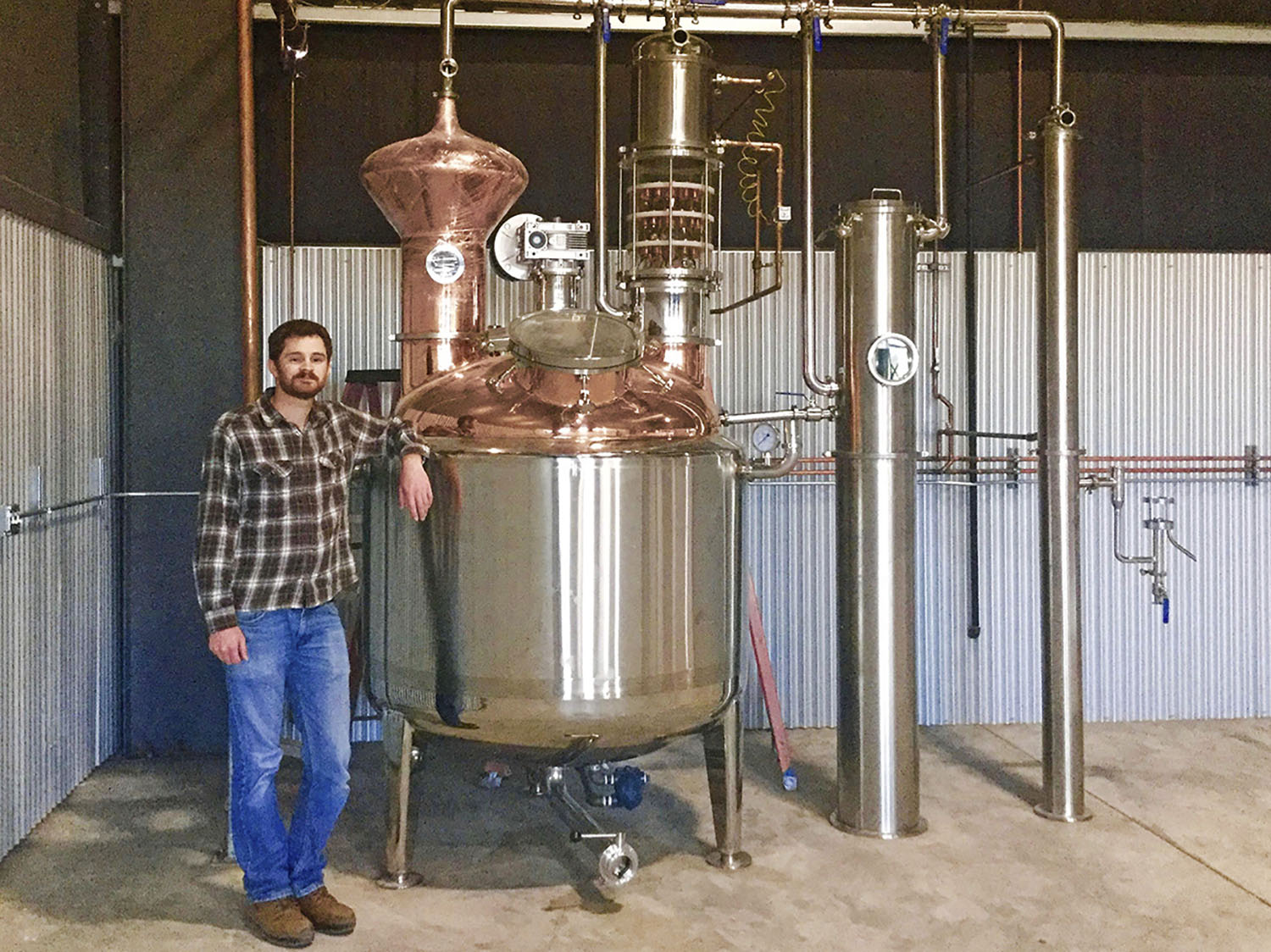 Distilling a Dream
Before turning his 6,000 square foot facility into a sanitizer plant, the 27-year old California native had landed in Paso Robles to produce local spirits with a local flavor.
"I got started out of college," Bergh said. "I was a hobbyist and worked as a home distiller. People wanted to drink quality local spirits, so I decided to go legit."
Perhaps nothing is as legit as the Calwise flagship spirit, Big Sur Gin, made with light sage, bay, and elderberry.
"We want to make spirits that give you a sense of place," Bergh said. "Big Sur Gin is made with grapes and local plants that grow in Big Sur."
The ingredients are sourced through local vendors, but some of it is harvested by hand during Bergh's hikes through local hills and mountains.
Due to the coronavirus concerns and shelter-at-home orders by the State, it is unknown when Calwise will open back up for regular business — which had included a restaurant, tastings, and cocktails made to order.
"I wish I could remember what regular business was like," Bergh said.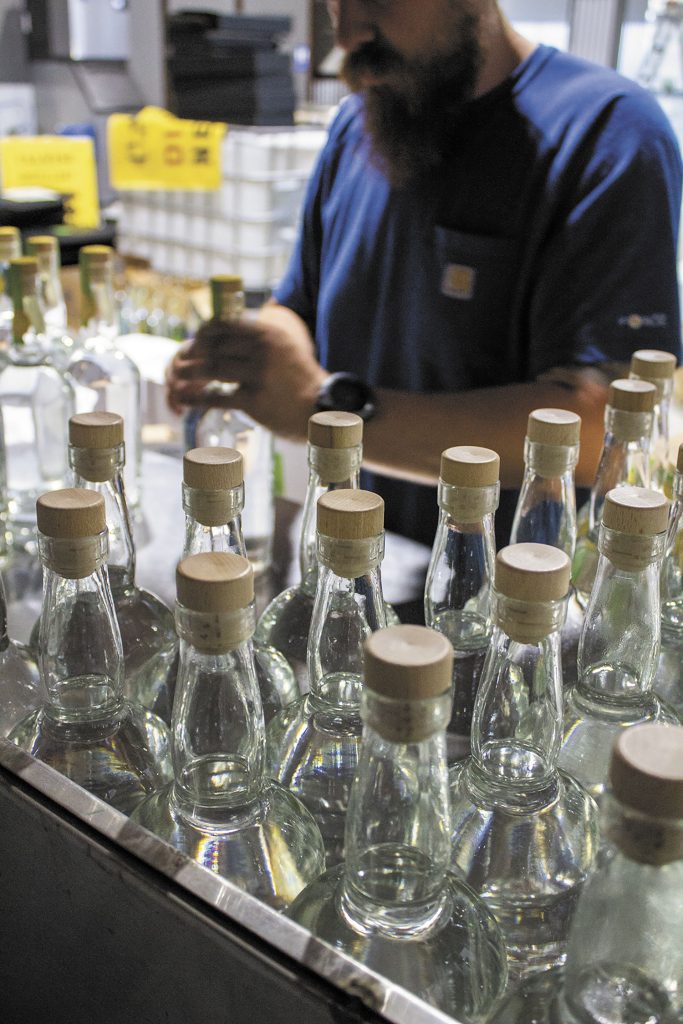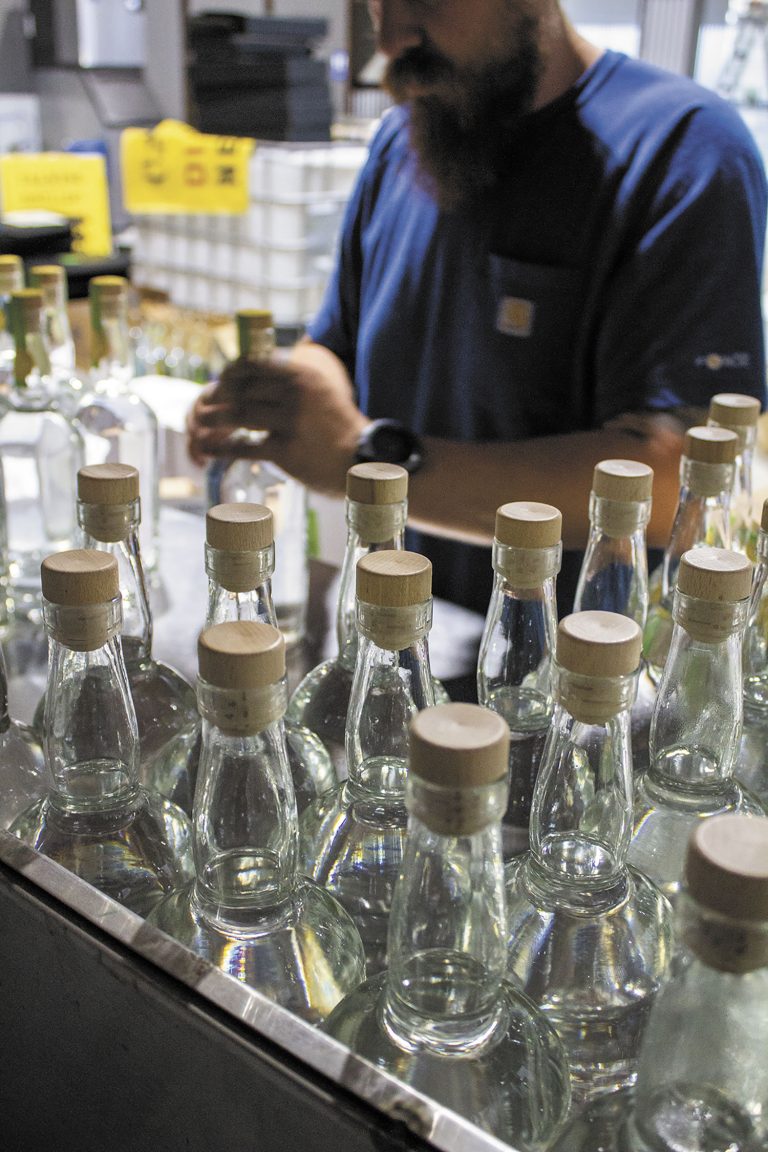 Lifting Spirits
In the meantime, Calwise continues to manufacture sanitizer for agencies. The adaptation from spirits to sanitizer happened quickly.
"It was such a day-by-day thing," Bergh said. "I thought I'd have to restrict my hours and capacity; then we got shut down completely."
Sitting on a supply of ethanol alcohol, and hit with the same wave of uncertainty as everyone else, Bergh hesitated in moving forward.
"I didn't want to start making that and taking advantage of people who need it," Bergh said. "Then I started noticing agencies calling out for needs."
Homeless shelters, food banks, hospitals, and other organizations began to feel the need for an otherwise ordinary industry commodity. With the demand, hand sanitizer became scarce.
I didn't see any cost-effective opportunities or supplies for them," Bergh said. "I have all the supplies here, and by the time I decided to begin, it took about 12 hours to get started production."
Calwise has since produced 200 gallons of hand sanitizer and is continuing as supplies allow.
"It is a supply chain issue," Bergh said. "It is a matter of connecting the dots, finding out who needs it, and getting it to those people. I've always liked working on solving the puzzle of logistics."
By jumping in and helping, Bergh said he hoped to inspire others to make a difference — from volunteering at food banks to delivering meals to seniors — it was about taking action.
"You can make a difference in the community," Bergh said.
While Bergh's focus is on agencies, he is also working on 5-ounce sizes of the hand sanitizer to provide local consumer needs.