Tasting Room, Restaurant sales to benefit Woods Humane Society
ATASCADERO — April means it's time to enjoy the Central Coast while helping animals in need during the 12th Annual Wine 4 Paws Weekend benefiting Woods Humane Society on April 18 and 19.
Do you like wine? Beer? Food? Olive Oil? How about all those dogs and cats who are brought to animal shelters, and patiently wait for someone to take them in to a loving home? Wine 4 Paws is the way you can enjoy all the Central Coast has to offer while helping homeless animals throughout SLO County. On April 18 and 19, almost 100 businesses throughout SLO County will join together and donate a portion of their proceeds to Woods Humane Society. You don't need to buy a ticket. You don't need to show up at one location at any set time. All you have to do is head out to ANY of the participating tasting rooms or restaurants and enjoy the weekend! From San Luis Obispo to San Miguel to the coast of Cambria, you'll find a stop where you can taste, eat, and enjoy the company of animal lovers who are having fun while making a difference. With almost 100 places to choose from, you can visit your favorite or find a new one!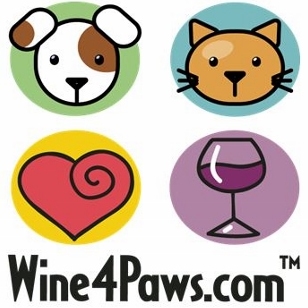 In this county-wide event, each participating tasting room contributes to Wine 4 Paws in different ways — some donate 100 percent of tasting fees, others donate a percentage of sales for the weekend. Many do something unique and exciting to represent their passion for this cause, including live music, food, special wine pairings, art, wine specials, and other fun stuff. In addition to the tasting rooms, Jeffry's Wine Country BBQ in Paso Robles and Milestone Tavern in San Luis Obispo will be donating 10 percent of sales for the weekend of April 18 and 19. So even if you don't drink wine or beer, you can sill support the cause.
Visit wine4paws.com for a list of participating tasting rooms and details on all the fun things going on just for Wine 4 Paws April 18 and 19.
advertisement

Woods Humane Society cares for more than 3,000 cats and dogs each year at their facilities in San Luis Obispo and Atascadero until they can be united with loving families. In November of 2018, they opened the first North County low-cost spay and neuter clinic at their location in Atascadero. This clinic can be utilized by ANY pet owner. Wine 4 Paws helps ensure that Woods can continue to offer our community animals the highest level of care – it's a win-win for everyone!