11 confirmed cases of the virus in the United States includes six in California
Concerns grow as coronavirus spreads, as U.S. declares a public health emergency in response to the national health scare. People around California have been given cause for alarm as six cases of coronavirus are confirmed — previously, Southern California, Arizona, Washington and Illinois were also confirmed.
The 2019-nCoV infection is currently being closely monitored by the CDC, and the latest report is that no person-to-person spread has been detected in the U.S. with this virus at the time, and "this virus is NOT currently spreading in the community in the United States."
"The Centers for Disease Control and Prevention (CDC) is closely monitoring an outbreak of respiratory illness caused by a novel (new) coronavirus first identified in Wuhan, Hubei Province, China. Chinese authorities identified the new coronavirus, which has resulted in more than a thousand confirmed cases in China, including cases outside Wuhan City. Additional cases have been identified in a growing number of other international locations, including the United States."

cdc.gov
According to the CDC, "This is an emerging, rapidly evolving situation and CDC will provide updated information as it becomes available, in addition to updated guidance."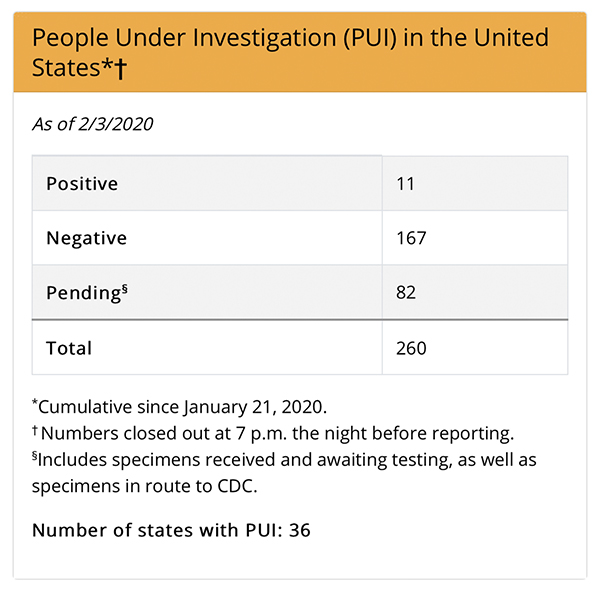 Coronaviruses are a large family of viruses that are common in many different species of animals, including camels, cattle, cats, and bats. Rarely, animal coronaviruses can infect people and then spread between people such as with MERS and SARS.
advertisement

Widespread panic is a symptom of the outbreak that local officials are trying to contain, even as U.S. citizens were evacuated to California from Wuhan. The risk to U.S. citizens and the American population is currently reported as "low," but the situation is evolving rapidly and new reports are under development.
A State Department email Sunday said that it is arranging a flight from Wuhan to San Francisco on Tuesday in an effort to relocate diplomats and private U.S. citizens, according to reports. However, anyone showing symptoms would not be allowed to return to the U.S.
"Please note that the Chinese authorities will not allow any U.S. Citizens who are symptomatic for the Coronavirus to depart from Wuhan, China and might be subject to quarantine," according to the State Department email.
From the CDC website:
CDC Response
CDC is closely monitoring this situation and is working with WHO and state and local public health partners to respond to this emerging public health threat.
The goal of the ongoing U.S. public health response is to contain this outbreak and prevent sustained spread of 2019-nCov in this country.
CDC established a 2019-nCoV Incident Management Structure on January 7, 2020. On January 21, 2020, CDC activated its Emergency Response System to better provide ongoing support to the 2019-nCoV response.
On January 27, 2020 CDC issued updated travel guidance for China, recommending that travelers avoid all nonessential travel to all of the country (Level 3 Travel Health Notice).
CDC is monitoring for illness among travelers and providing educational materials for any travelers arriving in the United States from China at 20 U.S. airports with quarantine stations in the United States.
CDC issued an updated interim Health Alert Notice (HAN) Advisory to inform state and local health departments and health care providers about this outbreak on January 17, 2020.
CDC has deployed multidisciplinary teams to Washington, Illinois, California, and Arizona to assist health departments with clinical management, contact tracing, and communications.
CDC has developed a real time Reverse Transcription-Polymerase Chain Reaction (rRT-PCR) test that can diagnose 2019-nCoV in respiratory and serum samples from clinical specimens. On January 24, 2020, CDC publicly posted the assay protocol for this test. Currently, testing for this virus must take place at CDC, but in the coming days and weeks, CDC will share these tests with domestic and international partners through the agency's International Reagent Resourceexternal icon.
CDC uploaded the entire genome of the virus from the first and second reported cases in the United States to GenBank.
CDC also is growing the virus in cell culture, which is necessary for further studies, including for additional genetic characterization.
CDC Recommends
While the immediate risk of this new virus to the American public is believed to be low at this time, everyone can do their part to help us respond to this emerging public health threat: