Find innovative programs for all ages & interests in August

The August calendar at Studios on the Park is filled to the brim with innovative, educational, and super fun classes, workshops, and activities – there's something for everyone! Be sure to bring your out-of-town guests to this wonderful, unique gem in downtown Paso Robles where they will be marveled by its open studio environment as they peruse the latest displays and learn about the creative process.
Now is the perfect time to discover Yoga Sundays at Studios with Anita Speciale, Betsy Oltmann, and Angie Hager. Offered every Sunday from 9:30 to 10:30 a.m., this is a time to stretch your body, soothe your soul, and get a bit of artistic inspiration! Beginners and drop-ins are welcome to attend these gentle sessions for participants of all abilities. "The class is oriented toward relaxation and stress reduction," says Anita. "Don't worry if you can't touch the floor without bending your knees – come and enjoy!" Bring a yoga mat; also, there are no changing room facilities. $10 cash or check; contact Studios at (805) 238-9800 for more info.
Additional offerings during August include:
Kids' Cookie Decorating
Arty McGoo
Wednesday, August 2
10 a.m. – noon
Kids will learn to decorate darling, delicious summer-themed cookies with local resident and internationally-renowned cookie artist, Arty McGoo. Fun and productive, this class is for kids ages 8 and up. Limited to 20 students; $30 fee includes all supplies provided for use during class.
Art With Anna
Anne Meyrick
Thursdays, Aug. 3, 10, 17, 24, 31
4 – 5:30 p.m.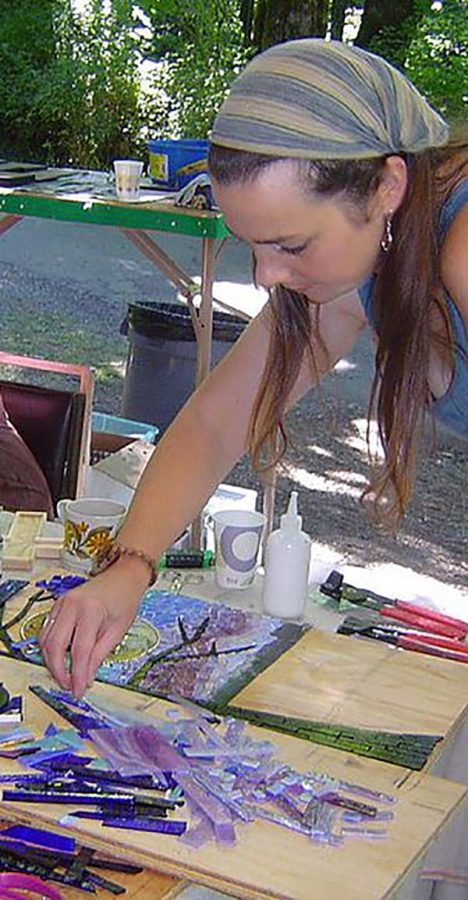 Join artisan and children's educator Anna Meyrick in these dynamic art classes for young artists as they learn, experiment, and create! Each week, a different project is presented including: Memory Wire Beaded Bracelets, Silk Painting, Rock Monsters, Ceramics, and One-Point Perspective Landscape. Fee of $20-$25; students must preregister.
Ceramics Class
Anna Meyrick
Mondays, August 7, 14, 21, 28
4:30 – 6:30 p.m.
Adults are invited to explore with clay in this ceramics class with Anna Meyrick – no experience necessary! Take full advantage of the artistic possibilities of the hand-building and slab methods; come with project ideas in mind or experiment to create vases, vessels, flowers, or something new. $125 fee includes materials and firing.
Save Our Science Lab Coat Workshop
Saturday, August 12
1-5 p.m.
Art and Action come together to celebrate and promote science at all levels. The Save Our Science Project utilizes lab coats as a canvas; as a traveling movement, SOS shares the message of the importance of science by incorporating education, arts, and public displays. Workshop is for adults and children ages 10 and up; $10/youth, $20/adults, including lab coats and materials. Participants are encouraged to bring: acrylic and watercolor paints, brushes, fabric markers, Sharpies, fabric scraps, yarn, scissors, and white glue or ModPodge. 
Basketry Classes
Toni Best
Saturday, August 19 & Sept. 17
9 a.m.-3 p.m.
Toni Best has specialized in pine needle basketry for 50 years, expanding this art to include gourds as a medium on which to weave – and now shares her expertise with students. Tailored to individual interests, there are three project options: sampler, floating coils, and fascicle. No prior experience necessary; $85 class fee includes all materials.
Intermediate Cookie Decorating
Arty McGoo 
Saturday, August 26
10 a.m. – 4 p.m.
Build on your decorating skills with cookie artist Arty McGoo and learn great techniques as you go step-by-step through the design of six amazing cookies. The class offers tons of fun, friendship, and fabulous cookies for participants ages 12 and up. Limited to 20 students; $100 fee includes all supplies provided for use during class, dinner, and a gift bag. 
Please register or RSVP for all sessions and classes. For more information on these and other happenings at Studios on the Park during August and throughout the year, call (805) 238-9800, stop by 1130 Pine St. or go to www.StudiosOnThePark.org; open daily.