Build Your Downloading Skills 
Workshop to help you navigate library's free Overdrive collection 
Are you confused about how to use the library's downloadable eBooks and eAudiobooks? Library volunteer Connie Dreisbach will provide instruction on using the library's free Overdrive collection on August 5, from 2-3 p.m. (iOS) and 3:30-4:30 p.m. (Kindle). Register for the class covering your device, and bring your device with you. Visit http://www.prcity.com/government/departments/library/calendar.asp
Club Ghibli at the Library
Teens are invited to watch, craft and snack with Club Ghibli on Wednesday, August 16 from 3-5 p.m. in the Library Conference Room.
Create your own Kaonashi (No-Face) paperweight while munching on snacks direct from Japan. We will be showing the Studio Ghibli story of Chihiro Ogino.
You're Never Too Old for LEGOS!
Families are invited to the Library on Thursday, August 3, at 3 p.m. for Family Movie Matinee. Batman may take himself a bit too seriously and in order to prevent the Joker from taking over Gotham, he may have to learn to lighten up. Bring your Lego lovers and enjoy a snack as we watch all of the Lego action!
On Monday, August 14 from 4-5 p.m. come to the Library's LEGO Build in the Story Room and see if you've got what it takes to be a Master Builder. Each build will have a different theme and test your building abilities.
Knitting with Meta!
Knitting classes for beginning and intermediate knitters, age 13 and up continues on Saturday, August 12 and August 19 from 2-3:30 p.m. with Library volunteer Meta Nisbet. Knitting basics including casting on, knit, purl, and bind off will be covered. All supplies will be provided for the beginning knitter.
Quilt Craft 
Next in the Library's adult Make It @ Your Library series this summer is a Quilted Box. On Friday, August 4, 6-8 p.m., in the Library Conference Room, learn basic quilting skills while you make a box about 4" x 4" giving plenty of room for jewelry, spare change, and sewing supplies. All supplies will be provided; feel free to bring your own sewing machine.
Space is limited. This event is appropriate for ages 18 and up.
Maker Mondays!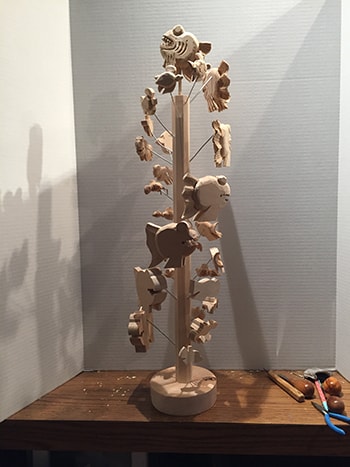 Children ages 7-12 are invited to participate in Maker Mondays! The last Monday of every month at 4 p.m. in the Library Story Room, children will experiment and explore the world around them through art, crafts, and experiments.
Maker Monday is scheduled for August 28. The program is free but limited to the first 30 participants. Tickets are available at the Children's Desk beginning at 3:30 p.m.
Calling All Mini-Mad Scientists 
Bring your Mini Mad Scientist, ages 1-3, for some hands-on creativity in our outdoor laboratory. Our Teen Volunteers built our scientists top-notch equipment, creating a water-powered lab to keep your little ones busy and cool this summer. This drop in session will be wet and wild; dress accordingly and wear shoes to protect your feet. Sessions are Tuesday, August 1 and Tuesday, August 15, from 10:30-11:30 a.m. on the Children's Patio.
Singing the Way to Reading
Multi-instrumentalist and vocalist Sandii Castleberry will be performing on Thursday, August 10 at 1:30 p.m. at the Library Study Center (3600 Oak St., Ste. 101) and at 4 p.m. in the Library Conference Room (1000 Spring St.).
Castleberry, a musician and arts educator from Idyllwild, CA, has spent the past 20 years performing for youth. All ages are invited to enjoy the show.
The Paso Robles City Library is located at 1000 Spring Street and is open Monday – Friday 10 a.m. – 8 p.m., and Saturday 10 a.m. -5 p.m. For more information on library programs and events, please call 237-3870 or visit www.prcity.com/library.