What's Happening on Main Street?
On Saturday, July 8 from 10 a.m. to 5 p.m. in the City Park, the ninth annual Lavender Festival celebrates one of the world's most unique and versatile herbs by showcasing local growers, lavender products, distilling, samples, demonstrations, ideas on sustainable farming practices and the "Lavender Tasting Garden."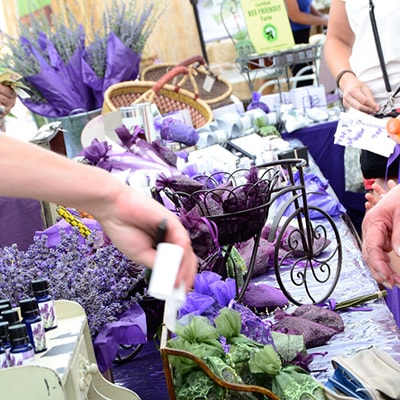 Brought to you by the Main Street Association and the Central Coast Lavender Growers Association, the festival activities include arts & crafts, kid's activities, vendors, artisans and the Lavender Honey Bee handing out Restaurant Guides.  Guitarist Martin Parish will play from 11 am to 1 pm. Seminars begin at 1 pm and among the topics is "How Lavender Can Help our Bees Today."  At 2 pm, Don Avery will present a demonstration on lavender distilling.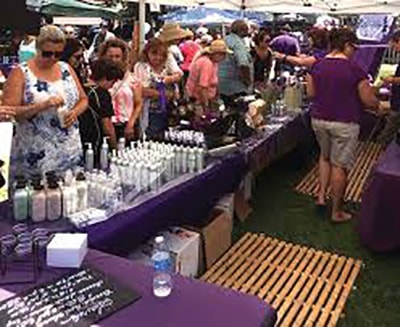 Like grapes and olives, lavender thrives in our Mediterranean-like climate. Known for its versatility, lavender has emerged as an important agricultural crop for local commercial growers and an interesting addition to large plots of commercial landscaping and residential gardens. The festival offers tips on growing, distilling and the many uses of this aromatic perennial herb from health, bath, beauty and spa products to desserts, honey, tea, spices and dipping oils. For more information, visit centralcoastlavender.com.
Pancake ALERT! FREE Breakfast on July 27 
Another July happening downtown is the traditional FREE Pancake Breakfast sponsored by Main Street, the Mid-State Fair, local farmers and Grange Hall. Breakfast will be served from 7:30 to 10:30 am in the City Park. The breakfast is FREE, but there is a catch! You must have a ticket! Tickets are available at downtown merchants and businesses one week before the breakfast. Look for the FREE Pancake Breakfast Tickets sign in their windows.
The Olive Festival was a Huge Success! 
Over 30 producers from throughout California and the Paso Robles area brought the Olive to the stature of Grapes and Lavender on June 3 in the City Park. Winners of the cooking contest on the day of the event include: First place – Adolfa's Tamales with olives. Second place – Pat Swindell's Cheesy Roasted Cauliflower Olive Casserole. Third place – Andrea Steele (Andrea's on Pine) Quiche Crisp Appetizer. Winner of the Taste of Olive contest is F. McLintock's.  The People's Choice Gold and Silver Medal Awards announced at the Pre-Olive Festival Mixer are in these categories: Spanish Mono Cultivar: Gold – Moonshadow Olive Oil, Silver – Wild Grove Olive Oil. Italian Mono Cultivar: Gold – LaCrime de San Miguel, Silver – Lodi Olive Company. Italian and other blends: Gold – San Miguel Olive Farm, Silver – Fandango Oil Organic & Partridge Family. Other Mono: Gold – Moonshadow Olive Oil, Silver – Molefina Olive Oil.
For your own tasting experience, visit Pasolivo and We Olive in downtown Paso. Sample the oils that are native to our area and create dishes that complement our wine county. Grapes, olives and lavender – all grown in Darn Near Paradise!