Fun, positive, interactive sing-along concert brings crowd to its feet
PASO ROBLES — It was an evening filled with positivity and good vibes on Saturday night as Jason Mraz and Raining Jane took the stage at Vina Robles Amphitheatre. As promised, Mraz tested out some new material and delivered many of his top chart hits to the enthusiastic crowd.
Mraz and the ladies of Raining Jane — Mai Bloomfield, Becky Gebhardt, Chaska Potter, and Mona Tavakoli — have co-written and produced many award-winning songs together. Their friendship, cohesiveness, and all-around fun and positive attitude were evident throughout the nearly sold out concert.
As part of their tour run — "Ladies & Gentleman, An Evening with Jason Mraz & Raining Jane" — the party of five belted out several remixed and reimagined tunes to deliver a truly musically diverse show. They kicked things off with "Hard Work," "Unlonely," "The More We Share," and "Hearing Double."
And it didn't take long before the crowd was on its feet dancing and singing along to familiar tunes including "Lucky," a song Mraz wrote and originally recorded with Colbie Caillat, and "Remedy (I Won't Worry)," a song he penned for a good friend.
advertisement

Whether singing a folk-rock or a more rap-filled melody, Mraz's music combined perfectly with the vocals and instrumentals of Raising Jane, including guitars, keyboards, drums, cello, and mandolin. The mood was whimsical and their presence on stage was one of harmony and love.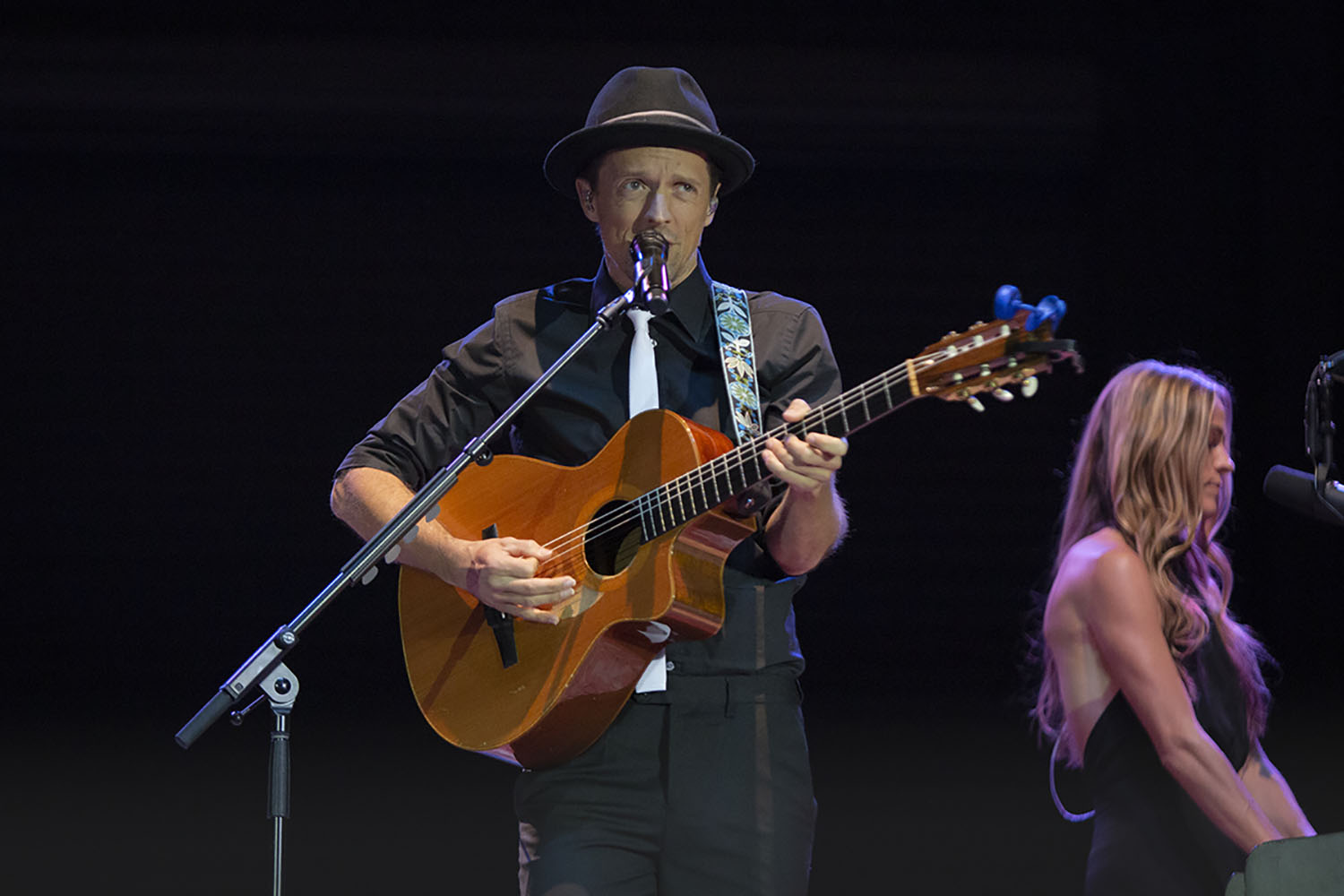 After delivering heart-pounding tunes "Only Human/Vote Louder," "Look For the Good," "Living in the Moment," and "It's About Us," Mraz and the ladies broke into a lighthearted little ditty, "DJ FM AM JJASON," an interactive crowd pleaser. Just before announcing there would be an "inner mission" a term Mraz coined to describe the impending intermission, they had everyone up their feet and singing along to "I'm Yours."
The second half of the concert was a virtual sing-along, starting with hits "Love Someone" and "93 Million Miles." New songs were well-received, including "Disco Sun," "Shine," "Uptown Brown," and "LISTA." Mraz closed out the set and had concert-goers back on their feet with his lovely ballad, "I Won't Give Up."
But that wasn't enough for the Paso Robles crowd. Everyone started cheering, applauding, and demanding an encore…and Mraz and Raining Jane graciously obliged. Back on stage, they delivered what can only be described as heartfelt appreciation for the crowd's time and response to their music with "Have It All."
It's no secret that his message of positivity and love is what draws locals like Brenda Baker to Mraz and his music. Baker, a season box holder at Vina Robles Amphitheatre, attended the concert with three of her friends and co-workers.
"Jason was always engaging with the audience and his funny, timely comments seemed very authentic," Baker said. "And the ladies of Raising Jane are simply awesome, excellent musicians that are so fun to watch! I went home feeling wonderful and would totally love to see them again in concert. I just love learning new music and seeing new styles, and Vina Robles has completely spoiled me to going to any other venue!"